Last week the New York Times reported, Arctic's Winter Sea Ice Drops to Its Lowest Recorded Level:
After a season that saw temperatures soar at the North Pole, the Arctic has less sea ice at winter's end than ever before in nearly four decades of satellite measurements.
The extent of ice cover — a record low for the third straight year — is another indicator of the effects of global warming on the Arctic, a region that is among the hardest hit by climate change, scientists said.
"This is just another exclamation point on the overall loss of Arctic sea ice coverage that we've been seeing," said Mark Serreze, the director of the National Snow and Ice Data Center, a government-backed research agency in Boulder, Colo. "We're heading for summers with no sea ice coverage at all."
Dr. Serreze said that such a situation, which would leave nothing but open ocean in summer until fall freeze-up begins, could occur by 2030, although many scientists say it may not happen for a decade or two after that.
Less ice coverage also means that there is more dark ocean to absorb more of the sun's energy, which leads to more warming and melting in a feedback loop called Arctic amplification.
The data center said on Wednesday that sea ice in the Arctic had reached maximum extent, of about 5.5 million square miles, on March 7. That is an area nearly twice the size of Australia, but about 470,000 square miles less than the average maximum from 1981 to 2010.
Much of the ice also appears to be thinner than normal, Dr. Serreze said, another result of the unusually warm temperatures in the Arctic this winter.
"The Arctic Ocean was extremely warm over the winter, and there was a very impressive series of heat waves," Dr. Serreze said. "I've never seen anything like this before."
On Monday, new research from Penn State University supports the notion that extreme weather events like floods, drought, heat waves and wildfires are happening more often and that there is a link between the increase and rising greenhouse gases in the atmosphere.
"We are now able to connect the dots when it comes to human-caused global warming and an array of extreme recent weather events," said Michael Mann, a respected atmospheric scientist and and director of the university's Earth System Science Center.
So today, Donald Trump committed the U.S. to his anti-science climate change denial. Trump Signs Executive Order Unwinding Obama Climate Policies: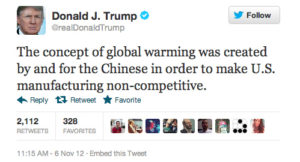 President Trump signed on Tuesday a much-anticipated executive order intended to roll back most of President Barack Obama's climate-change legacy, celebrating the move as a way to promote energy independence and to restore thousands of lost coal industry jobs — jobs that are not coming back. Trump promised to bring back coal jobs. That promise 'will not be kept,' experts say; Coal Mining Jobs Trump Would Bring Back No Longer Exist.
Flanked by coal miners at a ceremony at the Environmental Protection Agency, Mr. Trump signed a short document titled the "Energy Independence" executive order, directing the agency to start the legal process of withdrawing and rewriting the Clean Power Plan, the centerpiece of Mr. Obama's policies to fight global warming.
The order also takes aim at a suite of narrower but significant Obama-era climate and environmental policies, including lifting a short-term ban on new coal mining on public lands.
The executive order does not address the United States' participation in the 2015 Paris Agreement, the landmark accord that committed nearly every country to take steps to reduce climate-altering pollution. But experts note that if the Trump program is enacted, it will all but ensure that the United States cannot meet its clean air commitments under the accord.
Mr. Trump advertised the moves as a way to decrease the nation's dependence on imported fuels and revive the flagging coal industry.
But energy economists say the order falls short of both of those goals — in part because the United States already largely relies on domestic sources for the coal and natural gas that fires most of the nation's power plants.
"We don't import coal," said Robert N. Stavins, an energy economist at Harvard University. "So in terms of the Clean Power Plan, this has nothing to do with so-called energy independence whatsoever."
Trump's executive order will not result in reversal of the Clean Power Plan any time soon, as Nancy Le Tourneau explains at the Political Animal blog. The Glaring Omissions in Trump's Climate Rule:
In an effort to get his administration back on track after a miserable week, today Trump will sign a new executive order that initiates his efforts to roll back Obama's climate change policies.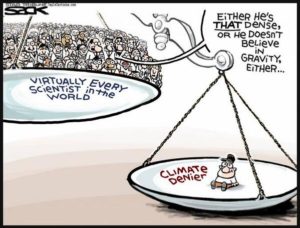 President Trump will take the most significant step yet in obliterating his predecessor's environmental record Tuesday, instructing federal regulators to rewrite key rules curbing U.S. carbon emissions.
The sweeping executive order also seeks to lift a moratorium on federal coal leasing and remove the requirement that federal officials consider the impact of climate change when making decisions.
The language there is important. Trump will instruct federal regulators "to rewrite key rules curbing U.S. carbon emissions." In other words, this is a directive to begin the process. Here is the catch:
The centerpiece of the new presidential directive, telling the Environmental Protection Agency to begin rewriting the 2015 regulation that limits greenhouse-gas emissions from existing power plants, will trigger a laborious rulemaking process and a possible legal fight.
The agency must first get permission from the U.S. Court of Appeals for the D.C. Circuit, where the rule is tied up in litigation, to revisit the matter. Then, agency officials will have to justify reaching the opposite conclusion of the Obama EPA, which argued it was technically feasible and legally warranted to reduce carbon pollution by about one-third by 2030, compared with 2005 levels.
"So, for the president, even if he would like to revoke the Clean Power Plan, he doesn't have legal authority to do that," said Jeffrey Holmstead, a partner at the Bracewell law firm who opposes the Obama-era rule. Holmstead, who headed the EPA's air and radiation office under President George W. Bush, said he thinks the agency can justify reversing the regulation. But "they have to justify why they have changed," he added.
The key phrase there is that "they have to justify why they changed." Way back in 2009, Obama laid the groundwork for the Clean Power Plan with something called the "Endangerment Finding."
The Environmental Protection Agency formally declared on Monday that carbon dioxide and other greenhouse gases constitute a threat to human health and welfare. The move empowers the agency to regulate these emissions and gives President Obama an important tool if Congress fails to pass legislation to reduce global warming emissions.
One of the most significant things about the order Trump will sign today is that revocation of the Endangerment Finding is not included. In other words, as federal regulators begin the process of re-writing these key rules—which will certainly face court challenges—the underlying policy that supports the Clean Power Plan will remain in place.
Why would the Trump administration do that? Because overturning the Endangerment Finding would trigger massive legal battles that would require them to prove that greenhouse gases do not constitute a threat to human health and welfare. Regardless of all the climate change denials from people like EPA Administrator Scott Pruitt, it is very possible that they know the science doesn't support them. Meanwhile, they are left with the challenge of winning legal challenges to any new rules they write with the Endangerment Finding in place.
* * *
The other item that is not included in the order Trump will sign today is a statement about pulling the U.S. out of the Paris Climate Accord. It looks like the president will go with the idea of leaving that one up to Senate Majority Leader Mitch McConnell. It was earlier reported that Trump was getting advice from some people to frame that as a treaty requiring Senate approval. It will be interesting to see if McConnell wants to go there.
But let's be clear, while what Trump will do today isn't a complete roll-back of Obama's climate policies, it will have an affect on the biggest challenge we face as a globe.
"Meeting the U.S. terms of the Paris Agreement would require full enforcement of the current regulations, plus additional regulations," said Michael Oppenheimer, a climate scientist at Princeton University. "It takes a comprehensive effort involving every country doing what they committed to and more."
He said Mr. Trump's order "sends a signal to other countries that they might not have to meet their commitments — which would mean that the world would fail to stay out of the climate danger zone."
All I can add to that is, when it comes to staying out of the climate danger zone, elections matter.
UPDATE: The Washington Post editorializes, "Children studying his presidency will ask, 'How could anyone have done this?'" Trump puts the planet on a dangerous path. The New York Times editorializes, President Trump Risks the Planet.
No worries, Trump's supporters believe that we are living in the "end times" and that Armageddon and Jesus are coming any day now.
The ironic part is that their misguided environmental policies could make this a self-fulfilling prophecy of sorts, as mankind is already living in the the Anthropocene epoch: "the striking acceleration since the mid-20th century of carbon dioxide emissions and sea level rise, the global mass extinction of species, and the transformation of land by deforestation and development mark the end of … the Holocene epoch."  The sixth mass extinction event will be the doing of mankind.
God's a-comin' and he's going to be pissed at what lousy stewards of God's creation mankind has been been.