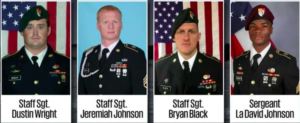 A week ago, President Trump was asked at an improptou press conference why he had not yet commented on the deaths of four American soldiers ambushed in Niger on October 4.  Rather than answer the question posed, Trump created a grand distraction for the media by bragging about his calls to the families of fallen soldiers and suggesting he is better at it than his predecessors, Presidents Obama and Bush. Criticized for not commenting on soldiers killed in action, Trump falsely says Obama did even less:
During an impromptu news conference in the White House Rose Garden on Monday afternoon, Trump was asked why he hadn't yet made a public comment on the fatalities.
"I've written [the soldiers' families] personal letters," Trump replied. "They've been sent — or they're going out tonight but they were written during the weekend."
He continued:
"I will at some point during the period of time call the parents and the families because I have done that traditionally. I felt very, very badly about that; I always feel bad. The toughest calls I have to make are the calls where this happens, soldiers are killed. It's a very difficult thing. Now, it gets to a point where you make four or five of them in one day, it's a very, very tough day. For me that's by far the toughest."
"So, the traditional way, if you look at President Obama and other presidents, most of them didn't make calls, a lot of them didn't make calls. I like to call when it's appropriate, when I think I'm able to do it. They have made the ultimate sacrifice. So generally I would say that I like to call. I'm going to be calling them — I want a little time to pass — I'm going to be calling them. I have, as you know, since I've been president I have. But in addition I actually wrote letters individually to the soldiers we're talking about and they're going to be going out either today or tomorrow."
These comments were immediately criticized by veterans of the Obama administration and members of the media who had covered it.
Caught in a lie by the media, Trump demurred:
Trump's allegation that Obama hadn't made calls was the subject of another question later in the news conference. "How can you make that claim?" NBC News's Peter Alexander asked about Trump's phone-call assertion.
The president admitted that Obama may very well have made calls after all.
"I don't know if he did. No, no, no. I was told that he didn't often," Trump replied. "A lot of presidents don't; they write letters. I do a combination of both. Sometimes — it's a very difficult thing to do, but I do a combination of both. President Obama I think probably did sometimes and maybe sometimes he didn't. I don't know. That's what I was told. All I can do is ask my generals. Other presidents did not call. They'd write letters. And some presidents didn't do anything. But I like, I like the combination of — I like, when I can, the combination of a call and also a letter."
Former Obama staffer Dan Pfeiffer: "Now he's lying about his own lie."
President Trump's boast that he surpasses his predecessors in consoling families of the fallen proved empty this past week as many stepped forward to say they'd never heard from him after losing their loved ones in military service. AP Fact Check: Trump on military deaths.
Philip Rucker of the New York Times moved the story along. Twelve days of silence, then a swipe at Obama: How Trump handled four dead soldiers:
[A] president who revels in providing color commentary on the news said nothing about what happened in Niger for 12 straight days — until Monday in the Rose Garden of the White House, where he was asked by a reporter to explain his uncharacteristic silence.
In his answer, Trump said in his defense that he had written personal letters to the soldiers' family members, and he then tried to use the issue to gain a political advantage. Trump leveled false accusations at his predecessors, including former president Barack Obama, saying they never or rarely called family members of service members who were killed on their watch, when in fact they regularly did.
As anger swelled, Trump continued to attempt to bolster his broader claim Tuesday by invoking the death of Marine 1st Lt. Robert Kelly, the son of White House Chief of Staff John F. Kelly who was killed in 2010 while serving in Afghanistan. Additional, Kelly tried to keep his son's death out of politics. Trump had other ideas.
* * *
In his call with Sgt. La David T. Johnson's widow, Myeshia Johnson, Trump told her, "He knew what he was signing up for, but I guess it hurts anyway," according to the account of Rep. Frederica S. Wilson (D-Fla.), who was riding in a limousine with Johnson when the president called and heard the conversation on speakerphone.
Gen. Kelly effectively confirmed Rep. Frederica Wilson's version of events, saying he advised the president to tell Sgt. La David T. Johnson's loved ones he "knew what he was getting into."
Wilson recalled in an interview with The Washington Post that Johnson broke down in tears. "He made her cry," Wilson said. The congresswoman said she wanted to take the phone and "curse him out," but that the Army sergeant holding the phone would not let her speak to the president.
The White House neither confirmed nor denied Wilson's account. "The President's conversations with the families of American heroes who have made the ultimate sacrifice are private," a White House official said in a statement.
But in a Twitter post Wednesday, Trump claimed Wilson "totally fabricated" her account of his call to the widow. Trump went on to back up his assertion by insisting he has "proof."
"Democrat Congresswoman totally fabricated what I said to the wife of a soldier who died in action (and I have proof). Sad!" Trump wrote.
To date, Trump has offered no such "proof."
Wilson stood her ground. Speaking on an MSNBC, she called Trump's call "horrible" and "insensitive."
"She was in tears. She was in tears. And she said, 'He didn't even remember his name,'" said Wilson.
What Trump did do is hide behind his general, Gen. John "Mad Dog" Kelly, now his chief of staff. Kelly, drawn into this scandal by Trump, was forced to defend Trump before the media, and then he went one step further, personally attacking Rep. Frederica S. Wilson (D-Fla.) with a personal anecdote that was "totally fabricated," a very Trumpian move, and conduct unbecoming a Marine Corps officer and gentleman, and Gold Star father. Video shows Kelly made inaccurate claims about lawmaker in feud over Trump's condolence call: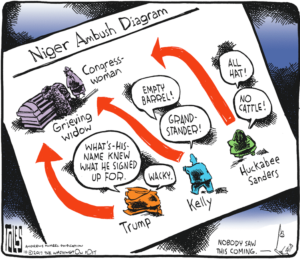 In a rare appearance before reporters . . . to defend Trump's calls to grieving military families, Kelly suggested that Rep.Wilson was like "empty barrels making the most noise" while recalling her appearance at a 2015 event that he attended to christen a new FBI complex in Miami. Wilson has come under heavy criticism from Trump and his supporters for publicly accusing the president of being insensitive in a phone call to Johnson this week, after her husband died in the line of duty two weeks ago.
But the White House's aggressive effort to discredit a congresswoman from Florida who criticized President Trump over a military condolence call ran into a new set of problems Friday when a video emerged showing that the chief of staff had made false claims about her.
* * *
Video of Wilson's nine-minute speech at the 2015 event, posted by the Sun-Sentinel of Fort Lauderdale, shows that she spoke solely about her efforts to get the building named after two fallen FBI agents, praised the agents for their service and thanked colleagues in Congress from both parties.
Instead of backing down, White House press secretary Sarah Huckabee Sanders piled on Friday and said Kelly was justified in accusing the lawmaker of grandstanding, despite erring on the facts. "As we say in the South: all hat, no cattle," Sanders said of Wilson, an African American who is known for wearing brightly colored cowboy hats.
Oh, this slack-jawed hillbilly from Arkansas who snears with condescenion at the truth while effortlessly lying through her teeth did much more than that. She asserted that Gen. John Kelly is immune from questioning, even when caught in a dishonorable lie. The Trump White House's increasingly authoritarian response to criticism:
Yet again, the White House has declared itself to be above question.
On Friday, White House press secretary Sarah Huckabee Sanders bristled at attempts to fact-check Chief of Staff John F. Kelly's comments about Rep. Frederica S. Wilson (D-Fla.). But rather than make a compelling case based on the facts, she decided to posit that a four-star general should be immune to debate.
"If you want to go after Gen. Kelly, that's up to you, but I think that if you want to get into a debate with a four-star Marine general, I think that that's something highly inappropriate," Sanders said.
The inescapable conclusion here: According to Sanders, Kelly can say just about anything he wants, and the media should just accept it as fact.
Whatever you think of the White House or President Trump, that's a remarkably authoritarian argument to make. And it's hardly the first time the White House has gone down this road.
And like President Trump, his administration is hiding behind his generals. The White House is increasingly — and worryingly — using the military as a shield against criticism:
[T]he White House once again would like to cloak itself in the military as a defensive measure, implying that criticism of them is actually a disparagement of those who serve our country — just as Trump implies that protests at NFL games are actually protests against our troops.
* * *
Trump's surrounded himself with military leaders in his administration, in part because he, too, has enormous respect for people who've served in those positions. But now he and his team clearly see another advantage to that: turning a question posed to a civilian leader, the chief of staff, into a measure of disrespect against our armed forces.
Sanders's move is disrespectful, dishonest and dangerous. It suggests that some people who serve the country are above fair criticism and the need to be held accountable and, more egregiously, that those they serve should enjoy that same privilege. Trump's never shown himself to be one to embrace criticism. But sliding former military officials in to take the heat in his stead or forcing the military to align with him on a political cause is a remarkably low move.
Despite the video evidence showing Gen. Kelly fabricated a story in defense of the indefensible Trump, the Twitter-troll-in-chief continued his unhinged attacks on Frederica S. Wilson (D-Fla.) over the weekend. Trump calls Rep. Wilson 'wacky,' stoking the controversy over condolence calls.
On Monday, Myeshia Johnson, the widow of U.S. Army Sgt. La David Johnson and mother of his three children, said Rep. Frederica Wilson's account of President Donald Trump's condolence call was completely accurate, Johnson to ABC News "Good Morning America". The Miami Herald reports, "He couldn't remember my husband's name," Sgt. Johnson's widow says of President Trump:
But that's not what hurt her the most.
"He couldn't remember my husband's name," Myeshia Johnson told GMA's George Stephanopoulos. "The only way he remembered my husband's name … because he told me he had my husband's report in front of him and that's when he actually said, 'La David.' I heard him stumbling on trying to remember my husband's name. That's what hurt me the most. Because if my husband is out here fighting for our country and he risks his life for our country, why can't you remember his name?"
The Twitter-troll-in-chief live tweeted a response to the GMA inteview on Twitter at 8:30 a.m.:
Wow, attacking a pregnant grieving Gold Star widow of a soldier because she called him out. That is a fight no sane politician picks, nor can hope tp win. Trump is incapable of admitting his faults or ever saying that he was wrong, or ever apologizing for his words or actions.
What Myeshia Johnson really wanted was just to see her husband's body, whole or in part.
"Why couldn't I see my husband? Every time I asked to see my husband, they wouldn't let me," she said. "They told me that he's in a severe wrap, that I wouldn't be able to see him. I need to see him so I will know that it's my husband. I don't know nothing. They won't show me a finger, a head. I know my husband's body from head to toe. And they won't let me see anything. I don't know what's in that box. It could be empty for all I know. But I need to see my husband. I haven't seen him since he came home."
La David Johnson's funeral was Saturday.
Myeshia and La David Johnson have known each other since they were 6 years old. La David's upper chest sported a large tattoo that read "MYESHIA." They have two children and Myeshia's pregnant with a daughter due Jan. 29.
"I want to tell her how awesome her dad was and what a great father he was," Myeshia Johnson said. "And, how he died as a hero."
Wilson, a Miami Democrat, has known La David Johnson's family since before his birth. One of his uncles was an elementary school student under Wilson. The same year La David Johnson was born, Wilson began the 5000 Role Models of Excellence program, which Johnson went through and got his younger cousins to join. Wilson came to know all of them personally.
That's why Wilson was with the Johnson family in the limousine Tuesday when President Trump phoned Myeshia. Wilson said Trump told Myeshia that La David "knew what he signed up for." Trump disputed Wilson's account, calling her "wacky" on Twitter.
But Myeshia Johnson said Wilson was "100 percent correct" and heard the call because it was on speakerphone.
"Why would we fabricate something like that?" Myeshia Johnson said.
She quoted Trump as saying, "'He knew what he signed up for, but it hurts anyway.' It made me cry because I was very angry at the tone in his voice, how he said it."
Stephanopoulos asked Johnson, "Is there anything you'd like to say to the president now?" She hesitated a second, then said, "No. I don't have nothing to say to him."
You can be certain that the morally depraved disgraceful creature who darkens the halls of the White House will continue to attack this Gold Star widow.
In sparring with a grieving widow, Trump follows his no-apology playbook:
Trump's actions have followed a careful formula that he long ago devised for winning a skirmish and that has been described by senior White House advisers: Make it a fight, use controversy to elevate the message and never apologize.
The conflict bears all the hallmarks of a typical Trump rumble: over-broad boasts, inconsistent official accounts, tweeted name-calling, partisan attacks, aides ensnared in controversy and a steady effort to pin the blame for the whole hullabaloo on the news media.
Pathetic and disgraceful.