As Robert Mueller closes in, Donald Trump is becoming more authoritarian.  Now he is accusing anyone who does not bow down and kiss the feet of King Trump of "treason" (he is the one doing the bidding of his pal Putin).  If you are not one of his blindly loyal sycophant supporters in his cult of personality, you are "un-American." Quite the opposite is true.  Trump accuses Dems of 'treasonous' behavior:
President Trump on Monday accused Democrats of "treasonous" behavior during his State of the Union address, escalating partisan tensions during a crucial stretch for Congress.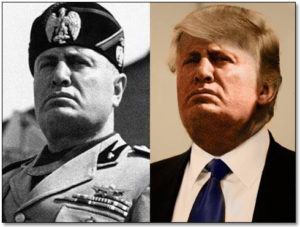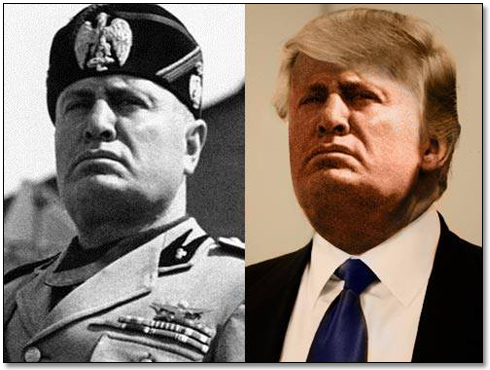 Trump took aim at Democratic lawmakers who refused to applaud during his speech last week when he mentioned his achievements during his first year in office, a reaction he called "un-American."
"Can we call that treason? Why not?" the president said during a speech in Ohio. "They certainly didn't seem to love our country very much."
Trump signaled that Democrats' refusal to cheer "very positive news" in his speech, such as low unemployment rates for Hispanics and African-Americans, will make it difficult for him to work with them on government spending and immigration.
He said the Democrats "would rather see Trump do badly than our country do well," calling their behavior "very selfish."
The president used the 47-minute speech as a warm-up act for the 2018 midterm elections, even though the White House billed it as an official event, and not a political one, meaning taxpayers footed the bill.
He took repeated shots at Democratic congressional leaders Rep. Nancy Pelosi (Calif.) and Sen. Chuck Schumer (N.Y.) and praised Ohio GOP Rep. Jim Renacci, who is running for Senate in the fall.
Trump also attacked Democratic incumbent Sen. Sherrod Brown (Ohio) for voting against his tax overhaul, which the president said is bolstering the economy.

The tone of Monday's speech was a sharp break from Trump's State of the Union address when he appealed to Democrats and Republicans to work together to pass major legislation on immigration and infrastructure.
"Tonight, I call upon all of us to set aside our differences, to seek out common ground, and to summon the unity we need to deliver for the people," the president said during his address. "This is really the key. These are the people we were elected to serve."
But hope for bipartisan unity quickly faded after the divisive reception the speech received.
Trump also stoked partisan tensions by authorizing the release of a memo drafted by congressional Republicans that accused the FBI of political bias in the Russia investigation.
The president appeared to reference the memo in his Ohio speech.
"Oh, but did we catch them in the act or not?" he said. "You know what I'm talking. Oh, did we catch them in the act? They are very embarrassed. They never thought they were going to get caught. We caught them. It's so much fun, like, the great sleuth."
Democrats have disputed the contents of the memo, saying it contains false and misleading information.
House Intelligence Committee ranking member Rep. Adam Schiff (D-Calif.) is seeking to release a counter memo that is designed to rebut the GOP document. The White House has said it is open to approving its publication.
Trump attacked the California Democrat on Twitter earlier Monday, writing that, "Little Adam Schiff, who is desperate to run for higher office, is one of the biggest liars and leakers in Washington, right up there with Comey, Warner, Brennan and Clapper!"
Americans have an authoritarian demagogue despot for president. Vladimir Putin could not have imagined in his wildest dreams how successful his cyber war  to undermine American democracy would be. And Americans did it to themselves, without a shot fired by the Russians.
UPDATE: Arizona Senator Jeff Flake on Tuesday took President Donald Trump to task for suggesting that Democrats in Congress were "un-American" and "treasonous" for not sufficiently clapping during his State of the Union address last week. Flake Hits Trump: 'Treason Is Not A Punchline, Mr. President':
White House spokesperson Hogan Gidley said Tuesday that the remark was "tongue in cheek." In press secretary Sarah Huckabee Sanders' words, "He was clearly joking."
Flake responded from the Senate Floor: "Treason is not a punchline, Mr. President."
Flake on Tuesday referenced the address he made upon announcing his retirement, saying, "I wish I could stand here today and say my words of last October have been proven wrong."
He continued, "that I had been unfair to inveigh against the daily sundering of our country, that I had been mistaken about the personal attacks, that I had exaggerated the threats against principles, freedoms and institutions, the flagrant disregard for truth and decency, the reckless provocations most often for the pettiest and most personal reasons, reasons that have nothing whatsoever to do with the fortunes of the people that we have been all been elected to serve."
"I wish I could say that I had been wrong, but I cannot," he said.
Flake said it was "unconscionable" to suggest — as Trump did — that Democrats don't love the country as much as Republicans.
"None of us in Congress pledge loyalty or service to the President," he said. "This is not a royal court. Our oath is to the Constitution and to the people."
"As members of Congress, we must never accept undignified discourse as normal because of the requirements of tribal party politics," he continued. "None of this behavior should ever be regarded as normal. We must never allow ourselves to lapse into thinking that this is just the way things are now. We will get through this period, and when we do, we will look back at the destruction of our discourse and attacks on our democratic values as nothing but a tragedy."
Flake concluded by urging colleagues to reject Trump's "aberrant, destructive behavior."
"And we must never shrink from opposing it," he said, "for it is in the opposing this behavior that we defend our noms, our ideals and our values. It is in opposing this behavior that we stand for decency."