While you were stuffing yourself with Thanksgiving dinner and plotting your plan of attack for black Friday Christmas shopping, you likely were not paying attention to the news.
Two reports over the holiday demonstrate, one again, how Donald Trump is gaslighting America.
First, it appears that Ambassador Sondland invented the phone call in which he testified that Donald Trump angrily told him "I want no quid pro quo," something Trump cherry-picked from his testimony in notes that he used for a "chopper talk" press conference at the White House as "proof" there was no quid pro quo, even after Ambassador Sondland pointedly testified there was a quid pro quo.
The Washington Post reported, Witness testimony and records raise questions about account of Trump's 'no quid pro quo' call: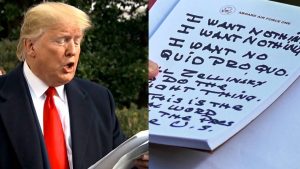 President Trump was cranky when they spoke on the phone in September, Ambassador Gordon Sondland told members of Congress, but his words were clear: Trump wanted no quid pro quo with Ukraine.
"This is Ambassador Sondland speaking to me," Trump said outside the White House last week, looking down to read notes he'd taken of Sondland's testimony. "Here's my response that he just gave: 'I want nothing. . . . I want nothing. I want no quid pro quo.' "
Sondland's recollection of a phone conversation that he said took place on Sept. 9 has emerged as a centerpiece of Trump's defense as House Democrats argue in an impeachment inquiry that he abused his office to pressure Ukraine to investigate Democrats.
However, no other witness testimony or documents have emerged that corroborate Sondland's description of a call that day.
Trump himself, in describing the conversation, has referred only to the ambassador's account of the call, which — based on Sondland's activities — would have occurred before dawn in Washington. And the White House has not located a record in its switchboard logs of a call between Trump and Sondland on Sept. 9, according to an administration official who, like others in this report, spoke on the condition of anonymity because of the sensitivity of the matter.
But there is evidence of another call between Trump and Sondland that occurred a few days earlier — one with a very different thrust, in which the president made clear that he wanted his Ukrainian counterpart to personally announce investigations into Trump's political opponents.
Sondland did not initially disclose this earlier conversation with Trump when he first gave a closed-door deposition to the House. After Morrison and Taylor described it in their testimony, he said later that he would not challenge their recollections.
The conflicting information raises serious questions about the accuracy of Sondland's account, one that Trump has embraced to counter a growing body of evidence that he and his allies pressured Ukraine for his own political benefit.
The president's argument that the call proves he was not seeking favors from Ukraine is undercut by the timing: At the end of August, White House lawyers had briefed Trump on the existence of a whistleblower complaint describing the administration's pressure campaign on Ukraine and the possibility that Trump abused his power, according to a person familiar with the situation. By early September, the president had also begun to confront public questions about why U.S. aid to Ukraine was stalled.
So if Trump did tell Sondland flatly that he wanted "no quid pro quo," he did so knowing there was growing scrutiny of his posture toward Ukraine.
The way witnesses describe a call between the two men in early September is not as favorable for Trump as Sondland's version of a Sept. 9 call with the president. According to their testimony, Trump said he was not seeking a "quid pro quo" (wink, wink), but he also relayed a specific demand to the ambassador: that Ukrainian President Volodymyr Zelensky personally and publicly announce the investigations Trump was seeking.
This is the mob boss code in which Trump speaks to maintain plausible deniability, as his "fixer" Michael Cohen testified.
The second incident of gaslighting was Trump's photo-op visit to the troops in Afghanistan for Thanksgiving (I din't know there is a golf course in Kabul). Trump makes surprise visit to U.S. troops in Afghanistan, says he has reopened peace talks:
President Trump visited Afghanistan for the first time on Thursday, delivering Thanksgiving greetings to U.S. troops deployed here in America's longest-running war and announcing he had resumed peace negotiations with the Taliban.
[H]e said during a meeting here with Afghan President Ashraf Ghani that he had restarted peace talks with the Taliban that he had broken off almost three months ago and was hopeful of brokering an accord.
"The Taliban wants to make a deal and we're meeting with them and we're saying it has to be a cease-fire and they didn't want to do a cease-fire, and now they do want to do a cease-fire," Trump said. "I believe it'll probably work out that way."
It turns out that the Afghanistan government and the Taliban know noting about the supposedly restarted negotiations Trump claimed. The Washington Post reports today, Trump's talk of Afghanistan cease-fire appears to surprise the Taliban, Afghan government: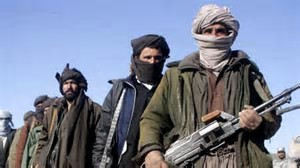 President Trump's confident assertion that the Taliban is ready and even eager for a cease-fire demanded by the United States in Afghanistan's 18-year-old war may be more wishful thinking than reality.
Declaring that the U.S.-Taliban talks he abruptly canceled in September are back in motion, Trump said during a Thanksgiving Day visit to troops in Afghanistan that the Taliban "wants to make a deal. And we're meeting with them, and we're saying it has to be a cease-fire."
"They didn't want to do a cease-fire, but now they do want to do a cease-fire," Trump said of the militants. "It will probably work out that way. . . . We've made tremendous progress," he added.
But on Friday neither the Taliban nor the government of Afghan President Ashraf Ghani indicated that a cease-fire was near, or even being discussed in resumed U.S. negotiations.
At the time the U.S.-Taliban talks ended, the two sides were preparing to sign a draft agreement that called for a reduction in violence. But it specifically declared that any discussion of a cease-fire was to be left to follow-on negotiations between the militants and the government in Kabul.
In a statement, the Taliban said that remains its understanding. "We are ready to talk, but we have the same stance to resume the talks from where it was suspended," Taliban spokesman Zabiullah Mujahid told The Post.
Ghani spokesman Sediq Seddiqi said Trump's brief visit to Afghanistan was "important" but that "we will have to see" whether there has been any change in the status of peace talks.
"It is too early to comment on any changes or any perceived changes," Seddiqi said.
* * *
Even the administration voiced a lower expectation than Trump.
"As the president said, we are restarting talks with the Taliban. The focus will be on reducing violence," said a senior administration official, who like others discussed the closed-door talks on the condition of anonymity. "If an agreement can be reached, the two sides could potentially expand the talks and pave the way for signing a peace agreement."
* * *
[A]nalysts said the main Taliban goal remains the withdrawal of all foreign forces in Afghanistan, and it has little impetus now to stop fighting.
"To date, they've very strongly resisted" a cease-fire, "and it's their best leverage," said one person familiar with the negotiations. "They have no reason to trade that chit in now, especially at a time where U.S. leverage is a wasting asset, and they believe they're winning on the battlefield. And Trump has committed to a drawdown of forces regardless, so why would the Taliban offer up a cease-fire now?"
People should realize by now that virtually everything that comes out of the mouth of Donald Trump is a lie. He lives in the epistemic closure of an alternate reality which he has created for himself, and he is gaslighting the rest of us into believing his make-believe world is reality. It is not. Do not fall for this. This man is a danger to himself and to society, and the world.