What would have been the big development of the day in the Russia investigation got buried by late breaking news in the evening.
The Washington Post reports, Senate panel to release interviews with Trump Jr., others involved in meeting with Russian lawyer: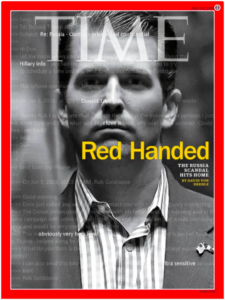 The Senate Judiciary Committee intends to release transcripts of its interviews with President Trump's son Donald Trump Jr., and others who participated in a June 2016 meeting at Trump Tower with a Russian lawyer allegedly promising damaging information about Hillary Clinton.
Chairman Charles E. Grassley (R-Iowa) said Thursday that the committee would disclose "all witness interviews that we have done related to that meeting," making them available to the public "for everyone to see." The committee's interviews, which were conducted behind closed doors, are complete, he added.
Grassley said the transcripts must be redacted first. It was not immediately clear when that process will be complete. Two of the five transcripts still require legal vetting as well, he said. When asked whether public testimony from these witnesses has been ruled out now, the senator said, "I wouldn't say anything's off table, but (it's) not likely."
Ranking Democrat Dianne Feinstein (Calif.) said Thursday she was "delighted" by Grassley's intentions.
The committee spoke with Trump Jr. in September, and in the last several months has also interviewed other participants in the Trump Tower meeting, including music promoter Rob Goldstone, Russian-American lobbyist Rinat Akhmetshin, U.S.-based Russian real estate employee Ike Kaveladze and Anatoli Samochornov, the translator for Russian lawyer Natalia Veselnitskaya, who answered the committee's questions in writing.
Oddly, "The panel never spoke with President Trump's son-in-law and senior adviser Jared Kushner, or with his former campaign manager Paul Manafort. Both also attended the Trump Tower meeting."
The petulant Grassley said Thursday that the panel's "chances of getting a voluntary interview with Mr. Kushner has been shot," and blamed Feinstein for having "spooked" potential witnesses when she unilaterally released the transcript of the panel's interview with Fusion GPS founder Glenn Simpson.
Grassley could have subpoenaed those witnesses long before he pursued Fusion GPS and Glenn Simpson in an attempt to discredit the Christpher Steele memo and the FBI.
Kushner and Manafort have spoken with the Senate Intelligence Committee, so good job Chuck.
You may recall that Senator Chris Coons suggested he thought Donald Trump Jr. lied in his interview with the Senate Judiciary Committee. Top senator strongly suggests Donald Trump Jr. lied in his testimony about Russia meeting:
"Below is a statute to keep in mind in regards to Donald Trump Jr.'s testimony today," Coons' office wrote in an email with the subject line: "On day of Trump Jr. testimony, an important law to remember."
Coons' memo then quoted statute 18 U.S.C. 1001(a) & (c)(2), which outlines the punishments for lying to Congress.
"It is important to remember that anyone who testifies in front of a Senate committee is under the restrictions of the False Statements statute that says material false statements to Congress are criminal and punishable with fines or imprisonment or both," he said in a statement.
It is unclear what Trump Jr. told the committee in the five-hour interview, which was held behind closed doors. We are now going to find out.
You may also recall that Senator Richard Blumenthal, a former prosecutor, released a statement following reports that in testimony before the House Intelligence Committee, Donald Trump, Jr. claimed attorney-client privilege when withholding details of a conversations with his father, President Trump, regarding a meeting with Russian agents during the summer of 2016. Blumenthal: Trump Jr. Testimony Leaves No Question He Must Be Subpoenaed:
"This completely disingenuous, bogus claim of lawyer-client privilege leaves no question that Donald Trump, Jr. must be subpoenaed to testify in public, under oath," Blumenthal said. "Spurious claims of privilege can never be a "get out of jail free" card. His defiance of Congress is an insult to elected officials on both sides of the aisle. No one is above the law, and he must be held accountable."
On Tuesday, Blumenthal wrote Senate Judiciary Committee Chairman Chuck Grassley today asking that he immediately issue a subpoena for public testimony and documents from Donald Trump, Jr.
Trump, Jr. has thus far failed to fully comply with the Senate Judiciary Committee's documents request, and initially withheld secret messages he exchanged with WikiLeaks during the 2016 presidential campaign. This follows a disturbing a pattern of Trump, Jr. giving incomplete or misleading statements about his involvement in communications with Russian agents. Despite Trump, Jr.'s refusal to cooperate with the Senate Judiciary Committee's investigation, Chairman Grassley has taken no action to compel his testimony or ensure that he has turned over all documents that fall within the Committee's jurisdiction.
The full text of Blumenthal's letter is available here.
Senator Grassley, of course, failed to do so and instead focused his attention on discrediting Fusion GPS and its founder Glenn Simpson, in pursuing the GOPropaganda conspiracy theories about the Christopher Steele memo and the FBI. Sens. Grassley and Lindsey Graham are pursuing a bogus referral of Christopher Steele to the Department of Justice for allegedly lying to the FBI about media contacts. The GOP's very strange letter calling for an investigation of Christopher Steele:
Senate Judiciary Committee Chairman Charles E. Grassley (R-Iowa) and Sen. Lindsey O. Graham (R-S.C.) sent the letter to the DOJ and FBI. In it, the pair says they have reason to believe Steele might have lied about disseminating information from the dossier.
But while they make the allegation publicly in the letter, the details of Steele's potential lying are contained within an attached document marked classified. In other words, they are suggesting Steele may have lied, but don't say what he might have lied about.
And indeed, it would be impossible for them to do so, given their accusation is apparently based upon his interviews with the FBI, which were recently shared with the Judiciary Committee and aren't public. But the point here is that they made the allegation of Steele's lying public.
As Devlin Barrett and Tom Hamburger note in their piece, that rubs some legal experts the wrong way. One former federal prosecutor, Peter Zeidenberg, called it "nonsense." He suggested it was a political effort intended to impact the Russia investigation — in which Steele's dossier has become the focus of GOP allegations of improper conduct by federal law enforcement — rather than a serious letter. He said that he had never heard of such a letter being released.
Another reason its strange is that Grassley and Graham are alleging that Steele may have lied using information the Justice Department already has and had shared with them. It's not clear why Grassley and Graham believe they see potential lies in Steele's interviews that the investigators haven't noticed. It's possible they have information from their own investigation that leads them to believe Steele lied, but they don't say as much in their cover letter.
Sen. Grassley is now trying to declassify the classified information in the attachment to his letter.