Business Insider reports, Trump sent cryptic message to Merrick Garland before warrant was unsealed: 'The country is on fire. What can I do to reduce the heat?'
Former President Donald Trump attempted to convey a cryptic message to Attorney General Merrick Garland following the FBI raid of Trump's Mar-a-Lago residence in Florida, The New York Times reported over the weekend.
The report said Trump wanted Garland to know he had been speaking with people around the country who were enraged by the FBI search.
A person familiar with the exchange told the paper that the message Trump wanted to be conveyed to Garland was: "The country is on fire. What can I do to reduce the heat?"
Decryption: "Nice little Department of Justice you got here. It'd be a shame should anything bad happen to it, capice?" Trump is once again threatening to summon his mob of domestic terrorists for acts of violence against federal law enforcement officers, just as he did on January 6, 2021. This is stochastic terrorism.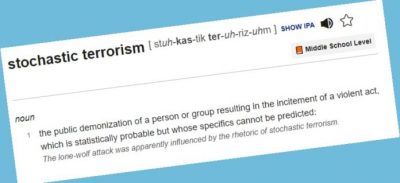 UPDATE: Amanda Marcotte writes, Trump is providing alarming evidence of his intentions (excerpt):
As Eric Kleefeld at Media Matters reported Monday, Fox News amplifies Trump's veiled threats of political violence after Mar-a-Lago search, Fox News has been heavily hyping "Trump's veiled threats that his supporters will carry out more political violence against federal law enforcement." As Kleefeld notes, Trump is using the passive language of faux "predictions" to package his threat, by saying things like, "the temperature has to be brought down in the country. If it isn't, terrible things are going to happen." But, of course, he and his targets both know things aren't just "happening." They are being provoked by Trump's hyperbolic language and hint-dropping to his followers.
The Times said a person close to the former president had reached out to a Justice Department official to give Garland the message. It wasn't clear whether the message reached Garland.
Several people on social media suggested Trump's message to Garland could be interpreted as a veiled threat.
Robert Maguire, a research director at the nonprofit Citizens for Responsibility and Ethics in Washington, said the message appeared to suggest that Trump could "fan the flames of violence."
Just a normal former president hinting to the current attorney general of the United States—who was about to make an announcement about the investigation into the former president—that he can fan the flames of violence, before asking"What can I do to reduce the heat?" pic.twitter.com/mjevmt54QU

— @robertmaguire.bsky.social (@RobertMaguire_) August 14, 2022
Since news of the FBI raid broke, armed Trump supporters have protested outside an FBI office in Phoenix, and a gunman was killed after trying to breach an FBI building in Cincinnati.
A law-enforcement source told CNN over the weekend that the FBI was investigating an "unprecedented" number of threats against personnel following the Mar-a-Lago raid.
The Times said Trump attempted to convey the message to Garland shortly before the attorney general announced on Thursday that he had personally authorized the decision to seek the search warrant for Mar-a-Lago.
Trump and his allies had been demanding that the warrant be released, though Trump already had a copy he could have released himself.
On Friday, a federal judge unsealed the warrant. Trump responded by denying wrongdoing and baselessly implying that the FBI might have planted evidence.
How long will it take before Donald Trump to start threatening the lives of the prosecutors and judges handling the investigations against him?