Donald Trump appears to have moved on to the corrupt presidential pardon phase after the "GOP Clown Car Coup" is failing spectacularly in humiliating defeats in court.
Politico reports, Trump pardons former national security adviser Flynn:
Outgoing President Donald Trump pardoned his former national security adviser Michael Flynn on Wednesday for lying to FBI agents investigating Russian interference in the 2016 election.
"It is my Great Honor to announce that General Michael T. Flynn has been granted a Full Pardon," the president tweeted. "Congratulations to @GenFlynn and his wonderful family, I know you will now have a truly fantastic Thanksgiving!"
Trump's move is an extraordinary intervention on behalf of an ally who pleaded guilty (twice!) in 2017 and has spent the last two years fighting to overturn his original plea.
Before reversing course, Flynn initially cooperated with special counsel Robert Mueller for nearly two years, including by providing evidence of potential obstruction of justice by the president.
Trump had long been expected to pardon Flynn, pummeling prosecutors and the FBI for their handling of the case, part of a concerted attack on the investigations against him. Trump has falsely accused the FBI and Justice Department of mounting a "coup" against him in the years after his election.
Though the pardon was long in the making, Trump allowed Flynn's legal drama to play out for more than three years, waiting until after the Nov. 3 election to issue clemency, a signal of how politically explosive the case has become. Flynn has become a revered figure to Trump's base, and Flynn's attorney — conservative firebrand Sidney Powell — has recently become a prominent Trump surrogate promoting baseless conspiracy theories about election fraud against Trump.
Release the Kraken!
Top Democrats have already warned they would consider any effort by Trump to pardon his associates to be an abuse of power, akin to the one the House impeached him for almost a year ago.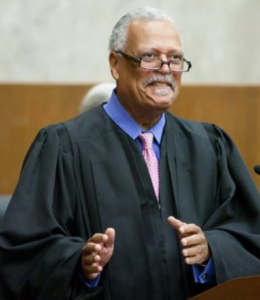 The pardon comes as a federal judge in Washington D.C., Emmet Sullivan, is weighing whether to allow Trump's Justice Department to dismiss the charge against Flynn. Attorney General William Barr authorized the dismissal amid Flynn's ongoing legal fight, alarming DOJ veterans worried that he had distorted the process to benefit a political ally of the president.
Sullivan, however, declined to immediately dismiss the case and instead sought an outside adviser, who argued that the Justice Department's legal argument for dismissing the case should be rejected as a pretext for aiding a Trump ally. Sullivan has been weighing a final decision since late September, when he held a hearing and learned that Powell had been in contact with Trump about the case. Sullivan has also raised alarms about documents DOJ relied on in the case that appeared to have been altered,though Justice Department officials insisted the alterations were inadvertent.
Trump has also openly attacked Justice Department prosecutors, including former members of Mueller's team, who helped secure the conviction of longtime adviser and friend Roger Stone. Trump's direct efforts on behalf of his associates threw the Justice Department into turmoil earlier this year, prompting Barr to issue what appeared to be a veiled threat to resign.
Nevertheless, Trump kept up his attacks on the Justice Department and the FBI, and Barr has remained quiet.
The rest of the Politico report is a recitation of the history of this case up to to this point.
Does Michael Flynn realize that In Burdick v. United States, the U.S. Supreme Court ruled that a pardon carries an "imputation of guilt" and accepting a pardon is "an admission of guilt"? Does Donald Trump realize this?
"Mafia Don" Trump is again abusing the power of his office to corruptly pardon the "made men" in the Trump crime family syndicate.
Expect to see a series of corrupt pardons, maybe even for individuals who have not been charged with any crimes let alone tried, between now and January 20, 2021.