The genesis of Donald Trump's xenophobic anti-immigrant nativist and racist demagoguery began right here in Arizona more than a decade ago with Prop. 200 in 2004, the "Arizona Taxpayer and Citizen Protection Act," which required that voters be able to produce both identification and proof of citizenship prior to being allowed to vote in any election. The same requirements were also enacted for any person prior to receiving any state or locally funded benefits.
The Yes on 200 committee was led by Rusty Childress, a Phoenix-area car dealer, and supported at the national level by the anti-immigrant Federation for American Immigration Reform (FAIR), whose legal arm is the Immigration Reform Law Institute, lead by the GOP's voter suppression expert, Kris Kobach, who is now unbelievably Secretary of State of Kansas.
There is, of course, the virulently anti-immigrant Maricopa County Sheriff Joe Arpaio who built his reputation on immigrant sweeps, when he was not abusing the power of his office by conducting witch hunts against his political opponents.
Then Rep. Russell Pearce "introduced what is now SB 1070 … every year between 2005 and 2009, before it finally passed and was signed by Gov. Jan Brewer" in 2010 (Pearce only introduced the bill, it was drafted by Kris Kobach as model legislation for ALEC). Pearce bragged in 2011, 1 battle in Arizona immigration war: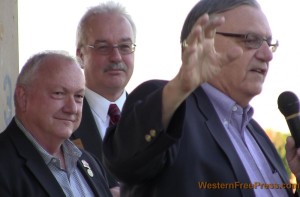 Prior to SB 1070, I introduced many other measures that addressed illegal immigration — and eventually became law. In 2004, 56 percent of Arizona voters approved Prop 200, which denies certain government benefits to illegal immigrants and prevents voter fraud.
Additional laws that punish human smugglers; deny illegal immigrants bail, and set up a statewide task force to deal with illegal immigrant gangs passed prior to SB 1070.
In 2004, Rep. Trent Franks (R-Ariz.) was the only member of the Arizona congressional delegation to support Prop 200 [Sens. John McCain and Jon Kyl were opposed.] The Arizona Republican Party, though not the grass roots, opposed the initiative as well.
Seven years later, the state GOP, four of the five Republican congressmen (except Rep. Jeff Flake), and both Republican senators — John McCain and Jon Kyl — supported SB 1070.
Arizona's chamber of commerce organizations and business community did not push back against this tide of anti-immigrant hysteria until 2011, as Pearce's opinion above reminds us. (Pearce was successfully recalled in November 2011). The GOP establishment has kept the lid on anti-immigrant legislation since — with the exception of additional election laws designed to disenfranchise Latino voters.
Then came the xenophobic anti-immigrant nativist and racist demagogue Donald Trump, who is now the nominee of the Republican Party.
On Wednesday, Donald Trump returned to the birthplace of his anti-immigrant demagoguery.
Trump was the featured speaker at the Arizona Republican Party Unity Event. Arizona Gov. Doug Ducey kicked off the rally for presidential candidate Donald Trump at the Phoenix Convention Center by calling on Republicans across the state to unify behind the party's nominee. Gov. Ducey says GOP must rally behind Trump. Ducey finished by saying: "It's time for national security, it's time for border security, it's time for a change. It's time for victory!"
Trump's warm-up speakers included anti-immigrant hard-liners such as U.S. Sen. Jeff Sessions, R-Alabama, Maricopa County Sheriff Joe Arpaio, Pinal County Sheriff Paul Babeu, and former New York City Mayor Rudy Giuliani. (What, no Jan Brewer?)
And then "The Donald," who earlier in the day had paid a visit to Mexico's President Peña Nieto, took the stage.  After subdued trip to Mexico, Trump talks tough on immigration in Phoenix.
The Arizona Republic reports, Trump rejects moderation, goes hard-line on immigration:
Donald Trump on Wednesday atomized any notion he is softening his hard-line immigration positions, rejecting a move to the middle that might make his presidential candidacy more appealing to Latino and moderate white voters and instead reinforcing his uncompromising image on border security and deportation policy.
Trump presented a day-vs.-night contrast between his high-octane opposition to illegal immigration and the views of Democratic presidential nominee Hillary Clinton, who has expressed support for comprehensive immigration reform, including a pathway to citizenship for many unauthorized immigrants already living here.
Speaking for 70 minutes in downtown Phoenix, Trump, the Republican nominee, outlined a 10-point plan that included his signature issues such as a border wall built at Mexico's expense; blocking funding to so-called "sanctuary cities"; ending "catch-and-release" policies; and "zero tolerance for criminal aliens."
Trump also dashed expectations he might make a concession to the estimated 11 million undocumented immigrants who have settled in the United States, held down jobs and raised families. He rejected any notion of "amnesty" for undocumented immigrants, unequivocally denouncing the idea that anyone can attain U.S. citizenship by entering the country without authorization.
He emphasized that all such immigrants are subject to deportation, even though his administration would concentrate on those who are criminals [first].
"Day One, my first hour in office, those people are gone," Trump said of the criminal immigrants. "And you can call it deported if you want. The press doesn't like that term. You can call it whatever the hell you want. They're gone."
In order to do this, this authoritarian megalomaniac would have to suspend constitutional due process and the laws of the United States, and set himself above the co-equal branches of government, the Congress that made those laws and the judiciary that adjudicates those laws. Trump is laying claim to dictatorial powers.
"Because I am not a politician [the most ridiculous argument anyone who has been elected the nominee of a political party can make], because I am not beholden to any special interest, I will get this done for you and your family," he said. "We will accomplish all of the steps outlined above, and when we do, peace and law and justice and prosperity will prevail."
The dog whistle here is that Trump is asserting dictatorial powers.
 Trump's anti-immigrant demagoguery went over big with his overwhelmingly white Maricopa County audience.
The "Party of Lincoln" is long since dead and gone. Let's stop pretending that it still exists in Arizona.  The GOP is now the modern-day version of the xenophobic anti-immigrant Know Nothing Party of the 1850s. It is now the Mass Deportation Party.
So here is the challenge to candidates who still run on the Republican Party label, like my representative in Congress, Martha McSally. You either disown this party and announce that you are seeking office as an independent, or you fully own what this party has devolved into. You no longer can say "I disagree with what Trump says, but I support my party." There is no degree of separation between the two. Your  position is untenable because it is both unprincipled and morally bankrupt.
As I have said before, it is a time for choosing.
It is time for the citizens of Arizona to rise up en masse and to vote every Republican who has an opponent in November out of office. It is time to end Arizona's shameful reputation as the birthplace of the Mass Deportation Party.