ICYMI, Wednesday was Donald J. Trump's birthday. Late in the day the Washington Post delivered a birthday card to the president, verifying that Special Counsel Robert Mueller is investigating him for obstruction of justice. Special counsel is investigating Trump for possible obstruction of justice, officials say: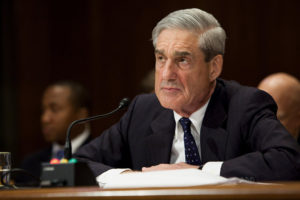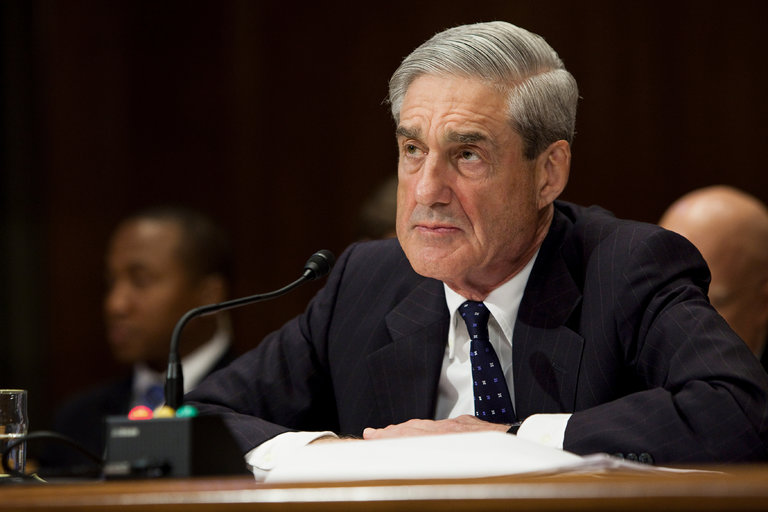 The special counsel overseeing the investigation into Russia's role in the 2016 election is interviewing senior intelligence officials as part of a widening probe that now includes an examination of whether President Trump attempted to obstruct justice, officials said. [The third leg of this investigation.]
The move by special counsel Robert S. Mueller III to investigate Trump's conduct marks a major turning point in the nearly year-old FBI investigation, which until recently focused on [1] Russian meddling during the presidential campaign and on whether there was any coordination between the Trump campaign and the Kremlin. Investigators have also been looking for [2] any evidence of possible financial crimes among Trump associates, officials said.
Trump had received private assurances from then-FBI Director James B. Comey starting in January that he was not personally under investigation. Officials say that changed shortly after Comey's firing.
Five people briefed on the interview requests, speaking on the condition of anonymity because they were not authorized to discuss the matter publicly, said that Daniel Coats, the current director of national intelligence, Mike Rogers, head of the National Security Agency, and Rogers's recently departed deputy, Richard Ledgett, agreed to be interviewed by Mueller's investigators as early as this week. The investigation has been cloaked in secrecy, and it is unclear how many others have been questioned by the FBI.
The NSA said in a statement that it will "fully cooperate with the special counsel" and declined to comment further. The office of the director of national intelligence and Ledgett declined to comment.
The White House now refers all questions about the Russia investigation to Trump's personal attorney, Marc Kasowitz.
"The FBI leak of information regarding the president is outrageous, inexcusable and illegal," said Mark Corallo, a spokesman for Kasowitz.
Note: This is what is known as a "non-denial denial." Kasowitz is not disputing the substance of this reporting, but seeks to deflect by claiming the FBI is leaking to the press. You should note that nowhere in this Post report does it suggest the FBI is among the "five people briefed on the interview." And it is almost certainly not the Special Counsel's office; Robert Mueller runs a tight ship. It seems clear to me that the Post's sources are most likely the intelligence officer witnesses, their staff members, or department lawyers who responded to receiving subpoeanas from the Special Counsel.
The officials said Coats, Rogers and Ledgett would appear voluntarily, though it remains unclear whether they will describe in full their conversations with Trump and other top officials or will be directed by the White House to invoke executive privilege. It is doubtful that the White House could ultimately use executive privilege to try to block them from speaking to Mueller's investigators. Experts point out that the Supreme Court ruled during the Watergate scandal that officials cannot use privilege to withhold evidence in criminal prosecutions. United States v. Nixon, 418 U.S. 683.
The obstruction-of-justice investigation of the president began days after Comey was fired on May 9, according to people familiar with the matter. Mueller's office has taken up that work, and the preliminary interviews scheduled with intelligence officials indicate that his team is actively pursuing potential witnesses inside and outside the government.
The interviews suggest that Mueller sees the question of attempted obstruction of justice as more than just a "he said, he said" dispute between the president and the fired FBI director, an official said.
Investigating Trump for possible crimes is a complicated affair, even if convincing evidence of a crime were found. The Justice Department has long held that it would not be appropriate to indict a sitting president. Instead, experts say, the onus would be on Congress to review any findings of criminal misconduct and then decide whether to initiate impeachment proceedings.
Comey confirmed publicly in congressional testimony on March 20 that the bureau was investigating possible coordination between the Trump campaign and the Russians.
Comey's statement before the House Intelligence Committee upset Trump, who has repeatedly denied that any coordination with the Russians took place. Trump had wanted Comey to disclose publicly that he was not personally under investigation, but the FBI director refused to do so.
Soon after, Trump spoke to Coats and Rogers about the Russia investigation.
Officials said one of the exchanges of potential interest to Mueller took place on March 22, less than a week after Coats was confirmed by the Senate to serve as the nation's top intelligence official.
Coats was attending a briefing at the White House with officials from several other government agencies. When the briefing ended, as The Washington Post previously reported, Trump asked everyone to leave the room except for Coats and CIA Director Mike Pompeo.
Coats told associates that Trump had asked him whether Coats could intervene with Comey to get the bureau to back off its focus on former national security adviser Michael Flynn in its Russia probe, according to officials. Coats later told lawmakers that he never felt pressured to intervene.
A day or two after the March 22 meeting, Trump telephoned Coats and Rogers to separately ask them to issue public statements denying the existence of any evidence of coordination between his campaign and the Russian government.
Coats and Rogers refused to comply with the president's requests, officials said.
It is unclear whether Ledgett had direct contact with Trump or other top officials about the Russia probe, but he wrote an internal NSA memo documenting the president's phone call with Rogers, according to officials.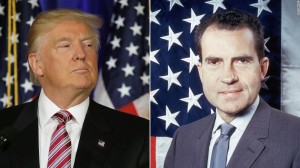 For students of history, this is exactly the "smoking gun" obstruction of justice in the Nixon tapes that led to Nixon's resignation in the Watergate scandal. Nixon only agreed to John Dean's plan to have the CIA Director ask the FBI to nix the Watergate investigation. In this case, Trump was foolish enough to directly  attempt to obstruct the investigation himself, with no cut out man for any arms length plausible denial. The Special Counsel is not going to need any tape for this, he will have witness testimony. For an excellent summary, see Lawrence O'Donnell On New Donald Trump Revelations: 'This Is Watergate' | The Last Word | MSNBC.
Mueller is overseeing a host of investigations involving people who are or were in Trump's orbit, people familiar with the probe said. The investigation is examining possible contacts with Russian operatives as well as any suspicious financial activity related to those individuals.
* * *
Mueller has not publicly discussed his work, and a spokesman for the special counsel declined to comment.
Accounts by Comey and other officials of their conversations with the president could become central pieces of evidence if Mueller decides to pursue an obstruction case.
Investigators will also look for any statements the president may have made publicly and privately to people outside the government about his reasons for firing Comey and his concerns about the Russia probe and other related investigations, people familiar with the matter said.
The New York Times attempted to catch up with the Post reporting. Mueller Seeks to Talk to Intelligence Officials, Hinting at Inquiry of Trump, and adds only this tidbit:
A former senior official said Mr. Mueller's investigation was looking at money laundering by Trump associates. The suspicion is that any cooperation with Russian officials would most likely have been in exchange for some kind of financial payoff, and that there would have been an effort to hide the payments, probably by routing them through offshore banking centers.
While Trump and his lawyers complain about leaks to the media, the biggest leakers are White House staffers working inside the Trump White House.  The Daily Beast reports, Even Trump's Aides Blame Him for Obstruction Probe: 'President Did This to Himself':
With the crisis engulfing Trump's young presidency intensifying, senators, Trump aides, former prosecutors, and FBI veterans are sending the White House an urgent warning: Whatever you do, don't. Fire. Mueller.
News of the obstruction investigation, which was first reported by The Washington Post on Wednesday, comes just days after Trump himself began floating the possibility of firing the new head of the investigation: Robert Mueller, the Justice Department special counsel appointed in the wake of Comey's firing.
The obstruction investigation has raised the stakes for Mueller's potential ouster. Firing him now, which would require that Trump personally direct DOJ leadership to do so, would create a political firestorm.
"Firing Robert Mueller right now would be a direct attack on the rule of law by Donald Trump," Ron Wyden, an Oregon Democrat on the Senate Intelligence Committee, told The Daily Beast. Wyden declined to directly address the Post report.
Trump reportedly floated the possibility of firing Mueller as a way to prod him toward exonerating the president and other Trump associates party to the investigation. The New York Times reported on Tuesday that aides dissuaded him from doing so.
For Ali Soufan, a retired FBI counterterrorism agent, word that Trump is now a target of Mueller's inquiry explains the trial balloon.
"No wonder President Trump and his surrogates are getting nervous. This explains their sudden attacks on Mueller and the threats to fire him," Soufan told The Daily Beast.
White House officials are still insisting to the president that he should leave Mueller in his post. "We are all advising him not to [get rid of] Mueller. That has not changed," one Trump aide told The Daily Beast. "It would be an absolute nuclear explosion if he did."
Firing Mueller would also put the president in greater legal jeopardy than he already may be in, said former United States attorney Barbara McQuade.
"If Trump were to fire Mueller and it could be shown that his purpose was to impede the investigation, it could be additional evidence of obstruction of justice," McQuade, who was appointed by President Obama, told The Daily Beast.
"Dear God, Keep Him Away from Twitter"
But some privately concede that Trump is so unpredictable—and so frustrated with the persistence of the investigation and its cost in political capital—that they're not ruling it out. Another White House official conceded that it would be "suicide" if Trump sacked Mueller at this point, but "I'd be insincere if I said it wasn't a concern that the president would try to do it anyway."
For now, officials are simply concerned with limiting fallout from what is sure to be a thunderous reaction from the president to news that he is personally the target of the FBI's probe.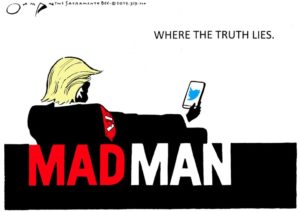 Asked what the internal game plan should be, one senior Trump administration official replied, "Keep him away from Twitter, dear God, keep him away from Twitter."
"The president did this to himself," the official added.
That sentiment reflects a general internal frustration with Trump's tendency to shoot from the hip in tweets and public statements that are rarely vetted by his legal team and often undercut White House messaging on major issues.
A second senior administration official pointed to Trump's role in propagating the rumor that he might fire Mueller—according to the Times, he felt the prospect of being sacked might convince Mueller to resolve the investigation in Trump's favor—and suggested that the leak to the Post on Wednesday might have been an unintended consequence of that move.
"Whoever leaked [news of the obstruction investigation] was obviously reading that he was thinking about giving Mueller the boot," the official said. Trump "shot himself in the foot again with this cockamamie scheme to get Mueller to play ball."
"Saturday Night Massacre," Part Two
Already, legal scholars have been gaming out the implications of Trump sacking Mueller.
McQuade is one of several former Justice Department and White House officials who warned such a firing would likely trigger a cascade of resignations within the Justice Department. "We could then have a repeat of the Saturday Night Massacre or the Sally Yates Massacre," she said.
The FBI's obstruction investigation is expected to include interviews with Director of National Intelligence Dan Coates and Adm. Mike Rogers, the head of the National Security Agency, both of whom declined to answer questions about the probe—and reports that Trump tried to enlist them in his campaign to oust Comey—during congressional testimony last week.
A DNI spokesperson declined to comment, and a spokesperson for the National Security Agency said in a statement, "NSA will fully cooperate with the special counsel. We are not in a position to comment further."
White House staffers have failed in their efforts to keep the Twitter-troll-in-chief away from his phone. He continues to dig his hole deeper today. On Twitter, Trump decries obstruction probe tied to 'phony' Russia collusion story.
The one question that needs to be answered is, if Trump did nothing wrong as he claims, what is he trying to cover up by obstructing justice? What rational person would do this?