Maybe I just didn't see it, but the media seems to have missed an opportunity this weekend while giving saturation coverage to Donald Trump's pathetic little campaign rally in Tulsa, Oklahoma.
The Trump campaign has gone all in on vilifying "antifa" (anti-fascist), which is not an organization but a philosophy — a philosophy shared by the millions of Americans and others around the world who served in World War II to rid the world of fascism.
When Donald Trump attacks anti-fascists, by definition he is saying that he is pro-fascist. As I have explained for years, Trumpism is the new American fascism.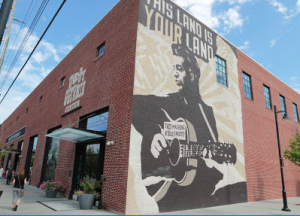 A famous anti-fascist was folk singer Woody Guthrie. As fate would have it, the Woody Guthrie Center is located in Tulsa, Oklahoma on Reconciliation Way in the Greenwood District, the scene of "the single worst incident of racial violence in American history" in 1921 when a white mob jealous of the financial success of "Black Wall Street" burned it to the ground.
Woody Guthrie made famous his guitar on which he wrote "this machine kills fascists" (above photo). The Woody Guthrie Center has a Woody Guthrie Store where you can buy a sticker based on his "this machine kills fascists" sticker which he used on later guitars.
I think it would be a fitting tribute to Woody Guthrie in the present state of affairs in this country if musicians of all styles of music and musical instruments would wear the buttons, patches, stickers, T-shirts and hats for "this machine kills fascists" as a symbol of protest against Trumpism, the new American fascism.
If he were still with us today, you can bet that Woody Guthrie would be taking on these fascists. He would have been there to greet Donald Trump with his guitar in hand.
The introduction at the Woody Guthrie Center web site reads:
The Woody Guthrie Center is dedicated to spreading Woody's message of diversity, equality and social justice. In today's world, where it seems intolerance, bigotry and violence are on the rise, it's an honor to share this positive message with a new generation that can create its own ripples of change. Our facility honors Woody's life and legacy by educating visitors of his relevance today and his important role in American history.
ABOUT
Woody Guthrie (1912-1967) was one of America's greatest folksingers and most influential songwriters. Although born in Okemah, Oklahoma, Guthrie's true home was all of America—"from California to the New York island," to take a line from his most famous song, "This Land Is Your Land."
Woody's songs celebrate the beauty and bounty of America and seek the truth about our country and its people. He turned complex ideas about democracy, human rights, and economic equality into simple songs that all Americans could embrace. Woody spoke for those who carried a heavy burden or had come upon hard times. His words gave a voice to their struggle, and his songs gave them hope and strength.
The Woody Guthrie Center, home to the Woody Guthrie Archives, preserves his legacy and life story and communicates the social, political, and cultural values found in his vast body of work. The Center is a repository for Woody's writings, art, and songs and an educational resource for teachers and students everywhere.