There is nothing that judges hate more than vexatious litigants, people who abuse the court system with frequent and often frivolous lawsuits, often brought for improper motives of intimidation and harassment. Donald Trump is one of those people.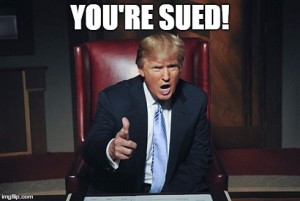 Remember these highlights from the GOP debates? Trump to Kasich: Watch what you say or I'll sue (November), and Donald Trump To Ted Cruz: Apologize Or I'll Sue Over Your Citizenship (February). And then there was the New York Times and Washington Post that had the audacity to question him. Trump: I'll sue if you talk about me (but you are ugly and fat).
As a preliminary matter, I have yet to hear a member of the press ask Donald Trump the obvious question: in the unlikely event that he is elected president, does he intend to put his investments into a blind trust and to turn over management of his businesses to other board members, removing himself from the day-to-day operations of his businesses? Or does he intend to continue  his hands-on management of his businesses and investments from the White House, since he views the presidency as merely a "chairman of the board" position? (Where others do the actual work).
This is an important question because it appears that Donald Trump spends much of his time engaged in an inordinate number of lawsuits as both a plaintiff and a defendant, and is personally involved in depositions and other discovery. It takes so much of his time that litigation really is his  "business" in its own right. Is this what Trump intends to do as president?
USA Today (via The Arizona Republic) takes a deep dive into Donald Trump's litigation "business" and paints a deeply disturbing portrait. Exclusive: Trump's 3,500 lawsuits unprecedented for a presidential nominee. Some snippets from this lengthy investigative report:
An exclusive USA TODAY analysis of legal filings across the United States finds that the presumptive Republican presidential nominee and his businesses have been involved in at least 3,500 legal actions in federal and state courts during the past three decades. They range from skirmishes with casino patrons to million-dollar real estate suits to personal defamation lawsuits.
The sheer volume of lawsuits is unprecedented for a presidential nominee. No candidate of a major party has had anything approaching the number of Trump's courtroom entanglements.
Just since he announced his candidacy a year ago, at least 70 new cases have been filed, about evenly divided between lawsuits filed by him and his companies and those filed against them. And the records review found at least 50 civil lawsuits remain open even as he moves toward claiming the nomination at the Republican National Convention in Cleveland in seven weeks.
* * *
The legal actions provide clues to the leadership style the billionaire businessman would bring to bear as commander in chief. He sometimes responds to even small disputes with overwhelming legal force. He doesn't hesitate to deploy his wealth and legal firepower against adversaries with limited resources, such as homeowners. He sometimes refuses to pay real estate brokers, lawyers and other vendors.
As he campaigns, Trump often touts his skills as a negotiator. The analysis shows that lawsuits are one of his primary negotiating tools. He turns to litigation to distance himself from failing projects that relied on the Trump brand to secure investments. As USA TODAY previously reported, he also uses the legal system to haggle over his property tax bills. His companies have been involved in more than 100 tax disputes, and the New York State Department of Finance has obtained liens on Trump properties for unpaid tax bills at least three dozen times.
* * *
Alan Garten, general counsel for the Trump Organization, said in an interview that the number and tenor of the court cases is the "cost of doing business" and on par with other companies of a similar size. "I think we have far less litigation of companies of our size," he said.
However, even by those measures, the number of cases in which Trump is involved is extraordinary. For comparison, USA TODAY analyzed the legal involvement for five top real-estate business executives: Edward DeBartolo, shopping-center developer and former San Francisco 49ers owner; Donald Bren, Irvine Company chairman and owner; Stephen Ross, Time Warner Center developer; Sam Zell, Chicago real-estate magnate; and Larry Silverstein, a New York developer famous for his involvement in the World Trade Center properties.
To maintain an apples-to-apples comparison, only actions that used the developers' names were included. The analysis found Trump has been involved in more legal skirmishes than all five of the others — combined.
* * *
A handful of the ongoing cases involve local or state government entities, with the possibility of personal legal disputes between the president of the United States and other branches of government if Trump is elected. For instance, the Trump team has filed a lawsuit seeking a state ethics investigation of the New York attorney general. The suit was filed in response to an ongoing fraud investigation into Trump University by the attorney general, an elected state official.
* * *
Trump's history of legal actions provides clues about his style as a leader and manager. While he is quick to take credit for anything associated with his name, he is just as quick to distance himself from failures and to place responsibility on others.
* * *
The number of lawsuits raises questions about potential conflicts and complications if Trump does win the White House. Dozens of cases remain unresolved, about half in which he is the plaintiff. It raises the possibility of individuals being sued by the president of the United States, or suing him, in non-governmental disputes.
Under the law, Trump wouldn't get special advantages as the plaintiff — or protections as a defendant. Under long-standing conflict-of-interest rules, as a plaintiff he couldn't improperly benefit from governmental knowledge. He also wouldn't get immunity from civil litigation that stemmed from events prior to taking office.
* * *
The USA TODAY analysis identified at least 3,500 legal actions involving Trump. Reporters reviewed thousands of pages of records collected electronically and in person from courts in 33 states over three months, read more than 20 hours of depositions and interviewed dozens of litigants.
Among those cases with a clear resolution, Trump's side was the apparent victor in 451 and the loser in 38. In about 500 cases, judges dismissed plaintiffs' claims against Trump. In hundreds more, cases ended with the available public record unclear about the resolution.
Close to half the court cases — about 1,600 — involved lawsuits against gamblers who had credit at Trump-connected casinos and failed to pay their debts. About 100 additional disputes centered on other issues at the casinos. Trump and his enterprises have been named in almost 700 personal-injury claims and about 165 court disputes with government agencies.
Dozens dealt with the bankruptcy proceedings of Trump's companies, and dozens more involved plaintiffs' lawsuits against Trump businesses that judges terminated because the Trump companies targeted had gone bankrupt.
* * *
There also are disputes with local governments from New York to Florida to Nevada over the size of his property-tax bills.
The terms of most of the 100 settlements that Trump and his businesses reached with plaintiffs have not been disclosed. In about 60 additional cases, those sued by the Trump side have settled with him.
* * *
Review of thousands of legal actions show that Trump is fiercely protective of his brand, quick to distance himself from deals that struggle, willing to deploy outsized resources against adversaries and sometimes prone to micro-management, even in disputes that involve relatively small amounts of money. Those approaches, however appropriate in a business setting, may not translate to a political one, especially at the level of the White House.
* * *
In lawsuits over his Trump University, he testified that he had never met instructors who were described in the university's promotional materials as being "handpicked" by him. "It depends on the definition of what that means, handpicked," Trump said during an exchange with a lawyer in a sworn deposition last December.
Sounds just like Bill Clinton: It Depends on what the meaning of the word 'is' is. Hypocrite.
When attorneys representing plaintiffs pointed out some instructors had criminal pasts and had been accused of berating seniors who signed up for the program, Trump replied: "In every business, people slip through the cracks."
"Hey, whaddya gonna do? Do you know what I mean?"
You should read the entire report. Donald Trump is a megalomaniac narcissist who is entirely lacking in the character, temperament, honesty and judgment to serve as president of the United States. He is a con man engaged in the biggest con of his life. It's sad that so many "suckers" have fallen for his con already.
But it's not too late. The GOP convention does not have to nominate Trump. They can step back from the precipice and not jump off the cliff.