Did you know that there was only one victim in Charlottesville, Virginia, and it wasn't Heather Heyer? Oh no, the victim was our always insecure egomaniacal Twitter-troll-in-chief at the hands of a "dishonest" media that accurately reported his words live on TV.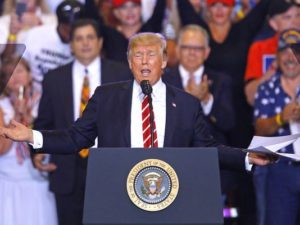 Donald Trump came to Phoenix to throw himself a "pity party" among his sycophant supporters with a long list of perceived grievances against all those whom he feels have done him wrong. He's the victim in his revisionist history. The Daily 202: Trump's penchant for revisionist history on display during Arizona rally.
This is in keeping with the conservative white grievance sense of victimhood, that they are "victimized" for their whacked-out conspiratorial non-factual beliefs in utter nonsense for which they are fed a steady diet from the conservative media entertainment complex. This sense of victimhood is the unifying "tribalism" around which they rally in this anti-intellectual movement led by the most dangerous demagogue in American history.
The Washington Post reports, Trump threatens government shutdown, suggests controversial pardon at Arizona rally (paragraphs have been reordered):
President Trump's freewheeling comments came at a boisterous campaign rally here during which he went on an extended diatribe about the media, blaming reporters for the negative fallout he has received over his responses to the hate-fueled violence in Charlottesville.
At the outset of the rally, Trump selectively recounted the series of statements he made in the days following the melee in Charlottesville, arguing that he "spoke out forcefully against hatred and bigotry and violence" but that the media — whom he called "sick people" — refused to report it properly.
"You know where my heart is," Trump said, before pulling a copy of his first of three statements on the violence out of his suit coat and reading it to his audience. He later accused the media of giving a platform to the hate groups that were central to the violence in Charlottesville that led to three deaths.
Following his comments last week, Trump was criticized by Democrats and Republicans alike for blaming "both sides" for the violence and saying that "fine people" had marched along with white supremacists to protest the removal of a Confederate statue.
Trump did not mention either of those remarks in his diatribe against the media on Tuesday. He lied by omission to his sycophant supporters in his revisionist history, and his sycophant supporters didn't care. Facts simply do not matter to these people, they are in thrall to Trump lies, President Trump has made more than 1,000 false or misleading statements, all that matters to them is their unquestioning devotion and loyalty to their "Dear Leader."
Trump also never mentioned Heather Heyer, the woman mowed down by a white supremacist with his vehicle in Charlottesville. In Trump's revisionist history, he was the only victim that day.
President Trump [also] threatened to shut down the government over border wall funding, said the North American Free Trade Agreement is likely to be terminated and signaled that he was prepared to pardon former Arizona sheriff Joe Arpaio, who is anathema to the Latino community.
In a speech that stretched well over an hour, Trump expressed frustration with efforts to negotiate with Canada and Mexico to improve NAFTA, saying he was more likely to terminate the deal. He also blamed "obstructionist Democrats" for standing in the way of funding for a U.S.-Mexico border wall and suggested a government shutdown might be needed to force their hand. And Trump called for ending the filibuster rule requiring 60 votes for many issues in the Senate, a move that Republican leaders [Mitch McConnell] have refused to embrace.
Arpaio was convicted last month of criminal contempt for ignoring a federal judge's order to stop detaining people because he merely suspected them of being undocumented immigrants. A major Trump supporter during last year's campaign, he awaits sentencing.
"So was Sheriff Joe convicted for doing his job?" Trump asked the crowd. "You know what, I'll make a prediction: I think he's going to be just fine, okay? But I won't do it tonight because I don't want to cause any controversy. But Sheriff Joe should feel good."
Trump did not mention either Senator John McCain or Senator Jeff Flake by name during his remarks, but he took jabs at both during his speech. The Arizona Republic adds, 'Vintage Trump': President unloads on enemies at Phoenix rally:
He riled up the crowd at the Phoenix Convention Center by alluding to McCain's July 28 vote that sank the GOP's immediate effort to repeal and replace the Affordable Care Act.
And Trump said nobody — meaning Senate Republican leaders — wants him to talk about the other senator, Flake, whom he dismissed as "weak on borders, weak on crime." But he said he didn't have to mention Flake's name because "nobody knows who the hell he is."
The New York Times adds, At Rally, Trump Blames Media for Country's Deepening Divisions:
Returning repeatedly to Charlottesville, [Trump] said the news media failed to focus on anarchists, who he said turned out in their "helmets and the black masks — Antifa," Mr. Trump said, spitting out the nickname for the anti-fascist groups. [This is Trump's "both sides" argument that he selectively excised from his earlier revisionist history of Charlottesville. Of course this fascist would despise anti-fascists.]
Mr. Trump accused the news media of "trying to take away our history and our heritage," an apparent reference to the debate over removing statues to heroes of the Confederacy, which prompted the rally by neo-Nazis and white supremacists in Charlottesville.
Pointing repeatedly to the cameras in the middle of a cavernous convention center, Mr. Trump whipped the crowd into fevered chants of "CNN Sucks." Members of the audience shouted epithets at reporters, some demanding that the news media stop tormenting the president with questions about his ties to Russia.
Trump's sycophant supporters are Putin's "useful idiots" fifth column in America. They are only loyal to Putin's puppet, Donald Trump.
Mr. Trump also said little about foreign policy, offering only a bare summary of the Afghanistan policy he unveiled on Monday night, and suggesting that North Korea's dictator, Kim Jong-un, had retreated in the face of Mr. Trump's threats of military action against him.
The president made no mention of the accident involving the Navy destroyer John S. McCain, named for the grandfather and father of Senator McCain, which left several sailors presumed dead.
* * *
At one point, as Mr. Trump defended his remarks about the unrest in Charlottesville, protesters interrupted.
"How did he get in here?" Mr. Trump said. "He's supposed to be with the few people outside."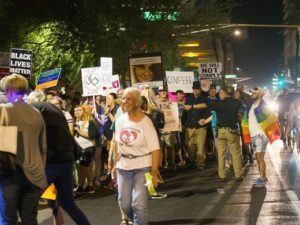 Once again, Trump's obsession with crowd size. According to news reports, the Phoenix Convention Center was not filled to capacity and As Trump ranted and rambled in Phoenix, his crowd slowly thinned. And there were far more than a "few people" — another Trump lie — outside protesting his rally.
What had been a peaceful rally near the Phoenix Convention Center to protest President Donald Trump's speech Tuesday night turned combustible afterward, with police deploying pepper spray and stun grenades to disperse the large crowd. Police disperse Trump protest crowd with pepper spray outside rally in Phoenix: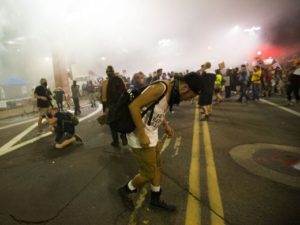 Police said some anti-Trump protesters threw rocks and bottles, and officers responded with pepper balls, pepper spray and gas.
It was a chaotic ending to hours of protests that had generated tension but little violence.
One eyewitness said he saw water bottles thrown at police while other protesters said they saw no provocation.
Kylee Whiteagle, 19, Phoenix, said demonstrators were peacefully protesting in front of the convention center.
"Police started throwing tear gas and pepper-spray pellets and flash bombs to basically make us run away," she said.
The police actions started about 8:48 p.m.,shortly after Trump finished speaking.
* * *
At a news conference late Tuesday, Phoenix Police Chief Jeri Williams said she was told that protesters had thrown tear gas at officers near the Herberger Theater Center.
She said she believed officers responded appropriately, given the charged and emotional nature of the event.
No serious injuries were reported other than those that were heat-related, Williams said.
The Phoenix Fire Department treated 26 people for that, with two taken to hospitals for evaluation. No property damage was reported.
"Kudos to our community," Williams said.
Phoenix Police Chief Jeri Williams and Phoenix Mayor Greg Stanton said an after-incident review would be conducted. Phoenix police say they will investigate use of force at Trump rally.