Donald Trump and Republicans spent weeks attacking Rep. Ilhan Abdullahi Omar (D-MN), one of the first Muslim-American politicians serving in the House of Representatives, trying to portray her and all Democrats in Congress as anti-Semitic as part of a campaign strategy for a "Jexodus" of Jewish voters in 2020. Trump's 2020 Strategy: Politicize Israel, Demonize Ilhan Omar and Keep Key Voters at Home. Yes, they really are this cynical.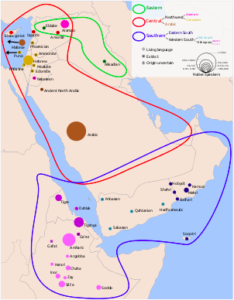 "Semites" are the people who spoke Semitic languages in the Middle-East and North Africa. The terms "anti-Semite" or "antisemitism" came by a circuitous route to refer more narrowly to anyone who was hostile or discriminatory towards Jews in particular. Semitic people. Objections to the usage of the term, such as the obsolete nature of the term "Semitic" as a racial term and the exclusion of discrimination against non-Jewish Semitic peoples, have been raised since at least the 1930s.
As Rep. Ilhan Abdullahi Omar recently tweeted, "Islamophobia and Anti-Semitism are two sides of the same bigoted coin."
On Sunday, March 24, the Islamic Center mosque in Escondido, Calif., was the target of an arson fire. Scrawled on an outside wall was anti-Muslim graffiti referring to the Christchurch New Zealand white supremacist attack on two mosques. Graffiti Citing New Zealand Attack Is Found After Mosque Fire in California:
The Escondido Police Department announced in a statement on Sunday that the fire was being investigated as arson and a hate crime, is working with the F.B.I., the San Diego Police Department and the Bureau of Alcohol, Tobacco, Firearms and Explosives on the case.
The suspected arson in Escondido, a city about 30 miles north of San Diego, targeted a place of worship for hundreds of Muslims in the area. It was one of a series of acts of vandalism and threats that have sprung up after the attacks on two mosques in Christchurch, New Zealand, on March 15, in which 50 people were killed. A 28-year-old Australian man has been charged in the killings.
In the United States, many Muslims remain on edge … Several threats have been reported. A man was arrested in Phoenix on March 19 after the police said he made a threatening gesture at a mosque.
* * *
Dustin Craun, the executive director of the Council on American Islamic Relations in San Diego, said Muslims were seeing the "same hatred" that motivated the attacks in New Zealand.
"It is disturbing enough that some sick individual would attempt to burn a house of worship to the ground, but referencing the slayings in New Zealand is beyond the pale," he said in a statement after the Escondido mosque fire.
A month later, on Saturday, April 27, a 19-year-old white supremacist armed with an AR-15-style gun stormed into the Chabad of Poway synagogue a little before noon yelling anti-Semitic slurs. A 60-year-old woman was killed. A rabbi was shot in the hand and two other people were left with shrapnel wounds. What to Know About the Poway Synagogue Shooting:
Officials said they're investigating whether [the gunman] posted a racist manifesto on the online message board 8chan ahead of the attack.
The document is an anti-Semitic screed filled with white nationalist conspiracy theories. Its author said he was inspired by a horrific mass shooting at a mosque in Christchurch, New Zealand, which was streamed online, and the massacre at a synagogue in Pittsburgh, which took place exactly six months prior.
The author also says he was responsible for a fire at a mosque in Escondido, not far away.
[The gunman] was charged with one count of murder and three counts of attempted murder on Sunday morning.
It appears that this 19-year-old white supremacist was responsible for both the arson of a mosque in Escondido and the shooting in a synagogue in Poway. As Rep. Ilhan Abdullahi Omar tweeted, "Islamophobia and Anti-Semitism are two sides of the same bigoted coin." White supremacy was the motivation that bound the two together.
Last week our white supremacist racist-in-chief president Trump stood by his Charlottesville remarks, as rise of white-nationalist violence becomes an issue in 2020 presidential race:
First came Joe Biden's campaign announcement video highlighting President Trump's "very fine people on both sides" comment about the 2017 white-nationalist rally in Charlottesville that left a counterprotester dead.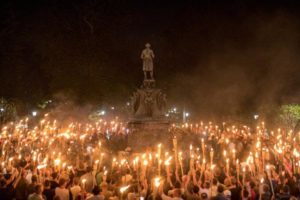 Then Trump dug in, arguing that he was referring not to the self-professed neo-Nazi marchers, but to those who had opposed the removal of a statue of the "great" Confederate Gen. Robert E. Lee.
Robert E. Lee was a slave-owning traitor who committed treason, and who was responsible for the deaths of hundreds of thousands of Americans in its bloodiest war, all to preserve the right to continue owning slaves. This is not how you define greatness.
It is also revisionist history. Charlottesville wasn't about Robert E. Lee, Mr. President. It was about racism.
Less than 24 hours later came another act of violence described by authorities as a hate crime: Saturday's shooting at a synagogue in Poway, Calif., in which a gunman killed one person and injured three others.
Those events have pushed the rising tide of white nationalism to the forefront of the 2020 presidential campaign, putting Trump on the defensive and prompting even some Republicans to acknowledge that the president is taking a political risk by continuing to stand by his Charlottesville comments.
* * *
Trump has previously played down the threat posed by white nationalism. After a gunman last month killed 49 Muslims in two consecutive mosque attacks in New Zealand, Trump was asked by a reporter whether he thought white nationalists were a growing threat around the world. "I don't, really," Trump replied. "I think it's a small group of people that have very, very serious problems."
Trump also has a long history of anti-Muslim remarks, including saying in 2015 that he would "strongly consider" closing mosques in the United States, declining to rule out the creation of a national Muslim registry and saying during a 2016 CNN interview, "I think Islam hates us."
Trump's doubling down on his remarks in response to Biden's video has prompted calls from the ADL and others for him to be clearer about condemning what actually happened in Charlottesville, where white supremacists brandished torches and chanted anti-Semitic slogans such as "Jews will not replace us."
"We need our leaders to lead, to be clear and consistent in calling out hate when it happens and to recognize there is a through line between Charlottesville and Pittsburgh and Poway," ADL chief executive Jonathan Greenblatt said. "We know the extremists are feeling emboldened because they're saying so. They're communicating a sense of energy and optimism in their message boards and in their subreddits, and it should be alarming to all of us."
This is not the leadership we got from Donald Trump. Hours after a gunman opened fire at a synagogue in Poway, CA, President Donald Trump did denounce anti-Semitism during a campaign rally in Green Bay, Wisconsin, Trump denounces anti-Semitism one day after defending Charlottesville marchers:
"Tonight, America's heart is with the victims of the horrific synagogue shooting in Poway, California — just happened," Trump said at the start of his speech. "Our entire nation mourns the loss of life, prays for the wounded, and stands in solidarity with the Jewish community. We forcefully condemn the evil of anti-Semitism and hate, which must be defeated."
But wait … only minutes later, Trump used an ancient anti-Semitic trope to falsely accuse Democrats of supporting the execution of babies. Lawrence O'Donnell explained on his MSNBC program last night:
Until now, I have resisted putting Trump's lie he told about abortion into a post. After all, what's the point of amplifying an outright lie about abortion, intended to inflame and incite?
O'Donnell introduced the clip as "one of the ugliest lies of his presidency, possibly his ugliest lie, possibly his worst lie," which it is. After warning that he was playing the clip rather than reading the words, he played a brief clip of the "poisonous" lie that doctors and mothers conspire to kill babies.
"This is vile, despicable, deplorable lying by a man who clearly now is willing to say absolutely anything to hold onto the presidency," O'Donnell said.
The Big Lie is this: "They take care of the baby. They wrap the baby beautifully. And then the doctor and the mother determine whether or not they will execute the baby."
He then spent some time discussing all of Trump's 61 lies at that rally alone [President Trump has made more than 10,000 false or misleading claims] before turning to the question of whether Trump's rhetoric inspires violence. (Of course it does).
"He was defending people who chant 'Jews will not replace us'," O'Donnell explained. "He specifically meant and intends and continues to intend to defend them by saying that some of them who said Jews will not replace us are good people, some of them."
"And the very next day, the very next day after the president defended those people once again, a person who proudly calls himself a white supremacist took his ARr-15 assault weapon into a synagogue north of San Diego and started killing and wounding the Jewish men women and children in that synagogue," he continued.
Yes, his rhetoric inspires hate crimes. On synagogues, mosques, and churches. But the targets of unrelenting white supremacist hate are Jews.
That's no coincidence, as Lawrence explained. "But..my enemies are killing babies, my enemies are taking the babies and wrapping them up and deciding to execute them," repeating Trump's words. "That is what Hitler said about the Jews."
"Hitler said that they were killing babies," he reiterated. "That is one of the Nazis' leading lies about the Jews."
"That was a Hitlerian lie by Donald Trump on Saturday night," he declared.
What O'Donnell is referring to is the ancient anti-Semitic trope of blood libel, accusing Jews of murdering Christian children in order to use their blood as part of religious rituals. Trump has updated this trope to accuse Democrats of killing children. Trump is inciting violence not just against abortion clinics and abortion doctors, but against his Democratic political opponents as well.
Blood libel was included in the manifesto of the gunman at the Chabad of Poway synagogue. Talia Lavin explains in the Washington Post, The San Diego shooter's manifesto is a modern form of an old lie about Jews:
On Easter Sunday, 1475, the body of a 2-year-old Christian boy named Simon Unferdorben was discovered near a Jewish home in the northern Italian city of Trent, then a province of the Holy Roman Empire. Immediately, authorities arrested every Jew living in the city. Even as they awaited sentencing, a mythic narrative sprang up around the dead toddler: that he was a saintly martyr, a victim of ritual murder by the Jews, who had killed him to use his blood in the baking of their Passover matzohs.
After prolonged torture, eight Jews were beheaded or burned at the stake for their alleged role in the crime. The late medieval Christian networks of communication broadcast the myth of Simon's martyrdom at the hands of a cabal of evil Jews across languages and countries. Simon's tomb became a magnet for pilgrims from across Christendom, who claimed that the saintly boy had granted them miraculous healing from hernias, stabbings and other ailments. The bishop of Trent financed the writing of poems and hagiographies that both praised the martyred child and denounced the perfidy of Jews.
If, in the 1400s, anti-Semitic myths were transmitted by means of beatific poetry, legends of martyrs and claims of miraculous healing by pilgrims, today such lies are transmitted far more easily.
But it is a mark of how unchanged such myths [that] the 19-year-old gunman who police say entered a Southern California synagogue, murdered a 60-year-old woman and injured several more people on Saturday — claims to have acted, in part, to avenge the death of Simon of Trent.
"You are not forgotten Simon of Trent, the horror that you and countless children have endured at the hands of the Jews will never be forgiven," he wrote in a manifesto uploaded to the text repository Pastebin and posted on the anonymous message board 8chan. The dissemination of the manifesto was instantaneous, reaching thousands of readers on the message board and around the world. But the hatred at its core could have been plucked directly from the 15th century.
* * *
Where once Jews were accused of poisoning wells to spread bubonic plague, contemporary white nationalist rhetoric posits instead that Jews seek the destruction of the "European" or "white" race by encouraging interracial marriage and mass immigration.
If the manifesto on 8chan is any guide, [the 19 year-old gunman] subscribed fully to this pernicious myth, which far-right ideologues call "white genocide," and preached it as sincerely to the web-savvy readers of his text as any medieval preacher ginning up a pogrom by spreading the blood libel. (That the majority of American Jews tend to lean politically left, and therefore generally endorse more open immigration policies and oppose racism, provides a far-right, radicalized, conspiracy-drunk subculture all the proof it needs.)
We should not be surprised. Donald Trump's closing ad of his 2016 campaign was packed with anti-Semitic dog whistles, anti-Semitic tropes and anti-Semitic vocabulary. Trump Rolls Out Anti-Semitic Closing Ad.
When Donald Trump bragged to a crowd of Republican Jews gathered in Las Vegas that he had "stood with your prime minister at the White House," he was not only implying that the group's loyalties were divided between the U.S. and Israel, but stating outright that their primary allegiance is to the Jewish state. But another announcement during that same event revealed that the belief that American Jews hold dual loyalties is widespread within the Republican Party. The Entire Republican Establishment Has Embraced a Classic Anti-Semitic Trope.
How Republicans are using anti-Semitism to woo Jews: It's a cynical move for a party whose standard-bearer, President Trump, used to share anti-Semitic memes, trafficks in anti-Semitic conspiracy theories, and insisted there were "very fine people on both sides" of a white supremacist rally in Virginia where marchers shouted, "Jews will not replace us."
Donald Trump's embrace of white supremacy rhetoric and anti-Semitic tropes is giving license and encouragement to this vile racist group to commit acts of violence, whether he realizes it or not.