By Michael Bryan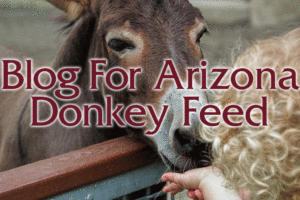 The Donkey Feed is here again, the skies are clear and blue again, happy days are here again! Seriously, though, this is the Donkey Feed: time to put on your specs, shift the browser to reader mode, and get down to the most relevant news stories, opinion, and long-form journalism I could find over the past 5 days. Please note our new, and much cuter, logo! Look at that! Awwwwwww…
I found some cool stuff online for you to get you started: a great visual breakdown of Arizona's income inequality, a visual comparison of how the states raise their revenue (note how heavily Arizona relies on sales taxes), and a visual breakdown of America's land use by area.
For best video of the week, I present U.S. Senator Chris Coons schooling the President on the criminality of collusion with Russia by simply reading the U.S. Code (BTW, here's what real national security lawyers think about collusion, and seven theories of the case Mueller might consider).
As per reader requests, I have limited myself somewhat in the number of stories I present to you. This week, 10 stories for Arizona, 10 for national news, and 5 international stories, plus 3 books I'm reading this week. Hope that makes things a bit less overwhelming.
We are still fundraising here at BlogForArizona, so if you like all the weekly features and our regular blogging, please consider a small donation; you can start with buying us a Starbucks Venti Latte for just $5.
On with the main meal, then! Click on the 'Continue Reading' for the Feed.
Arizona:
National:
World:
What Mike's Reading:
Andrew Yang, tech entrepreneur and founder of Venture for America, will be running for President in 2020. While he has no chance of winning (barring a Russian disinformation campaign), he does bring an interesting and humane agenda to the table, including Universal Basic Income.
David Reich is a Professor of Genetics at Harvard Medical School and a leading pioneer in the use of ancient DNA for paleontology. His book is a look into the deep past of the human species using cutting-edge techniques to extract DNA from ancient bones. What he has found has changed our view of our species' history.
Stephen Asma is a Professor of History at Columbia who believes that religion is able to touch and heal emotional parts of our psyche that science and technology have not yet been able to touch. It is a useful exercise to occasionally read a book that you are pretty sure you are going to disagree with, and to keep an open mind.