Our always insecure egomaniacal Twitter-troll-in-chief started his day in Hamburg, Germany at the G20 Summit by tweeting this absurd claim that John Podesta and the DNC emails were the talk of the G20 leaders.
John Podesta interrupted a cross-country trip to tweet a response giving the idea as much credence as it deserves:
Pulled in for a pit stop in E. Fairmont W. VA. to see that our whack job POTUS @realDonaldTrump is tweeting about me at the G20.

Get a grip man, the Russians committed a crime when they stole my emails to help get you elected President.

Maybe you might try to find a way to mention that to President Putin

BTW, I had nothing to do with the DNC

God only knows what you'll be raving about on twitter by the time we get to Utah.

Dude, get your head in the game. You're representing the US at the G20.
Podesta followed up his tweet with an op-ed at the Washington Post. Why is Trump tweeting about me when he should be doing his job?
This bit of insanity was followed by Trump's long-anticipated first date with his man-crush Vladimir Putin and, well, let's just say that his first date did not go well — for America.
Mark Sumner reports at Daily Kos, Trump believes Russia didn't hack the election—because Putin told him:
As it turns out, there was some discussion of Russia interference in the 2016 election during Trump and Putin's two hour plus tête-à-tête. But it wasn't Trump confronting Putin about the interference or threatening any action. Instead, it was Donald Trump throwing US intelligence, and US voters, under the big Russian bus.
Yes, of course. Why should Trump believe the FBI or the CIA or the NSA when he has the truth from Vladimir Putin himself. Please put away your fake news witch hunts. And besides, this was all so long ago.
Surely we can get onto the really important things, things that count for the future, and put this ancient history behind us.
Trump's White House communications team got owned by the Kremlin's crack propaganda shop:
Not to worry, America, while Donald Trump's communications team is busy airing every petty grievance of our man-child in chief, we're back to getting a steady flow of information from America's most trusted name in news: The Kremlin.
That's right—after the highly anticipated first meeting between the Don and his best bro Vlad, it was the Kremlin that first blasted out the news of palm finally meeting palm in the handshake seen 'round the world.
* * *
Trump's crackerjack press shop let Russia take the lead on tweeting the first photo, releasing a pic of Trump practically groveling to shake Putin's hand:
But wait, there's more! RT delivered to the world's first account of what was discussed:
(Note: As of 1:30 PM ET still no tweets from @realDonaldTrump or @PressSec or @WhiteHouse. The White House press shop was apparently too busy delivering an off-camera account to U.S. pool reporters.)
Yep, Trump's comms team got beat to the punch on the global stage not once, not twice, but three times on Friday. Heck of a job, there, Spicey.
More: Moscow comes out first with Trump-Putin narrative. Washington eventually gets in the game.
UPDATE: Of course…
And what did Secretary of State Rex Tillerson brief the traveling press on?
That's right, the White House sent Melania into Trump-Putin meeting in a failed effort to get Trump to stop talking:
Whatever went on behind the closed doors of Trump/Putin conference, it clearly didn't just stretch out longer than expected, it went in a direction that deeply worried the other members of team Trump.
* * *
According to Tillerson, Trump did talk to Putin about hacking of the US election … but Trump and Putin agreed that this subject was "a hindrance" to US/Russian relations. So, according to Lavrov, Trump accepted Putin's statements that Russia had not been involved.
Tillerson says that Trump made no effort to produce evidence supporting Russian hacking. In fact, he did the opposite. According to Lavrov, " Trump told Putin that some circles in the US are exaggerating the topic of Russian cyber meddling." Circles that apparently include the CIA, FBI, and NSA. Again, Trump and Putin agreed that what was really important was "moving forward."
And to move forward, Donald Trump agreed to form a joint task force with the Russians to address cyber security. All of which sounds as if Trump agreed to drop any effort to sanction or otherwise hold Russia to task for interference in the election, and instead offered to give the robbers access to the information on where the keys are stored and how the security is wired.
The back and forth statements between Lavrov and Tillerson don't exactly line up, with Tillerson claiming that Trump "pressed" Putin over hacking and Lavrov stating that Trump "accepted" Putin's denials. But the Melania factor certainly argues that, whatever Donald Trump was saying, someone desperately wanted him to shut up.
That someone didn't win.
As Aaron Blake of the Washington Post correctly notes, Trump's past comments make it difficult to believe that he confronted Putin with much vigor:
Indeed, it kind of sounds like Trump did bring it up, Putin denied it, and then they largely "moved forward" without "re-litigating" the past. Tillerson's comments sure seem to be accepting of the fact that there was no progress on that front.
* * *
In a separate briefing, Russian Foreign Minister Sergei Lavrov said that "Trump accepted Putin's explanation that Russia didn't hack and even said Trump talked about how people in the United States were "exaggerating" the situation."
* * *
But at this point, the White House and Trump haven't really given us much reason to doubt that Trump didn't really press all that hard. Tillerson's comments are particularly telling, with all the talk about moving forward and not "re-litigating" the past. Those words were chosen for a reason, and if they weren't, it's a really unfortunate choice to have used them.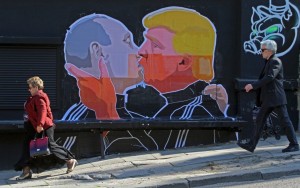 And more than anything, it's Trump's past public comments that make it difficult to believe that he truly confronted Putin with much vigor. Every time Trump is asked about this issue, he equivocates, qualifies and deflects. He can't just say that he thinks Russia hacked and that it must be dealt with; he has to say that other countries probably hack too, he has to cast doubt upon the intelligence community, and he has to point the finger at President Barack Obama for not doing more. Case in point was Thursday during a news conference with Poland's president, when he did all of that.
Trump has never been firm in his comments about Russian hacking, including at times labeling the whole thing a "hoax" and suggesting that it might have been some kid in his parents' basement rather than the Kremlin. There is basically nothing in the public record that suggests Trump would push back particularly hard if Putin just denied the whole thing.
The Kremlin candidate is definitely Putin's puppet. We're fucked, America.
Finally, the U.S. and Russia agree to collaborate on backing cease-fire in southwest Syria:
The agreement — discussed by President Trump and Russian President Vladi­mir Putin during their meeting Friday at the Group of 20 summit in Hamburg — would mark the first collaborative operation between Washington and Moscow since they began backing opposing sides in Syria's civil war, which began almost six years ago.
"This is our first indication of the U.S. and Russia being able to work together in Syria," Secretary of State Rex Tillerson, in Hamburg with Trump, told reporters after the meeting. "We had a very lengthy discussion regarding other areas in Syria [where] we can continue to work together," he said.
Tillerson said the three governments signed a memorandum including "well-defined agreements on who will secure this area." He did not offer details.
* * *
U.S. officials, who spoke on the condition of anonymity to discuss closed-door discussions with Russia, said the agreement on southwestern Syria has been the subject of sporadic talks between them for months.
The officials described the U.S. role in the deal as one of restraining rebel forces and monitoring the cease-fire lines, presumably along with Jordan. They gave no indication that U.S. troops would be directly involved. The area under discussion is far from U.S. military activity against the Islamic State, in northern and central Syria.
The primary U.S. aim, officials said, has been that the Russians would cease all air operations in the area and prevent Syrian planes from flying — effectively instituting a "no-fly zone." Russia would be responsible for keeping Assad and allied forces within parameters of a cease-fire, and both sides would be responsible for ensuring the free movement of humanitarian assistance to civilians.
This ceasefire will last about as long as all previous ceasefires in Syria. The Assad regime and the Russians will simply use the opportunity to resupply and coordinate the next offensive, as they have done previously. Nothing has changed.