Crossposted at DemocraticDiva.com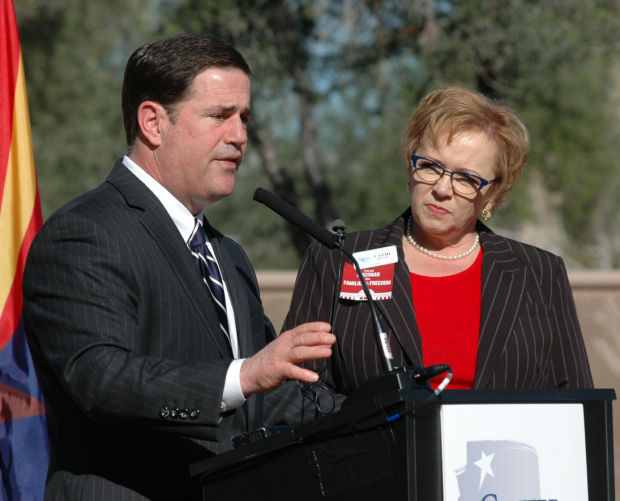 Photo: Howard Fischer, AZ Capitol Media Services
So Center for AZ Policy had its God botherer hoedown at the State Legislature on Wednesday, in which they were given a speech by Governor Ducey where he said this:
"I am proudly pro-life" the governor told a rally of members of the anti-abortion Center for Arizona Policy. "And I look forward to working with you on those issues."

But Ducey said there are things that need to happen.

"We have 16,900 children that are now outside of the womb and are wards of the state," he continued.

"And I'm asking specifically for your help as an organization, the faith-based community to re-engage in this issue of child safety, whether it's foster parents, whether it's adoption, whether it's as a court-appointed special advocate for these children," Ducey said. "These are the most vulnerable in our society and they are in many situations not being cared for properly."

Ducey linked his plea with his effort to "fix" the Department of Child Safety. He took the first steps toward that Tuesday by firing its prior director and installing Greg McKay to head it.

"And I'm specifically asking for the faith-based community and for the Center for Arizona Policy to help,"
This was such a bold observation that even Center for Arizona Policy head Cathi Herrod was forced to admit that policing people's sex lives has been such a time consuming endeavor for her organization that they had been giving the issue of taking care of born children short shrift.
CAP President Cathi Herrod conceded that until now her organization has been only "somewhat" involved with issues of child safety and foster care.

"We can do more and we can do so much better," she said. "The faith-based community can do more and I believe will do more."
In fairness, it's not like CAP has been doing nothing to address children in need of stable homes.
Senate Bill 1188, which was sponsored by Sen. Linda Gray, R-Glendale, would require an adoption agency to give primary consideration to adoptive placement with a married man and woman, with all other criteria being equal…

…"The governor's action today is harmful to children in foster care and group homes who are seeking a permanent home and the support of a loving, caring family," Mann said.

But Cathi Herrod, president of the Center for Arizona Policy and a strong advocate of SB 1188, said Monday that the bill was among those that dealt with "critical issues of life, marriage and religious liberty," and that she was "grateful" for the governor's support.
Isn't that special?
I do find it refreshing when a conservative calls out his compatriots who oppose women's reproductive freedom for their glaring lack of interest in poor and vulnerable children post-birth. I also take Governor Ducey at his word that he believes that faith groups like CAP can and should step up to help the thousands of Arizona children needing foster or adoptive parents*.
The timing of Ducey's statement does warrant skepticism, coming as it did when the newly-formed Department of Child Safety is in the midst of a shake-up and an anti-abortion bill championed by CAP was being debated in a Senate committee on Wednesday afternoon, oh-so-coincidentally on the same day as the CAP Day at the Capitol activities.
If one were cynical, one might conclude that Governor Ducey was trying to create a distraction from those things while taking advantage of an opportunity to soften his own image but, eh, whatever. What is most salient, at least in my estimation, is that Doug Ducey (or someone in his administration) is clearly aware that the "pro-life" conservatives who have been running Arizona for decades don't look credible on child welfare, with good reason, since their policies have demonstrably not led to good outcomes for children.
*I'd prefer that Cathi Herrod stay as far away from children as possible, which is the same as I feel about her proximity to any other living entity.