Crossposted on DemocraticDiva.com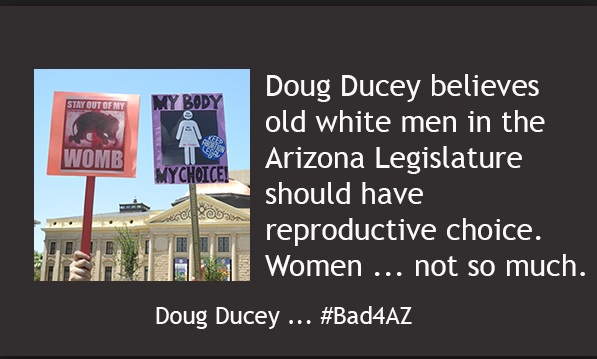 Doug Ducey likes to praise Texas, often. He wants their state tax income rate (none) and their health care policies (no ACA exchanges, no Medicaid expansion). Ducey most assuredly wants the reproductive rights climate that currently exists in Texas, where the Fifth Circuit Court upheld spurious TRAP laws passed last year (and famously filibustered by State Senator Wendy Davis) which will close all but seven clinics in the entire state. Rural areas, including all of West Texas, will be without a single abortion provider.
Two years ago, Texas had more than 40 abortion facilities. Many clinics have already closed under a part of the law requiring doctors who perform abortions to obtain hospital admitting privileges, and now more than a dozen remaining clinics are set to shutter as well.

The decision by a panel of the 5th U.S. Circuit Court in New Orleans wipes out what was a fleeting victory for abortion rights groups — a lower court in August blocking requirements of the law that say clinics must meet hospital-level operating standards to stay in business.

The ruling is only a stay pending a full appeal, but the court wrote that Texas is likely to prevail. If it does, the clinics would have to make costly upgrades to meet the new standards and reopen.

The impact stands to be felt most along the Texas-Mexico border and in the western half of the state, where access to a legal abortion is especially limited. The only abortion clinic in McAllen, which reopened after the lower court's ruling, now stands to close again. That would leave women in the Rio Grande Valley facing a 300-mile drive to the next-nearest abortion facility.

But the court wrote that "women from McAllen have been travelling outside their city for nearly a year and Plaintiffs made no showing that clinics in San Antonio (or any other city) have been deluged."
I suspect the reason for that last part is that low income women in West Texas have been resorting to black market pills from flea markets or Mexico to terminate unwanted pregnancies which, of course, leaves them vulnerable to prosecution under whatever premise cops and prosecutors may want to dream up.
Doug Ducey is 100% on board with Cathi Herrod's positions on reproductive rights, meaning he favors a ban on abortion with "limited exceptions" (what does that mean, Doug?), and is a sure bet to sign every Center for Arizona Policy anti-choice bill that hits his desk. Many of those bills, if past is precedent, will be TRAP laws presented as measures that improve the "safety" of abortion. Pro-choice activists are well aware this is complete horseshit – these regulations are fully intended to close clinics and/or make women deal with onerous barriers to getting the procedure. And now there is data to show that they do not, in fact, do anything to increase the safety of abortion but they are correlated with worsening conditions for women and children.
The more abortion restrictions a state has on the books, the less likely they are to have evidence-based policies that promote the health and well-being of women and children.

For example, Kansas and Mississippi both have the maximum number of abortion restrictions (14 in total), but have only adopted 6 policies (of 18 total) demonstrated to promote the health and well-being of women and children.

States that have the most restrictions on abortion consistently have the worst health outcomes for women and children.
For example, Oklahoma has the maximum number of abortion restrictions (14 in total) and has some of the country's worst outcomes for women's health – including higher maternal mortality rates, higher uninsured rates, and lower rates of cancer screening, among other outcomes – and some of the worst outcomes for children's health – including higher infant and child mortality rates, lower rates of preventive care, and higher rates of teen alcohol and drug abuse, among other indicators.
Texas is not exactly known as utopia for women and neither is Arizona, for that matter, but things are headed further downward for women in Texas and Doug Ducey intends to replicate that here. He wants to eradicate poor women's (because women of his class will still enjoy access) right to determine their reproductive courses and yank the safety net out from beneath them. Maybe he'll magnanimously phase poor women's hopes out gradually, as he plans to do with the income tax.