Update to Trump and his associates stand to profit from an unproven treatment he promotes for COVID-19.
So it turns out that "Dr. Trump's miracle cure" really is snake oil that is toxic to patients, and likely killed some patients before the Covid-19 did.
The Associated Press reports, More deaths, no benefit from malaria drug in VA virus study:
A malaria drug widely touted by President Donald Trump for treating the new coronavirus showed no benefit in a large analysis of its use in U.S. veterans hospitals. There were more deaths among those given hydroxychloroquine versus standard care, researchers reported.
The nationwide study was not a rigorous experiment. But with 368 patients, it's the largest look so far of hydroxychloroquine with or without the antibiotic azithromycin for COVID-19, which has killed more than 171,000 people as of Tuesday.
The study was posted on an online site for researchers and has not been reviewed by other scientists. Grants from the National Institutes of Health and the University of Virginia paid for the work.
Researchers analyzed medical records of 368 male veterans hospitalized with confirmed coronavirus infection at Veterans Health Administration medical centers who died or were discharged by April 11.
About 28% who were given hydroxychloroquine plus usual care died, versus 11% of those getting routine care alone. About 22% of those getting the drug plus azithromycin died too, but the difference between that group and usual care was not considered large enough to rule out other factors that could have affected survival.
Hydroxychloroquine made no difference in the need for a breathing machine, either.
Researchers did not track side effects, but noted a hint that hydroxychloroquine might have damaged other organs. The drug has long been known to have potentially serious side effects, including altering the heartbeat in a way that could lead to sudden death.
Earlier this month, scientists in Brazil stopped part of a study testing chloroquine, an older drug similar to hydroxychloroquine, after heart rhythm problems developed in one-quarter of people given the higher of two doses being tested.
On Tuesday, NIH issued new treatment guidelines from a panel of experts, saying there was not enough evidence to recommend for or against chloroquine or hydroxychloroquine for COVID-19. But it also advised against using hydroxychloroquine with azithromycin because of the potential side effects.
The New York Times adds, New U.S. Treatment Guidelines for Covid-19 Don't See Much Progress:
The federal agency led by Dr. Anthony Fauci issued guidelines on Tuesday that stated there is no proven drug for treating coronavirus patients, a finding that essentially reinforces Dr. Fauci's dissent from President Trump's repeated promotion of certain drugs without evidence to support their use.
Months into the pandemic, a panel of experts convened by the research center Dr. Fauci leads, the National Institute of Allergy and Infectious Diseases, concluded that whenever possible, drug therapy should be given as part of a clinical trial, so that data can be collected to determine whether treatments work.
At the White House briefing, Mr. Trump said he had not seen the panel's guidelines. Dr. Fauci, who often attends the briefings, was not there on Tuesday.
Dr. Fauci has repeatedly pushed back at the president's enthusiasm over the malaria drugs hydroxychloroquine and chloroquine, sometimes disagreeing in public with Mr. Trump.
For weeks Dr. Fauci has stressed the lack of scientific evidence to back up any potential treatment, and this new document, which includes the expertise of more than a dozen federal agencies and professional groups, underscores his reasoning.
* * *
Experts have collected insufficient data to recommend either for or against the use of any antiviral drug or medication that affects the immune system in patients with Covid-19 who have mild, moderate, severe or critical illness, according to the guidelines.
The decision by the National Institutes of Health panel not to recommend either for or against a treatment included the antiviral remdesivir, which is being studied in several trials in the United States and around the world. Data is also lacking about the use of so-called convalescent plasma donated by coronavirus survivors to provide antibodies that might help patients fight the disease.
But the expert panel did specifically advise against several treatments unless they were given in clinical trials. One was the combination of the malaria drug hydroxychloroquine plus the antibiotic azithromycin, which Mr. Trump has repeatedly promoted despite the lack of evidence that they work.
Those drugs should be used only in clinical trials "because of the potential for toxicities," the experts said.
The panel also had cautionary advice about hydroxychloroquine and the closely related drug chloroquine, even when given without azithromycin, saying that patients receiving them should be monitored for adverse effects, particularly an abnormality in heart rhythm called prolonged QTc interval.
"Dr. Trump," snake oil salesman, is casting doubt on the medical studies, rather than come clean and admit his fraud. "Obviously there have been some very good reports and perhaps this one's not a good report—but we'll be looking at it," Trump said at his Tuesday briefing.
The propagandists at Fox News aka Trump TV Have  Quietly Backed Away From Hyping Trump's Coronavirus 'Miracle Drug':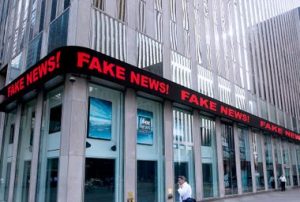 After weeks of incessantly hyping an unproven anti-malarial drug as a potential miracle cure for the coronavirus, Fox News has seemingly ditched its nearly round-the-clock promotion of hydroxychloroquine.
Unsurprisingly, the change in tone coincided with President Donald Trump's own retreat from touting the drug, and comes as multiple studies have shown no benefit to COVID-19 patients.
* * *
As is often the case with the cable-news obsessed president, Trump only began promoting the malaria drug as a miracle cure after his favorite Fox opinion hosts openly touted it on-air and in private meetings with him. According to Media Matters for America, a liberal media watchdog, between March 23 and April 6, Fox hosts and guests lauded hydroxychloroquine almost 300 times.
Throughout that time, both the president and Fox stars relied heavily on both anecdotal evidence and flawed studies—namely from a controversial French doctor whose methods have come under scrutiny—to push the drug as a coronavirus cure. The FDA eventually issued "emergency use authorization" in late March for doctors to prescribe the drug to COVID-19 patients in off-label use.
But by mid-April, however, both Trump and his Fox News allies began to clam up on the drug.
* * *
Since then, and as several small studies showed no benefit to hydroxychloroquine, the president has been mum on the drug. Even on his Twitter account, which previously featured dozens of boasts about the drug, Trump has noticeably slowed down … And the president's relative silence has been mirrored by Fox.
Since April 15, hydroxychloroquine has been mentioned on Fox News and its sister network, Fox Business Network, a total of 51 times. The week before that, the drug was mentioned 138 times. During the first week of April, there were at least 194 mentions between the two channels.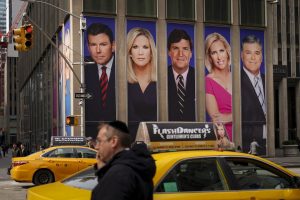 Nowhere has the pivot been more noticeable than during Fox News' primetime hours. The network's three weeknight stars—Tucker Carlson, Sean Hannity, and Laura Ingraham—were among Fox's loudest hydroxychloroquine boosters until the president's pivot. Ingraham, for instance, touted the drug's "Lazarus"-like resurrective effects on coronavirus sufferers and privately met with Trump at the White House to further sell him on the drug.
Although Ingraham spent two full weeks touting the drug on her show every night, she barely mentioned it last week, and has done so only once since last Wednesday.
The virtual blackout has been even more stark with the network's two other biggest primetime hosts. Carlson, who helped kick off the president's hydroxychloroquine craze by hosting a lawyer last month trumpeting the questionable French study, has only mentioned the drug once in passing over the past 10 days—and only as a way to discuss remdesivir. Such a dropoff is stunning: Like Ingraham, the Tucker Carlson Tonight host spent the first two weeks of April touting the drug in all of his broadcasts except one.
Hannity, meanwhile, had been a loud and proud promoter of the drug, hosting Dr. Mehmet Oz, an alleged "quack" celebrity doctor, on a near-nightly basis since mid-March to repeatedly push hydroxychloroquine. Throughout those broadcasts, Hannity praised Oz's work and, in turn, the TV doc touted the work of Didier Raoult, the doctor behind the questionable French studies.
Like his colleagues, Hannity was a persistent cheerleader for the drug during the first two weeks of April. Since then, however, he has only mentioned the drug three times, with the last mention being nearly a week ago. Furthermore, after being a routine fixture on the show, Dr. Oz hasn't appeared on Hannity's program since April 14.
Trump and his propagandists lied, people died. They are criminally negligent and should all be held accountable for consumer fraud for promoting a snake oil cure to give false hope to desperate patients who lost their lives because of taking this drug.
UPDATE: The New York Times reports today that Dr. Rick Bright, the doctor who led the federal agency involved in developing a coronavirus vaccine said on Wednesday that he was removed from his post after he pressed for a rigorous vetting of a coronavirus treatment embraced by President Trump. The doctor said that science, not "politics and cronyism" must lead the way. Doctor Says He Was Removed From Federal Post After Questioning Hydroxychloroquine Treatment:
Dr. Rick Bright was abruptly dismissed this week as the director of the Department of Health and Human Services' Biomedical Advanced Research and Development Authority, or BARDA, and as the deputy assistant secretary for preparedness and response.
Instead, he was given a narrower job at the National Institutes of Health. "I believe this transfer was in response to my insistence that the government invest the billions of dollars allocated by Congress to address the Covid-19 pandemic into safe and scientifically vetted solutions, and not in drugs, vaccines and other technologies that lack scientific merit," he said in a statement to The Times's Maggie Haberman.
"I am speaking out because to combat this deadly virus, science — not politics or cronyism — has to lead the way," he said.
* * *
The medical publication Stat reported on Tuesday that Dr. Bright had clashed with Bob Kadlec, the assistant health secretary for preparedness and response.
Dr. Bright, who noted that his entire career had been spent in vaccine development both in and outside of government, has led BARDA since 2016.
In the statement, he said: "My professional background has prepared me for a moment like this — to confront and defeat a deadly virus that threatens Americans and people around the globe. To this point, I have led the government's efforts to invest in the best science available to combat the Covid-19 pandemic.
"Unfortunately, this resulted in clashes with H.H.S. political leadership, including criticism for my proactive efforts to invest early into vaccines and supplies critical to saving American lives. I also resisted efforts to fund potentially dangerous drugs promoted by those with political connections," he said.
Dr. Bright, who is a career official and not a political appointee, pointed specifically to the initial efforts to make chloroquine and hydroxychloroquine widely available before it was scientifically tested for efficacy with the coronavirus.
"Specifically, and contrary to misguided directives, I limited the broad use of chloroquine and hydroxychloroquine, promoted by the administration as a panacea, but which clearly lack scientific merit," he said.
"While I am prepared to look at all options and to think 'outside the box' for effective treatments, I rightly resisted efforts to provide an unproven drug on demand to the American public," Dr. Bright said, describing what ultimately happened: "I insisted that these drugs be provided only to hospitalized patients with confirmed Covid-19 while under the supervision of a physician.
"These drugs have potentially serious risks associated with them, including increased mortality observed in some recent studies in patients with Covid-19."
"Sidelining me in the middle of this pandemic and placing politics and cronyism ahead of science puts lives at risk and stunts national efforts to safely and effectively address this urgent public health crisis," Dr. Bright said.
"I will request that the inspector general of the Department of Health and Human Services investigate the manner in which this administration has politicized the work of BARDA and has pressured me and other conscientious scientists to fund companies with political connections and efforts that lack scientific merit," he said. "Rushing blindly towards unproven drugs can be disastrous and result in countless more deaths. Science, in service to the health and safety of the American people, must always trump politics."
Dr. Bright has lawyered up and appears ready to go to the mat in this latest whistleblower retaliation scandal.