In May, Democratic lawmakers called on the Trump administration to review an investment in Kentucky by a Russian aluminum company that they say has raised concerns about Russian influence on the economy and national security of the United States. Democrats Seek Review of Russian Investment in Kentucky:
The Russian aluminum company, Rusal, announced on Thursday that its board had approved a $200 million investment in a planned aluminum plant in Ashland, Ky., in partnership with Braidy Industries, a private company based there.
The announcement came less than four months after the administration lifted sanctions on Rusal and its parent company, EN+. The sanctions had banned the companies from doing business in the United States, and would have prevented the Kentucky deal, under which Rusal will own 40 percent of the plant and will supply it with unfinished aluminum for processing and sale to large institutional buyers, including automakers and airplane manufacturers.
The sanctions had been imposed last year because the companies were owned and controlled by the influential Russian oligarch Oleg V. Deripaska, a Kremlin ally who the Treasury Department accused of aiding Russia's "malign activity" around the world.
After a sophisticated legal and lobbying campaign financed by the companies, the Treasury Department announced a deal last year to lift the sanctions in exchange for a restructuring intended to reduce Mr. Deripaska's control and ownership of the companies. Yet a confidential, legally binding document detailing the agreement showed that Mr. Deripaska, who remains under personal sanction by the United States, and his allies would retain majority ownership of EN+. VTB, a Russian government-owned bank under limited United States sanctions, would own about 24 percent of EN+ under the deal.
A group of Democratic lawmakers with top roles on committees overseeing the Treasury Department sent a letter on Thursday to Steven Mnuchin, the Treasury secretary, saying they were "deeply alarmed" by Rusal's investment in the Kentucky mill.
"Given that EN+ is a company substantially owned by individuals and entities with close ties to the Russian government, we believe the proposed transaction warrants immediate review by the Committee on Foreign Investment in the United States," the lawmakers wrote in the letter.
* * *
Mr. McConnell, the Senate majority leader, helped defeat a bipartisan effort in January to block the sanctions relief deal for Rusal.
Lobbying filings suggest that, just before the April announcement, David Vitter, a former Republican senator who is being paid to lobby for EN+, reached out to give Mr. McConnell "a heads-up" about the announcement.
Now we learn that Ex-McConnell staffers lobbied on Russian-backed Kentucky project:
Two former top staffers to Senate Majority Leader Mitch McConnell have lobbied Congress and the Treasury Department on the development of a new Kentucky aluminum mill backed by the Russian aluminum giant Rusal, according to a new lobbying disclosure.
The disclosure comes as Democrats are pushing the Trump administration to review Rusal's $200 million investment in the Kentucky project — concerned that the mill will supply the Defense Department — and as McConnell weathers criticism for helping block a congressional effort to stop the investment.
The Russian firm was only able to make the investment after it won sanctions relief from penalties the Treasury Department initially imposed in April 2018 on Rusal and other companies owned by Oleg Deripaska, a Russian oligarch and Kremlin ally accused of facilitating Moscow's nefarious activities, such as seizing land in Ukraine, supplying arms for the Syrian regime and meddling in other countries' elections.
Treasury Secretary Steve Mnuchin announced in December that the department would lift the sanctions on Deripaska's companies, which had roiled global aluminum markets, if the oligarch agreed to drastically reduce his stake in the businesses. The deal was reportedly potentially beneficial to Deripaska, however. Deripaska himself still remains under U.S. sanctions.
Attention over the sanctions relief deal has focused on McConnell, given his role in halting a bipartisan congressional effort in January to stop the penalties rollback. McConnell told reporters in May that his support for lifting the sanctions was "completely unrelated to anything that might happen in my home state."
* * *
Oregon Sen. Ron Wyden, the top Democrat on the Senate Finance Committee, has been pushing the the administration to review the Rusal investment.
In a statement, Wyden said: "Rusal's proposed investment in a Kentucky rolling mill is deeply concerning. The deal was announced just three months after the Senate voted to lift sanctions on Rusal, and now we learn that Majority Leader McConnell's former staff have been lobbying for the project. The American people need to have confidence that this deal is in the country's best interest."
It's unclear whether the former staffers — Hunter Bates, a former McConnell chief of staff, and Brendan Dunn, who advised the Kentucky Republican on tax, trade and financial services matters before heading to K Street last year — directly lobbied McConnell's office over the aluminum mill project. Akin Gump Strauss Hauer & Feld, the law and lobbying firm where Bates and Dunn work, and McConnell's office declined to comment on whether they had done so.
Former Sen. David Vitter (R-La.), who's now a lobbyist representing Rusal's parent company, EN+ Group, gave McConnell "a heads up" on the Rusal deal prior to its announcement, according to a disclosure filing first spotted by The New York Times.
The lobbying push by McConnell's former staffers, one of whom left his office in 2002 and the other who left a year ago, also comes as McConnell is being criticized for blocking election-security bills in the wake of Russia's interference in the 2016 presidential election. McConnell took to the Senate floor earlier this week to rebut accusations that he's kowtowing to Russia, prompting the hashtag #MoscowMitch to begin trending on Twitter.
The lobbying disclosure, made last week, shows Bates, Dunn and three other Akin Gump lobbyists are working for Braidy Industries in the new Ashland, Ky., aluminum mill. Rusal holds a 40 percent stake in the project.
Democratic lawmakers have called for an investigation of the project by the Committee on Foreign Investment in the United States, an interagency body that can recommend the cancellation of foreign financial arrangements with U.S. firms over national security concerns.
I find it fascinating just how many Republican politicians have ties to Russian oligarchs. As I said before, at some point the Russians figured out that the best way to defeat America is by old-fashioned capitalism and corruption: find easily corruptible politicians in key positions of power and simply buy them, through bribery or with campaign contributions. Politicians can be bought very cheaply, just ask any professional lobbyist. Russian asset Mitch McConnell blocks every election security bill in the Senate. Profit before patriotism.
The Kentucky Democratic Party is raising money on "Moscow Mitch" merchandize to support Democratic candidates in Kentucky. Kentucky Democrats: 'Just say Nyet to Moscow Mitch':
Democrats in Mitch McConnell's home state are hawking T-shirts with a barbed message — "Just say Nyet to Moscow Mitch" — as they try to capitalize on a bitter dispute involving the Republican senator over election security legislation.
The Kentucky Democratic Party said Wednesday it's launching a "Moscow Mitch" webstore, intensifying a dig that has struck a nerve with the normally unflappable Senate majority leader.
Long on the receiving end of McConnell's pointed attacks, the Democrats relished a chance to go on the offensive against the six-term senator, who's up for reelection next year and has aligned himself closely with President Donald Trump.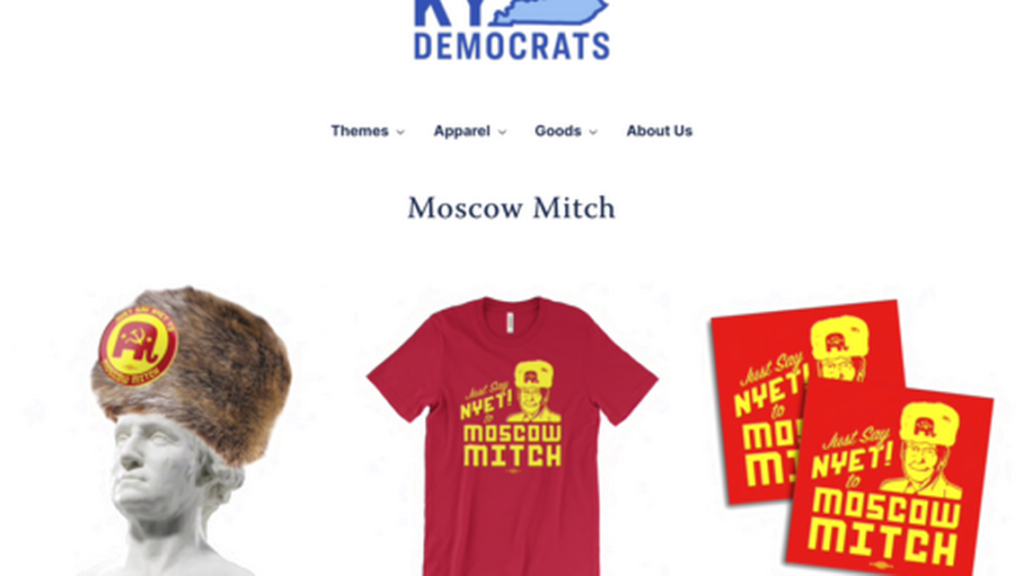 The state Democratic Party said it's selling the red T-shirts for $25. They depict a picture of McConnell wearing a Cossack hat with the "hammer and sickle" symbol. The shirt declares "Just say Nyet to Moscow Mitch" in yellow, Soviet-style letters. Buttons and stickers are also available.
"We've even thrown in a 'Moscow Mitch' Cossack-style faux-fur hat for extra snark," the party said in a news release. All proceeds will go to the Kentucky Democratic Party.
See Kentucky Democratic Party Web Store. Help them raise money to defeat McConnell.
"Moscow Mitch" is not the first nickname given to McConnell. He's even relished giving himself nicknames.
In May, his campaign's website starting selling "Cocaine Mitch" shirts, capitalizing on an attack from an unsuccessful West Virginia Senate candidate. The candidate was referring to a 2014 magazine article alleging that drugs were found aboard a commercial cargo ship owned by the family of McConnell's wife, Elaine Chao, who serves as Trump's transportation secretary. There was never any direct connection established to Chao or McConnell. McConnell was so dismissive of the attack that he referenced the "Cocaine Mitch" attack in a parting shot last year mocking the candidate's election loss.
McConnell also has said he'll be the "Grim Reaper" in killing proposals from the Democratic-led House.
But the "Moscow Mitch" nickname could be ringing in McConnell's ears Saturday, when he's scheduled to attend the state's leading political event — the Fancy Farm picnic in western Kentucky. There, prominent politicians regularly take turns taking digs at their rivals, while shouting partisans try to rattle the speakers.
McConnell's wife, Transportation Secretary Elaine Chao, also has deep financial ties to China. To 'drain the swamp,' start with the Washington swamp's power couple (excerpt):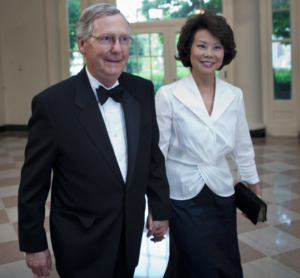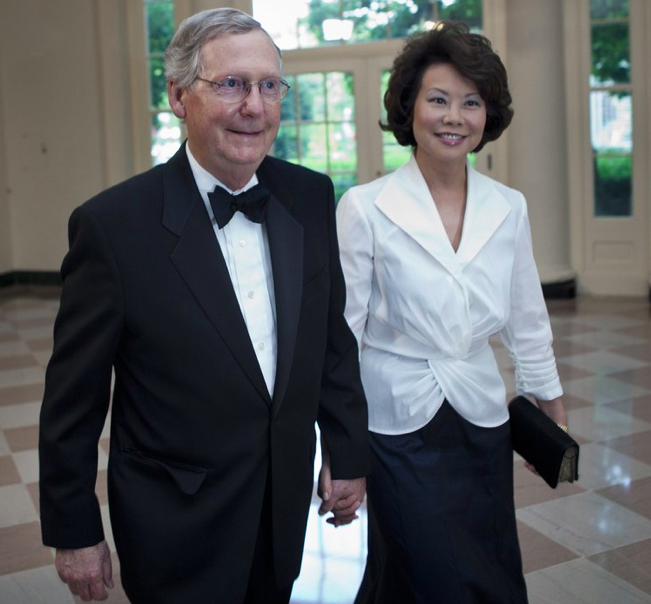 The "Enemy of The People," Senate Majority Leader Mitch McConnell, and his wife Elaine Chao, the current Secretary of Transportation, are unrivaled as the Washington swamp's power couple.
Last month, a Wall Street Journal report (subscription required) found that Transportation Secretary Elaine Chao skirted her own ethics pledge by failing to divest her stake in Vulcan, the nation's largest construction materials supplier, and a company that lobbies her department, despite having promised over a year ago to divest from the company, on whose board she sat.
Last week, the New York Times took a deep-dive look at Elaine Chao, For the Chao Family, Deep Ties to the World's 2 Largest Economies:
Through interviews, industry filings and government documents from both countries, The New York Times found that the Chaos, and by extension Mr. McConnell, prospered as the family's shipping company developed deeper business ties in China. Along the way, one of the company's boosters was Ms. Chao, who now oversees efforts to promote America's own maritime industry, which is in steep decline as China's shipping sector rises in global dominance.
If you want to "drain the swamp" it begins with removing the Washington swamp's power couple. Our national security may depend upon it.