Plaintiffs recently won in Kansas state court challenging Secretary of State Kris Kobach, the GOP's voter suppression specialist, on his dual election system in which citizens who register using the federal voter registration form are only permitted to vote in federal elections because that form does not require the forms of proof of citizenship that Kansas does. Kansas' dual election system ruled unlawful; Arizona's dual election system?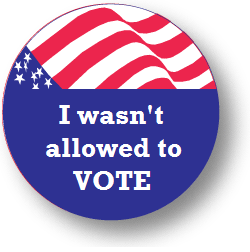 Former Arizona Secretary of State Ken "Birther" Bennett followed Kobach's voter suppression lead and imposed a similar dual election system in Arizona. Current Arizona Secretary of State Michele Reagan, the queen of voter suppression, has maintained this dual election system. A separate legal action has not been filed in Arizona, however, Arizona has been a co-party to earlier litigation in Kansas on this subject and is following the lead of Kris Kobach in Kansas.
Today, the Election Assistance Commission appears to have capitulated to Kris Kobach in Kansas (and the state of Georgia) in updating the "state-specific instructions" to the National Mail Voter Registration Form (Note that Arizona's state-specific instructions have not been updated as of today's date).
Rick Hasen reports at his Election Law Blog, Has the EAC Capitulated to Kansas on Proof of Citizenship for Voting?
There's been a longrunning battle between the U.S. government and KS (and Arizona) over whether those states need to accept the "federal form" to register voters in federal elections. These states did not want to accept the federal form for voting because the form, unlike each state's regular voter registration forms, did not require documentary proof of citizenship before voting.
After a bunch of litigation, where things stood until recently was: these states had to accept the federal form for voting in federal elections. KS took the position that it did not have to allow voting by those using the federal form in state elections. A state court recently rejected this two-tiered voting system, but the issue was on appeal.
But now the EAC his issued this letter which indicates the EAC has agreed to include the following state specific information about registering in KS. Within 90 days, one must provide KS election officials with documentary proof of citizenship (from a list provided) in order to have one's registration accepted. (There's a similar letter approved from Ga.)
I could be wrong, but this appears to be a capitulation by the EAC, which will now lead to disenfranchisement of anyone who registers with the federal form but does not provide the documentary proof of citizenship within 90 days.
Is this right? Has the EAC capitulated? Why?
UPDATE: One question is whether EAC executive director Brian Newby, himself from KS, acted on his own or with the agreement of the three EAC commissioners. Inquiring minds want to know.
Yes, inquiring minds do.
UPDATE 2/1/16: Rick Hasen reports, Woah: Lone Democratic EAC Commissioner Rejects EAC Capitulation to SOS Kobach:
Following up on this post, the lone Democratic-appointed EAC Commissioner has issued this statement:
The Executive Director of the United States Election Assistance Commission (EAC) issued letters to the states of Kansas, Georgia, and Alabama granting the states' request to amend the state instructions to the federal voter registration form, a decision that contradicts policy and precedent previously established by this Commission. The Executive Director unilaterally moved to alter the federal voter registration form to reflect those states' proof of citizenship requirements though a proposed change to the form beyond a simple change of election office address or phone number. Any material change to the form should be at the guidance of the agency's Commissioners following a notice and public comment period. In fact, the Commission's vote in early spring affirmed that agency staff does not have the authority to make policy decisions and further clarifying the role of the Executive Director in its Organizational Management Policy Statement by stating that the Executive Director in consultation with the Commissioners, may only "(1) prepare policy recommendations for commissioners approval, (2) implement policies once made, and (3) take responsibility for administrative matters." The Commission has addressed this matter several times over the last decade and voted to decline requests to add conflicting language to the federal voter registration form. As such, I believe that this decision constitutes a change of policy, which can only be made following official adoption by at least three Commissioners. Therefore, I ask that the letters be withdrawn. I will also ask that the Commission review this matter in a public forum to consider the acceptance or reject of the instructions.
This will be a major test of the newly-reconstituted EAC.