Watching Donald Trump take the helicopter ride to Joint Base Andrews for a "farewell ceremony" that he has ordered the U.S. military to provide him , I am reminded of the final scenes of one of my favorite political comedies, Dick (1999).
UPDATE: Trump's tenure ended the way it began. The New York Times reports: "A large space was built for an audience that the White House had invited to see the president off. But for a man obsessed with crowd size, only about 300 people showed up, filling roughly a third of the standing area."
Where was Sean Spicer screaming "it was the biggest farewell sendoff ever!"
As the Washington Post editorializes, Trump was graceless to the very end with his snubbing of the rituals of the peaceful transfer of power. On his final day, Trump demeaned the presidency one more time.
The pathological liar kept spewing lies and fantasies to the bitter end. "In his final remarks as president, Donald Trump tried to take credit for accomplishments of his predecessor and even those to come under President Joe Biden." AP FACT CHECK: Trump's fiction in his goodbye to Washington. New York Times, Trump's final speech as president included falsehoods and exaggerations. Here's a fact-check.
Of Course, "Mafia Don" Trump pardoned the made men in his Trump crime family, including the odious Steve Bannon. "Trump's clemency actions underscored his animosity toward a justice system seeking to punish corruption and betrayals of public trust." In Trump's Pardons, Disdain for Accountability. "Trump's final clemency list reinforces the idea that his objection was not to the Russia probe, but to accountability." With his last pardons, Trump makes clear his position on political corruption.
Surprisingly, Trump did not preemptively pardon his idiot children or himself, or his consigliere and "fixer" Rudy Giuliani. This leaves them all open to prosecution from existing investigations, and whatever is learned from the investigation into the seditious insurrection at the Capitol on January 6. Former Trump Senior Campaign Staffers and Pro-Trump Organizations Played Key Roles in Organizing January 6 "Rally" That Trump Incited to Seditious Insurrection, and Records: Trump allies behind rally that ignited Capitol riot. "Roger Stone, Steve Bannon and Michael Flynn all promoted the Jan. 6 rally." Longtime Trump advisers connected to groups behind rally that led to Capitol attack – you now, the criminals he pardoned for their crimes occurring before January 6, which means they are still chargeable with seditious conspiracy.
Expect this evidence to be presented at Trump's impeachment trial in the Senate, and later by federal prosecutors.
Finally there's this. On His Way Out the Door, Trump Rescinds Senior Staff Lobbying Ban He Once Promised Would 'Drain the Swamp':
President Donald Trump used his final hours in office to revoke an executive order on ethics that was meant to bolster his "drain the swamp" campaign promise.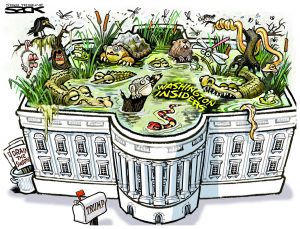 Following up on his swamp draining pledge, one of Trump's first official acts as president was signing Executive Order 13770 in Jan. 2017. The order—signed before a swath of TV cameras—required all of the administration's political hires to sign an ethics pledge preventing executive branch officials from lobbying their former agencies for at least five years, or lobbying the White House or political appointees across all federal agencies for the full duration of Trump's time in office. The restrictions also placed a lifetime ban on lobbying foreign governments.
Trump touted the order as proof that, unlike previous administrations, his presidency would be free of the influence of private interests.
"This is a five-year lobbying ban. It's a two-year ban now, and it's got full of loopholes, and this is a five-year ban," Trump said at the signing ceremony, jokingly adding that the senior staffers flanking him had "one last chance to get out."
"This was something, the five-year ban, that I have been talking a lot about on the campaign trail," he said.
The president did not provide an explanation for rescinding the order, though it may be related to reports that White House officials are having an extremely difficult time landing private sector gigs.
Legal ethics experts derided the decision to scrap the order.
"By rescinding his ethics order and letting his staffers immediately become lobbyists, the man who pledged to drain the swamp took a giant step to fill it. You don't do things you're proud of last-minute in the middle of the night when you hope no one is watching. This is one last cravenly corrupt act from our most cravenly corrupt president," Citizens for Responsibility and Ethics in Washington (CREW) Executive Director Noah Bookbinder said in a statement.
Former director of the U.S. Office for Government Ethics Walter Shaub said Trump's back-tracking was inevitable.
"Like everything else with Trump, this is just ridiculous. But I knew the day he issued this executive order that he'd rescind it on his last day. They were never going to honor that lifetime ban on representing foreign governments," he said.