The far-right immigration bill from Rep. Bob Goodlatte (R-VA), H.R.4760 – Securing America's Future Act of 2018, co-sponsored by Arizona Reps. Martha McSally, David Schweikert and Debbie Lesko, that the House GOP Freedom Caucus demanded a vote on by stomping their feet and threatening to hold their breath until they turned blue, as predicted went down to defeat today on a vote of 193-231.
Arizona Delegation: Yeas: Lesko, McSally, Schweikert; Nays: Biggs, Gallego, Gosar, Grijalva, O'Halleran, Sinema.
When you lose wingnuts like Biggs and Gosar on this vote, you know how "out there" supporter are (looking at you Lesko, McSally and Schweikert).
The Hill reports, Hardline immigration bill fails in the House: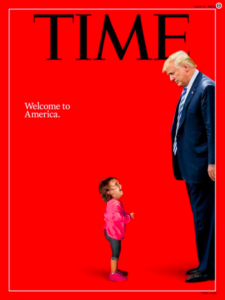 Every Democrat and 41 Republicans voted against Goodlatte's bill.
A second vote on the GOP compromise measure has been delayed until Friday as leaders seek to rally support for it.
There will also be a conference wide meeting on immigration at 4:30 p.m., which will give GOP leaders one last chance to rally the party around the legislation and convince the remaining holdouts to get on board with the plan.
The GOP compromise measure would provide a pathway to citizenship for up to 1.8 millions "Dreamers," provide $25 billion for Trump's border wall and other security measures, and prevent families from being separated at the border.
Good luck ever getting any of the House GOP Freedom Caucus to vote for a bill that provides a pathway to citizenship. AMNESTY! Never!
(Credit: This week's cover of Time magazine)
House leadership had expressed pessimism on the chances for either Goodlatte's legislation or the GOP compromise bill written with centrists, both of which come as the growing crisis at the border dominated headlines.
The hardline measure faced sharp pushback from both Democrats and moderates, who took issue with a number of provisions including its cuts to legal immigration.
Both GOP bills have the support of the administration.
The vote effectively killed a discharge petition — introduced by Rep. Carlos Curbelo (R-Fla.) in April — that would have circumvented leadership and forced votes on four separate immigration proposals. The bill with the most votes over 218 would have then been sent to the upper chamber [under the Queen of The Hill rule].
The discharge petition, backed by moderates Republicans and most Democrats, nearly had its required number of backers — short just two signatures from Republicans — forcing leadership's hand in bringing forth the Thursday votes.
As Joan McCarter notes, Republican 'moderates' kill any hope of immigration reform this congressional session:
Democratic House leader Nancy Pelosi called it Thursday morning when she said Republican so-called moderates were "too afraid to stick to their discharge petition pledge, and now are folding with this fake bill."
* * *
For all this failure, though, those supposed moderates gave Trump and House Speaker Paul Ryan a big win: they killed the only real threat of immigration reform happening this session, the discharge petition. By allowing the House to bring the Goodlatte bill to the floor, the existing Denham-Curbelo discharge petition was basically nullified. All but five Republicans voted to do just that, to make this discharge petition go away. And because of House rules, there's only one day left before the election in which another one could come to the floor (it has to happen on the second or fourth Monday of a month when Congress is in session).
Ryan said he wanted the discharge petition to fail because it would never be signed by Trump. So he ends up with two bills that won't even pass the House, much less the Senate, to even get to Trump's desk.
Immigration reform isn't going to happen under Paul Ryan because the Republican base of deplorables—and Donald Trump—don't want it to.
The Hill adds, High drama as hardline immigration bill fails, compromise vote delayed:
A Republican supporter of the effort to force bipartisan immigration bills to the floor said Thursday that he likely won't endorse another discharge petition, even if both GOP-backed "Dreamer" bills fail this week.
Rep. Chris Collins (N.Y.), one of 23 Republicans who signed the initial discharge petition put forth by Rep. Carlos Curbelo (R-Fla.), said he probably won't support a similar effort in the future.
"I'm pretty much a lean no," Collins told The Hill. "I won't say I'm a hard no, but I'm probably a no."
The loss of Collins's signature would be a blow to Curbelo and other centrist Republicans vowing to launch a second discharge petition to force votes to salvage the Deferred Action for Childhood Arrivals program if a pair of related, partisan bills fail this week.
* * *
House leadership delayed votes on a GOP compromise bill — seen as slightly more moderate than the Goodlatte measure — until Friday.
That bill is also expected to fail, leaving no active legislation dealing with the future of either Dreamers or migrant children separated from their parents at the border.
UPDATE: After their GOP Caucus meeting, House GOP leaders push immigration vote to next week. The "world's greatest negotiator" (who has failed to successfully negotiate anything thus far) says Republicans are 'wasting their time' trying to pass immigration bills before November elections. True dat!
The GOP controls the House, the Senate, and the presidency, and the Gang That Couldn't Shoot Straight can't find their way out of a paper bag on their signature issue — just like "repeal and replace" Obamacare. These incompetent, incoherent ideologues just need to go. Kick 'em all to the curb in November.