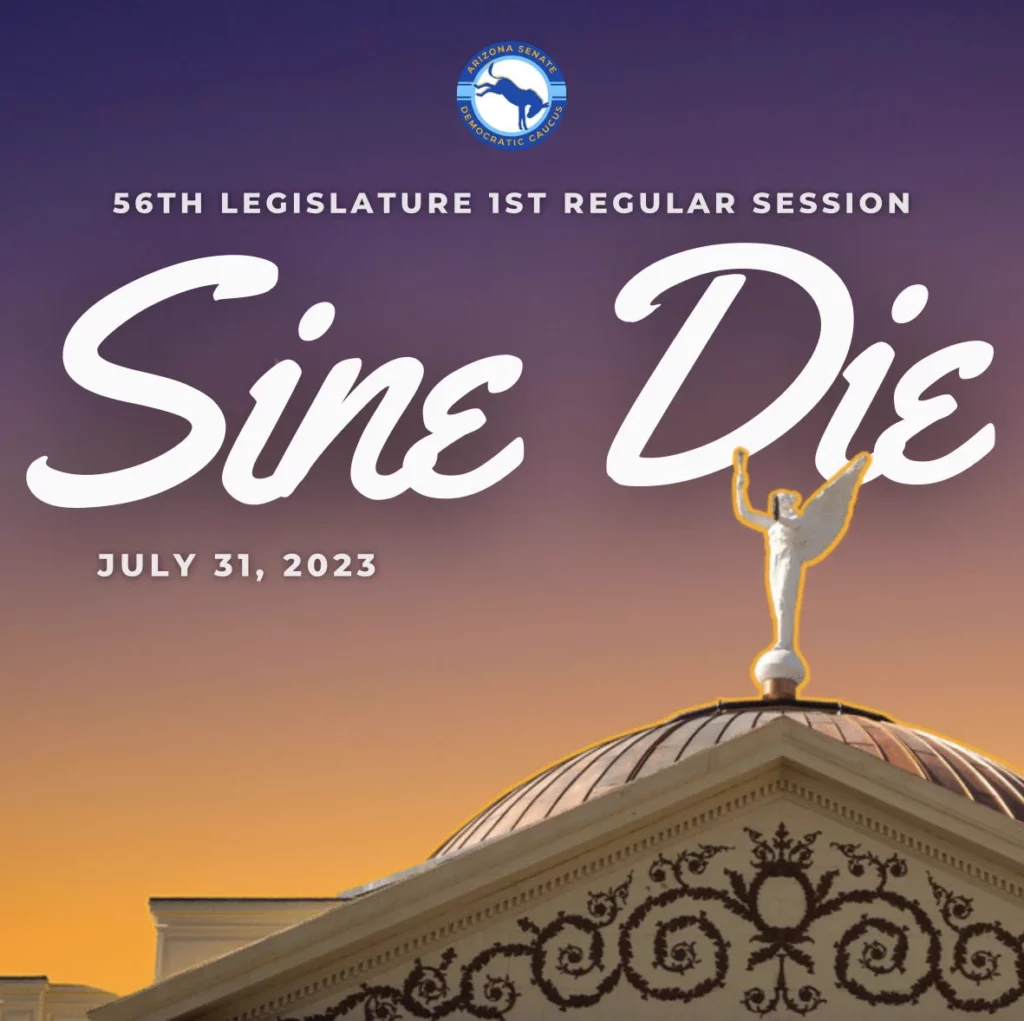 Better late than never.
The 2022/23 Arizona Legislative Session has finally ended.
Sine Die is here.
Fortunately, it ended with, after much deal-making with Republicans who detested light rail in the Phoenix area, the bipartisan passage (with mostly Democratic votes) of the headline bill designed to refer Proposition 400, the measure that will fund various road, highway, street, and public transit projects in Maricopa County and the rest of the Grand Canyon State.
Commenting on the passing of Prop 400, Senate Democratic Leader Mitzi Epstein offered:
"As is customary, Republicans have waited until the very last minute to pass widely popular legislation that invests in the daily lives of Arizonans. These infrastructure investments and improvements are desperately needed for economic development in Maricopa County and across the state. Prop 400E will create $40 billion in new income, increase local business sales by $113 billion, reduce traffic congestion throughout the valley, and create or support 32,000 jobs annually. Our state should not have had to wait until July 31st to see this measure, which has had legislative support since the start of the session, get sent to the ballot. However, with the support of Arizonans cities and towns, I am proud to join my Democratic colleagues in delivering the key votes needed to send the extension of the regional transportation tax back to the voters of Maricopa County."
House Democratic Leader Lupe Contreras relayed:
"Proposition 400 has helped our region grow and prosper for nearly 40 years. More growth is on the way, so it is vital that we give Maricopa County voters the opportunity to extend that investment with a smart plan that meets the needs of all our residents, whether it's freeways, streets, buses, or light rail. Democrats were determined to deliver on that plan. We stuck together and we overcame every obstacle put in our way. When Maricopa County voters approve this plan — and I know they will — then we can proudly say this bi-partisan effort improved the quality of life for generations to come."
Governor Katie Hobbs praised the bipartisan agreement on Proposition 400, posting on social media:
Phoenix Mayor and current Maricopa County Associations Government Chairperson Kate Gallego also issued a statement on Proposition 400, writing:
"After months of negotiations, I am glad that our robust, unanimously approved transportation plan will finally reach the voters of Maricopa County. This legislation is how we will continue to support our region's record growth, and with approval from our voters, its passage will ultimately mean that we can deliver on improved and expanded transit and transportation services that connect county residents to jobs, education, and more.
"While it's exciting that we've advanced Proposition 400, I remain disappointed that this critical legislation was coupled with an effort to cut revenue to cities, including Phoenix, as soon as in the next budget year. As such, I cannot and will not support any action that would take away the power of cities to levy a residential rental tax, as this revenue is how we fund public safety hiring, improvements to parks and preserves, and neighborhood public safety grants. If the legislature wishes to push forward attempts to effectively defund our police and firefighters, I strongly urge them to come to the table and discuss how they can help us recoup the lost funding."
She also posted on social media: