Just before election day Dr. Anthony S. Fauci, the country's leading infectious-disease expert, delivered a dire warning. 'A whole lot of hurt': Fauci warns of covid-19 surge, offers blunt assessment of Trump's response:
President Trump's repeated assertions the United States is "rounding the turn" on the novel coronavirus have increasingly alarmed the government's top health experts, who say the country is heading into a long and potentially deadly winter with an unprepared government unwilling to make tough choices.
"We're in for a whole lot of hurt. It's not a good situation," Anthony S. Fauci, the country's leading infectious-disease expert, said in a wide-ranging interview late Friday. "All the stars are aligned in the wrong place as you go into the fall and winter season, with people congregating at home indoors. You could not possibly be positioned more poorly."
Fauci, a leading member of the government's coronavirus response, said the United States needed to make an "abrupt change" in public health practices and behaviors. He said the country could surpass 100,000 new coronavirus cases a day and predicted rising deaths in the coming weeks.
Dr. Fauci was proved correct on Wednesday, U.S. shatters records with more than 100,000 new cases in a single day:
[S]urging caseloads in nearly every state pushed the tally to a record 104,004 new infections Wednesday.
The U.S. reported 103,087 new daily coronavirus infections on Wednesday, setting a single-day record for cases, according to data from the COVID Tracking Project.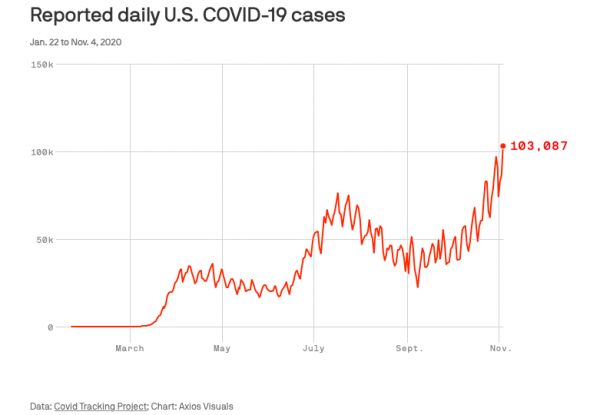 18 states — including Kansas, Tennessee, Virginia, Oklahoma, Montana, Iowa, North Dakota, South Dakota, Ohio, Nebraska, Minnesota, Indiana, Wisconsin and West Virginia — reported record numbers of patients hospitalized with covid-19. More than 1,110 fatalities were tallied, pushing the total number of coronavirus deaths reported since February past 233,000, according to data tracked by The Washington Post.
With nearly 9.5 million coronavirus cases reported, the United States is adding new infections at an unprecedented rate.
The seven-day average for new cases hit record highs in 20 states spanning every region of the country Wednesday, with the largest increases in Colorado, Maine, Minnesota and Iowa, according to data tracked by The Post.
* * *
Twelve states set new daily records for infections Thursday, including Missouri, Washington, Nebraska, West Virginia Pennsylvania, Idaho, Iowa and North Dakota, according to data tracked by The Post.
"Now is the time to develop a testing strategy to maximize our ability to identify the silent epidemic of asymptomatic COVID-19 infections," Robert Redfield, director of the Centers for Disease Control and Prevention, wrote Wednesday on Twitter. The tweet drew incredulous responses, with many questioning why such a strategy had not already been designed earlier.
The Post continues:
Fauci said the White House coronavirus task force meets less frequently and has far less influence as the president and his top advisers have focused on reopening the country. "Right now, the public health aspect of the task force has diminished greatly," he said.
Fauci said he and Deborah Birx, coronavirus task force coordinator, no longer have regular access to the president and he has not spoken to Trump since early October. "The last time I spoke to the president was not about any policy; it was when he was recovering in Walter Reed, he called me up," he said. Fauci said he phones into meetings of other staffers but largely avoids the West Wing because "of all the infections there."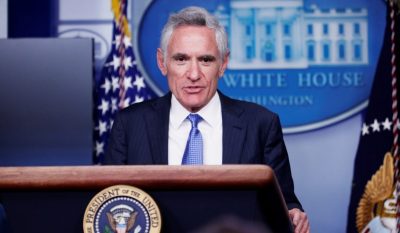 He also lamented that Scott Atlas, a neuroradiologist [and Fox News regular] and Trump's favored pandemic adviser, who advocates letting the virus spread among young healthy people and reopening the country without restrictions, is the only medical adviser the president regularly meets with.
"I have real problems with that guy," Fauci said of Atlas. "He's a smart guy who's talking about things that I believe he doesn't have any real insight or knowledge or experience in. He keeps talking about things that when you dissect it out and parse it out, it doesn't make any sense."
Fauci said he actually appreciated chief of staff Mark Meadows saying last weekend on CNN that the administration was not going to control the pandemic. "I tip my hat to him for admitting the strategy," he said. "He is straightforward in telling you what's on his mind. I commend him for that."
* * *
Without the ear of the president or other top White House officials, Fauci and other health experts believe the most effective thing they can do is get the public health message out through local and national television media interviews. Birx, the coronavirus coordinator, has traveled across the country in recent weeks delivering blunt advice to state and local leaders grappling with surges of infections, hospitalizations and deaths.
"The thing we can do is to try to get the message out," Fauci said.
Dr. Deborah Birx, following Dr. Fauci's courageous speaking out against the new and deadly White House coronavirus policy of "herd immunity," is also speaking out. Top Trump adviser bluntly contradicts president on covid-19 threat, urging all-out response:
A top White House coronavirus adviser sounded alarms Monday about a new and deadly phase in the health crisis, pleading with top administration officials for "much more aggressive action," even as President Trump continues to assure rallygoers that the nation is "rounding the turn" on the pandemic.
"We are entering the most concerning and most deadly phase of this pandemic … leading to increasing mortality," said the Nov. 2 report from Deborah Birx, coordinator of the White House coronavirus task force. "This is not about lockdowns — it hasn't been about lockdowns since March or April. It's about an aggressive balanced approach that is not being implemented."
Birx's internal report, shared with top White House and agency officials, contradicts Trump on numerous points: While the president holds large campaign events with hundreds of attendees, most without masks, she explicitly warns against them. While the president blames rising cases on more testing, she says testing is "flat or declining" in many areas where cases are rising. And while Trump says the country is "rounding the turn," Birx notes that the country is entering its most dangerous period yet and will see more than 100,000 new cases a day this week.
Other health experts, including Anthony S. Fauci, director of the National Institute of Allergy and Infectious Diseases, have warned of record surges in cases and hospitalizations as the United States records more than 9 million cases and 230,000 deaths.
But Birx's daily missives go further, revealing how much the administration's internal reports are in direct conflict with Trump's public pronouncements that downplay the seriousness of the threat and erroneously suggest that few people are dying. They also speak to the increasing desperation of health officials to spotlight the risks of a pandemic that is forecast to take thousands more lives as the weather worsens unless people change their behaviors. Some officials are also concerned about recouping their reputations in a post-Trump era.
The increasingly dire tone of Birx's reports has gotten little traction, according to an administration official who works with her and spoke on the condition of anonymity to share sensitive information. "She feels like she's being ignored," the official said.
Birx's message "has been urgent for weeks," said another administration official, "as has the plea for the administration to ask the American people to use masks, avoid gatherings and socially distance, basically since it became apparent that we were heading into a third surge."
The report hits hard on the worsening situation: "Cases are rapidly rising in nearly 30 percent of all USA counties, the highest number of county hotspots we have seen with this pandemic," it said. "Half of the United States is in the red or orange zone for cases despite flat or declining testing."
* * *
Birx's report goes to pains to dispute Trump's false claims that coronavirus cases are increasing only because of increases in testing. Monday's report notes that although testing is flat, a rising number of tests are positive, suggesting "community spread is much worse than is evident by current [measurements]."
An earlier, Oct. 17 report sounded the same theme: It cited increasing daily hospital admissions, rising fatalities and emergency room visits, and bluntly stated, "this is not due to increased testing but broad and ever-increasing community spread."
That report added these words highlighted in bold: "There is an absolute necessity of the Administration to use this moment to ask the American people to wear masks, physical distance and avoid gatherings in both public and private spaces."
* * *
Sounding a similar theme to past reports, it calls for "much more aggressive action from messaging, to testing, to surging personnel around the country before the crisis point."
What is "essential at this time point," the report said, is "consistent messaging about uniform use of masks, physical distancing and hand washing with profound limitation on indoor gatherings especially with family and friends."
It adds: "This is about empowerment Americans with the knowledge and data for decision-making to prevent community spread and save lives."
The president appears unpersuaded by such messages, convinced by new medical adviser Scott Atlas, a neuroradiologist with no infectious-disease experience, that allowing healthy people to return to daily activities without restrictions will hasten herd immunity and bolster the economy, say some advisers who spoke on the condition of anonymity because they were not authorized to speak publicly.
Officials describe Birx as frustrated with Atlas's growing influence. She has challenged his views in task force meetings, suggesting that reopening society without any restrictions would lead to thousands of deaths.
In recent weeks, Birx has crisscrossed the country, traveling to dozens of virus hot spots, where she has urged state and local officials to mandate masks, close bars and restaurants and encourage distancing.
They are not listening.
So let's review:
The U.S. is headed into the long projected "third wave" during the fall and winter, complicated by seasonal flu.
COVID-19 is spreading unchecked, and is increasing exponentially across the nation.
Hospital capacity around the country is being overtopped, and hospital facilities and staff are maxed out. Hospitals are not able to handle anymore COVID-19 patients, and hospital care for other conditions and emergencies increasingly is unavailable.
The leading medical professionals are pleading with top administration officials for "much more aggressive action," but Trump-Pence are singularly focused on trying to steal an election they have lost.
The Trump death cult is going to do nothing, and leave Americans to die between now and January 20, 2021 when they are evicted from the White House.
It's going to be a long, dark winter.
And yes, Donny boy, we are still talking about the coronavirus pandemic after election day. Every death is a negligent homicide at your hands.