Americans are just days away from going over the economic cliff, and the president and Senate Republicans are attempting to sabotage any coronavirus relief package.
Let's start with the most indefensible position first. The number of deaths from the novel coronavirus surpassed 140,000 in the U.S. on Sunday morning according to Johns Hopkins data. The U.S. confirmed on Saturday more than 71,500 new cases in 24 hours — the second highest number to the record 75,600-plus set last Thursday.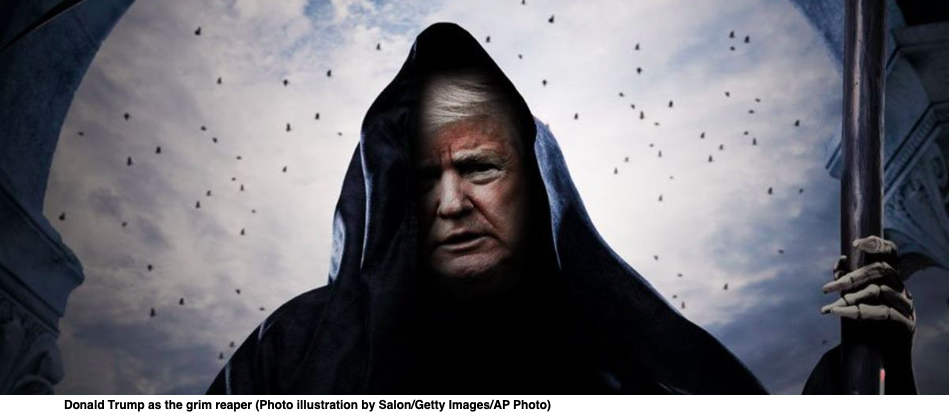 And yet, the Trump Death Cult is pushing to block new money for testing, tracing and CDC in upcoming coronavirus relief bill:
The Trump administration is trying to block billions of dollars for states to conduct testing and contact tracing in the upcoming coronavirus relief bill, people involved in the talks said Saturday.
The administration is also trying to block billions of dollars that GOP senators want to allocate for the Centers for Disease Control and Prevention, and billions more for the Pentagon and State Department to address the pandemic at home and abroad, the people said.
The administration's posture has angered some GOP senators, the officials said, and some lawmakers are trying to push back and ensure that the money stays in the bill. The officials, who spoke on condition of anonymity to reveal confidential deliberations, cautioned that the talks were fluid and the numbers were in flux.
[T]he conflict between Trump administration officials and Senate Republicans on money for testing and other priorities is creating a major complication even before bipartisan negotiations get under way.
One person involved in the talks said Senate Republicans were seeking to allocate $25 billion for states to conduct testing and contact tracing, but that certain administration officials want to zero out the testing and tracing money entirely. Some White House officials believe they have already approved billions of dollars in assistance for testing and that some of that money remains unspent.
Trump and other White House officials have been pushing for states to own more of the responsibility for testing and have objected to creating national standards, at times seeking to minimize the federal government's role.
We all know from where this batshit crazy policy comes. Trump believes that if we don't test, we don't have COVID-19 cases. Close your eyes and pretend to make it go away. What this really means is that we are flying blind in an unchecked pandemic that is overwhelming our hospitals. Trump has crossed the line from criminal negligence into willful manslaughter.
The next sticking point is Trump's insistence on a payroll tax cut which takes money from payroll deductions for social security and medicare. Trump demands payroll tax cut in next Covid relief bill.  "President Donald Trump has signaled to Hill Republicans that he will not sign a new coronavirus stimulus package without the inclusion of a payroll tax cut, according to three sources close to the issue."
First the data:
More than 32 million Americans are receiving some form of unemployment benefits, according to data released by the Labor Department on Thursday.
Over 17 million continue to claim traditional unemployment benefits. This number has dropped from its peak at 25 million in early May, but it remains at depression levels.
Another roughly 15 million are on the rolls of other unemployment programs, including the Pandemic Unemployment Assistance (PUA) program.
That's 32 million unemployed Americans – which does not include many more Americans who have applied for unemployment but have not yet qualified – for whom a payroll tax deduction is meaningless. They are not receiving a paycheck. They need direct financial assistance to survive, to keep a roof over their head, and to feed their families.
Economist Paul Krugman warns, The Next Disaster Is Just a Few Days Away:
[T]he CARES Act both expanded coverage, for example to gig workers, and sharply increased benefits, adding $600 to every recipient's weekly check.
[It] also helped sustain those parts of the economy that weren't locked down. Without those emergency benefits, laid-off workers would have been forced to slash spending across the board. This would have generated a whole second round of job loss and economic contraction, as well as creating a huge wave of missed rental payments and evictions.
So enhanced unemployment benefits have been a crucial lifeline to tens of millions of Americans. Unfortunately, all of those beneficiaries are now just a few days from being thrown overboard.
For that $600 weekly supplement — which accounts for most of the expansion of benefits — applies only to benefit weeks that end "on or before July 31." July 31 is a Friday. State unemployment benefit weeks typically end on Saturday or Sunday. So the supplement will end, in most places, on July 25 or 26, and millions of workers will see their incomes plunge 60 percent or more just a few days from now.
Two months have gone by since the House passed a relief measure that would, among other things, extend enhanced benefits through the rest of the year. But neither Senate Republicans nor the White House has shown any sense of urgency about the looming crisis.
"Trump has been fixated on a payroll tax cut for months, even though it has fallen on deaf ears on Capitol Hill — Senate Republicans and House Democrats don't care for the proposal, and have resoundingly rejected it."
And then there is "Moscow Mitch" McConnell who is demanding a sweeping shield from coronavirus liability:
A new plan from Senate Republicans to award businesses, schools, and universities sweeping exemptions from lawsuits arising from inadequate coronavirus safeguards is putting Republicans and Democrats at loggerheads as Congress reconvenes next week to negotiate another relief package.
The liability proposal, drafted by Majority Leader Mitch McConnell, R-Ky., and senior Republican John Cornyn of Texas, promises to shield employers when customers and workers are exposed to coronavirus by moving lawsuits to federal court and limiting legal liability to acts of "gross negligence or intentional misconduct," according to a draft of the plan obtained by The Associated Press.
Supporters say the plan protects businesses and other employers who adhere to public-health guidelines in good faith. Opponents argue it will permit wrongdoing to go unpunished. It's up to Congress to resolve the debate, with the outcome likely to determine what legal recourse is available to Americans who contract the virus.
McConnell has said for months that some form of liability shield will be in the next COVID response measure, telling an audience in Kentucky on Wednesday that he won't send the next, and fifth, coronavirus response bill to the floor without it.
The $3.5 trillion Heroes Act passed by the House in May requires the Occupational Safety and Health Administration, or OSHA, to issue emergency temporary workplace COVID safety standards for employers immediately upon enactment of the bill. If an employer can show compliance with the OSHA regulations, it has a "safe harbor" defense against any liability lawsuits. House Speaker Nancy Pelosi has argued that the OSHA standard is the best way to protect businesses because if they ensure their employees follow proper health guidelines they won't be held liable for anyone contracting the virus. This makes perfectly good sense, and is similar to provisions in several other existing federal laws.
But Republicans are opposed to any OSHA regulations, because this means employers would actually have to spend money to comply with the regulations, and to enforce the regulations in order to qualify for the safe harbor defense. McCarthy: Liability shield shouldn't be traded for more regulation:
Republicans don't need to agree to worker protection standards they've repeatedly rejected in exchange for Democratic support for liability protections in the next coronavirus relief package, House Minority Leader Kevin McCarthy said Friday.
A group of 10 House Republicans wrote to McCarthy on Tuesday making the [House] argument for the OSHA standard, but the minority leader signaled Friday he is not willing to compromise with Pelosi on the matter.
What Republicans want goes well beyond blanket immunity from liability:
A draft summary of McConnell's liability protection proposal obtained by CQ Roll Call outlines several provisions that attempt to shield businesses, schools and health care providers who follow public health guidelines from personal injury in coronavirus-related trial lawsuits.
For schools, colleges, charities and businesses that plaintiffs accuse of causing coronavirus exposure, defendants could only be held liable if they failed to make "reasonable efforts" to follow public health guidelines. The summary document does not define reasonable efforts.
For licensed health care facilities and health care workers accused by plaintiffs of providing poor care or services related to the coronavirus, defendants would only be liable for "gross negligence and intentional misconduct."
In all cases, the bill says plaintiffs would have to provide for a "clear-and-convincing-evidence burden of proof," which the summary document does not define. The measure would also place a cap on damages plaintiffs can recover, but the summary does not specify what that cap would be.
To further discourage such lawsuits, the bill would provide for concurrent federal jurisdiction over all claims covered by the statute. That means defendants could try to move lawsuits filed in local courts to federal court, where proceedings would likely move much slower.
The liability protections would all sunset at the end of 2024 or earlier if the Health and Human Services Department rescinds its declaration under the Public Health Service Act providing liability immunity for medical countermeasures against COVID-19.
The GOP proposal would also provide employers protection from liability under federal labor and employment law for actions they take to comply with stay-at-home orders and other public health guidance, including any injuries arising from workplace coronavirus testing. This provision does not appear to sunset, based on the summary document.
The American Association for Justice, a group of trial lawyers that advocates policies to allow harmed individuals to seek justice in the courts, has said McConnell's concern about a wave of COVID-19 litigation is unfounded based on complaints filed to date.
The association, citing a database maintained by the Hunton Andrews Kurth law firm, said that less than 5 percent of complaints filed nationally have been personal injury cases.
The Republican position can be summarized as thus: "We have done enough for you deadbeat 'takers' already. It's time for you to get off the couch and go back to work, and if you get sick from COVID-19, well too bad, people die every day. Suck it up!"
We are now back to the original Republican position of sacrificing your lives for the U.S. economy.
Paul Waldman of the Washington Post explains How Trump and McConnell are prolonging our economic nightmare:
Do Republicans even want to help the American economy through this crisis?
It seems like a crazy question to ask, but given what's happening right now, it's a hard one to avoid. Even as they face an electoral catastrophe that might be mitigated by easing America's economic pain, they seem more interested in getting a couple of small ideological victories than in actually doing what's necessary to prop up the economy.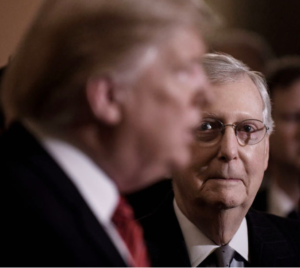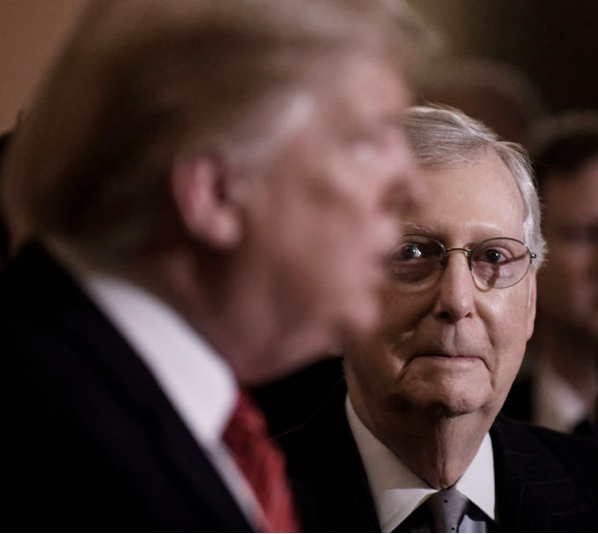 We can safely say that President Trump, due to a combination of ignorance and his own peculiar personality flaws, simply doesn't understand what the country needs. But Senate Majority Leader Mitch McConnell (R-Ky.) is no fool. So his actions may seem even less sensible.
There is, however, one clear explanation for what he's doing: He has already given up on the idea of Trump being reelected, and he's planning for the future.
Let's begin with the horror of the moment. Last week another 1.3 million Americans filed for unemployment insurance; the total number who are either getting UI or waiting for it is over 36 million, or one in five American workers. Yet the enhanced unemployment benefits included in the Cares Act rescue package, which provided an extra $600 a week and have been a lifeline for millions, are set to expire at the end of the month.
That's not to mention that we're on the cusp of an eviction crisis, millions of Americans have lost their health coverage, and state and local budgets are imploding.
Meanwhile, the coronavirus pandemic is erupting. On Thursday, we registered more than 70,000 new cases of covid-19, the highest total yet.
Yet one gets no sense of urgency from Republicans about passing a new rescue bill. Trump has become convinced that the only important thing to do is a payroll tax cut, which, as a way of stimulating the economy is weak, to say the least. It would give more of its benefits to higher-income people, who pay more than those with modest incomes. It would give nothing to the tens of millions of unemployed Americans. And it would weaken the Social Security and Medicare trust funds (which Republicans probably don't mind).
And what does McConnell want? He's supposed to deliver a stimulus bill next week, and his highest priority is limiting people's ability to sue businesses, hospitals, or schools if they contract covid-19.
That's part of the long Republican effort to bar people who are injured or abused from access to the courts. But as an economic stimulus, it's utterly useless.
Nor is McConnell showing any particular urgency about passing a bill at all. A source who was present on a conference call of Senate Democrats on Tuesday tells me that Minority Leader Charles E. Schumer (N.Y.) told his colleagues that he has gotten no outreach from McConnell on the bill.
According to other reports, McConnell hasn't spoken to House Speaker Nancy Pelosi (D-Calif.) about it either. Which suggests he's just going to drop something he knows Democrats will reject out of hand, and which will therefore go nowhere.
That doesn't mean we might not get some kind of agreement eventually. But it will probably take until after the enhanced UI benefits expire, delivering a vicious blow to the economy at the worst possible time.
That's not to mention the fact that we can't have an economic recovery until we get the pandemic under control. Yet both the Trump administration and congressional Republicans are acting as though they did their best to stop the pandemic and now there's nothing more to do, so they're giving up.
Trump certainly has. He seems to genuinely believe that, as he has said many times, eventually the virus will "sort of just disappear," and therefore all that's necessary is to force businesses and schools to open.
But McConnell knows what's happening. He has surely looked around and realized that with the pandemic surging, there is simply no way the economy is going to come roaring back before November. He's seen the polls showing Trump trailing presumptive Democratic nominee Joe Biden by 10 points or more. He knows that the political environment grows less favorable to the GOP by the day. He understands that the odds his party will retain control of the Senate are probably 50-50 at best.
So from where he sits, the best outcome now may be to use the next stimulus package to win some minor ideological victories, but not allow it to be substantial enough to set the stage for a genuine recovery. That way, if and when Biden becomes president in 2021, the situation will be no less dire than it is now — and maybe more so.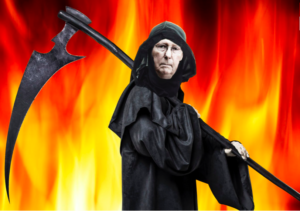 And the worse things are in the country at that point, the better it is for Republicans. Just as they did when Barack Obama was president, they can blame Democrats for their own mistakes, then force austerity measures that sabotage the economy and slow the recovery.
If you were a Republican and you thought that Trump was doomed no matter what, this might be your best-case scenario.
Of course, to think that you'd have to be utterly amoral — indifferent to the country's suffering if it could be weaponized for some political advantage. In other words, you'd have to be Mitch McConnell.
And that's why the next stimulus will be completely inadequate to the crisis we face. Combine Trump's catastrophic incompetence with McConnell's nihilism, and this is what you get.
Like Nero burned Rome, Trump and McConnell plan to burn it all down to leave Democrats a pyrrrhic victory and America in ruins.
Every Republican must be removed from office for their crimes against humanity. Every last one.