POLITICO reported that Swift Boat mastermind to launch massive super PAC to boost Trump (8/31/20):
Senior Republicans are launching a massive super PAC this week to bolster Donald Trump's reelection in the final stretch of the campaign — a move that comes as the president has been pummeled by Joe Biden on TV.
The new organization, Preserve America, is poised to begin a $30 million advertising blitz, an amount that's likely to escalate in the weeks to come, two people familiar with the effort told POLITICO. The super PAC is expected to draw the support of a range of GOP megadonors, including Las Vegas casino mogul Sheldon Adelson and Home Depot co-founder Bernie Marcus.
Center For Responsive Politics (Open Secrets) reports Preserve America PAC has independent expenditures of $28,427,384 so far to run anti-Biden ads.
Preserve America will be overseen by Chris LaCivita, a veteran Republican strategist who orchestrated the Swift Boat Veterans for Truth takedown of John Kerry in the 2004 presidential race.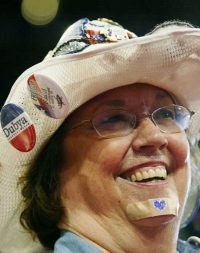 The term "swift boating" entered the political lexicon as a pejorative in 2004 to describe an unfair or untrue political attack. The term is derived from the name of the organization "Swift Boat Veterans for Truth" (SBVT, later the Swift Vets and POWs for Truth) because of their widely publicized — and later discredited — campaign against 2004 U.S. presidential candidate John Kerry.
The most outrageous and offensive "swift boating" attack on a decorated combat veteran came at the Republican National Convention when so-called "patriotic" Republicans who claimed to "support the troops" wore purple heart band-aids to mock John Kerry's purple heart. Delegates Mock Kerry's Wounds, Angering Veterans.
Just the kind of thing that "Cadet Bone Spurs," who denigrates our U.S. military would do – of course he called Chris LaCivita.
The move comes as Republicans express mounting concern over the drubbing Trump has been taking on TV. The president in August went dark in several battleground states [including Arizona] and in Wisconsin was outspent more than 8 to 1, according to the media tracking firm Advertising Analytics. In Florida, Trump was outpaced by Biden more than 3 to 1.
The endeavor is also aimed at addressing ongoing frustration within the president's orbit over the existing Trump-allied outside group, America First Action. The super PAC has been outraised by its pro-Biden rival, Priorities USA, and senior Trump aides complain its attacks on the Democratic nominee have failed to punch through. Many of the president's most generous financial backers have yet to donate to America First Action.
While America First Action has ostensibly been regarded as the official pro-Trump super PAC, advisers to the president have privately said they would welcome a new outfit. Preserve America's first commercials will begin airing Tuesday in Florida, North Carolina, Pennsylvania, Wisconsin, Arizona, Iowa and Georgia. Roughly $25 million of the total buy will be invested on TV, a figure that nearly matches what America First Action and Priorities USA have spent on the airwaves over the course of the entire election cycle. The remaining $5 million will appear on digital platforms.
Preserve America officials declined to specify their overall budget but said the investment would increase as the election draws closer.
The super PAC's initial ads will focus on the theme of law and order, which Trump has turned into the centerpiece of his reelection bid. The emotionally charged commercials aim to tear down Biden by contending that he's refused to take on the "defund the police" movement that's emerged amid a summer of racial unrest.
FACT CHECK
One commercial features a direct-to-camera testimonial from an Arizona woman named Alyssa Cordova whose husband, a police officer, was killed in the line of duty.
"I haven't heard Joe Biden stand up for law enforcement, which says a lot," Cordova says, with an American flag and photograph of her husband behind her. "You're part of the problem because you're condoning it. What kind of a leader are you?"
This ad began airing in Arizona after Joe Biden's speech in Pittsburgh, PA about recent spates of violence across the country, on August 31, 2020, the same day that POLITICO reported on the formation of Preserve America super PAC.  Biden condemned violence and destruction, calling it an affront to the tactics of civil rights leaders like Martin Luther King Jr. and John Lewis. Biden condemns violence and asks if Americans 'really feel safe under Donald Trump':
In his first major campaign event after last week's Republican convention, the former vice president delivered a forceful response to Trump and his allies' racially charged claims that the looting and property damage that has taken place amid protests over racial injustice in some cities would spread to the suburbs if Biden is elected in November.
"I want to be very clear about all of this: Rioting is not protesting. Looting is not protesting. Setting fires is not protesting. None of this is protesting. It's lawlessness, plain and simple. And those who do it should be prosecuted," Biden said. "Violence will not bring change, it will only bring destruction. It's wrong in every way."
Responding to Trump's claims that the suburbs, where Trump needs to win back White voters who have abandoned the GOP in droves on his watch, would not be safe if Biden wins, Biden asked, incredulously: "You know me. You know my heart. You know my story, my family's story. Ask yourself: Do I look like a radical socialist with a soft spot for rioters? Really?"
Biden blamed Trump for fomenting racial unrest and sidestepping responsibility for the coronavirus pandemic and the ensuing economic crisis.
"Do you really feel safer under Donald Trump?" Biden asked repeatedly in a speech in Pittsburgh.
One "tell" in this "swift boating" smear from Preserve America super PAC is this screenshot of a quote from The Washington Post implying that Joe Biden has not said anything about the violence.
Here is the cited article from The Post. Protests pose a challenge for Biden: Appealing to older and younger black voters in which the above quote is taken entirely out of context (excerpt):
"He has to meet the moment," said Cornell Belcher, who was a pollster for President Barack Obama. "He's completely capable of stepping in that space and delivering a unifying message about bringing America together and talking about the refrain that [Martin Luther] King put out decades ago: that an injustice anywhere to anyone is an injustice to everyone. That's the space that he must occupy."
So far, Biden has stayed relatively quiet. He gave brief televised remarks supporting protesters Friday and did a rare round of cable news interviews to drive home his point. He issued a statement condemning violence early Sunday morning as images of burning police cars filled TV news. Later, he pulled a prerecorded video from the speaking program for Sunday evening's Maine Democratic Party convention "due to recent events," according to a Biden campaign aide.
The "relatively quiet" line refers to Joe Biden's public support for Black Lives Matter protests at the time. It does not refer to supporting police as this ad misleads. Biden has consistently condemned violence that puts police and fire and first responders in harm's way. Biden is not "condoning" violence as Mrs. Cordova falsely asserted in the ad.
That would be Donald Trump who has been openly inciting civil unrest and violent counter-protests from right-wing domestic terrorist organizations at Black Lives Matter protests as part of his white nationalist campaign strategy wrapped in the racist code language of "law and order."
It should be noted that the Post report above was published prior to George Floyd's murder by Minneapolis police officers later that same day on May 31, 2020.
The whole point of this "swift boating" smear is to falsely claim, as Alyssa Cordova says in the ad, that Joe Biden supports "defunding the police." The Fact Checkers had already debunked this falsehood in July and August long before this ad was even filmed. Associated Press: Joe Biden did not call for defunding the police. FactCheck.org: Trump's False, Recurring Claim About Biden's Stance on Police. Politifact: No, Joe Biden isn't 'on board with defunding police'.
Mrs. Cordova, you have my deepest sympathy for the loss of your husband in the line of duty, but you do not have my respect for your willingness to be use as a shameless liar in this "swift boating" smear. You should know better, and be ashamed of yourself.
Continued:
Another ad spotlights John Gillis, a retired Los Angeles police lieutenant who talks about how a gang member murdered his daughter. "Joe Biden is not going to take a stand," says Gillis, who is Black. "He can't do the tough things, he's too worried about popular opinion. That's his character."
LaCivita said: "The radical left-wing mob is trying to destroy our country from within and Joe Biden is too weak to stop them. It's a concern shared by a growing number of Americans and we intend to spread their message far and wide over the coming months."
What LaCivita does not want the public to know is that a Majority of Police Officers See Black Lives Matter Positively And Support Reforms: Poll (7/23/20):
Most law enforcement officers support Black Lives Matter and police reform, according to new polling data.
Survey results released by Morning Consult on Thursday showed 58 percent of respondents who identified as police officers said they view Black Lives Matter favorably. Support for the movement increased to 72 percent when responses from police households of color were considered exclusively. It dropped to 45 percent among white police households.
In general, 56 percent of survey participants said they support Black Lives Matter. Morning Consult, a market research company, collected responses from close to 10,000 registered U.S. voters between June 19 and June 24, about one month after George Floyd's death while in custody of officers from the Minneapolis Police Department sparked global protests against law enforcement abuses and systemic racism. The poll results' margin of error ranges from plus or minus 1 to -7 percent, according to Morning Consult.
Those who participated in the poll also shared responses that reflected their views on reform, as protesters called for broad changes to police practices and lawmakers began to follow suit with legislation. The poll showed 59 percent of police officers who responded support banning no-knock warrants and 68 percent support prohibiting law enforcement's use of chokeholds.
Between 64 and 74 percent of poll respondents who identified as police said they support a range of additional reforms to law enforcement practices, including mandatory use of body-worn cameras, dashboard cameras inside police vehicles and requirements for reporting all stops and uses of force. A greater portion of general voters who responded said they support each reform effort.
LaCivita also does not want the public to know that Over 190 law enforcement officials endorse Biden. "The endorsements rebut a theme of the Trump re-election campaign, which has falsely claimed that Biden wants to defund the police."
The commercials come as Trump was set to travel this week to Kenosha, Wis., where the police shooting of an unarmed Black man has triggered violent protests. Biden has begun to push back on Trump's law and order offensive. He told the National Guard Association conference over the weekend he would "never use the military as a prop or as a private militia to violate rights of fellow citizens," a reference to the president's June decision to use law enforcement to clear protesters in front of the White House.
Biden came to Kenosha, Wisconsin two days after Trump. Biden, in Kenosha, Makes Case for Healing and Unity, Not Division: "Two days after Mr. Trump traveled to Kenosha to focus attention on street violence and disorder, Mr. Biden sought to strike a drastically different tone, as he repudiated the president's divisive approach to matters of racial injustice and civil unrest and offered an alternative vision focused on national unity."
Adelson's anticipated involvement comes weeks after a contentious phone call with Trump that left Republicans panicked he might not help Trump in the final weeks of the race. But the staunchly pro-Israel billionaire has generally had a warm relationship with the White House. Trump in 2018 came through on one of Adelson's priorities: moving the American Embassy in Israel from Tel Aviv to Jerusalem. [Also the 2017 GOP tax bill which gave him billions in free money].
Marcus, who gave $5 million to a pro-Trump super PAC in 2016, has also been a key ally of the president. Over dinner in the White House earlier this summer, Marcus and Trump had a discussion that touched on the 2020 race.
LaCivita has worked in Republican politics for around three decades. In August 2004, his Swift Boat Veterans for Truth group began a TV advertising campaign featuring direct-to-camera testimonials from veterans who served with Kerry in the Vietnam War. They accused the then-Democratic nominee of exaggerating his war record and disparaging American troops upon his return from Vietnam. Kerry adamantly denied the accusations, but they caused massive damage to his campaign.
The Columbia Journalism Review in 2012 wrote, Looking for Lessons in the Swift Boat Saga (excerpt):
The ads accused Democratic nominee John Kerry, who had earned Bronze and Silver Stars and three Purple Hearts for his service during the Vietnam War, of lying about his record. Thorough investigations by major national news outlets eventually concluded that the accusations against Kerry were unsubstantiated (though they also found inconsistencies in parts of his account)—but not before the ads, and the debate they generated, reshaped the campaign.
Which is the result this latest iteration of "swift boat" smears is hoping for. They are selling you a lie.
The late push by megadonors is similar to what unfolded in 2016. In the final weeks of the race, GOP givers plowed tens of millions of dollars into a pro-Trump super PAC named Future45. It provided a pivotal boost for Trump at a time when he found himself at a financial disadvantage.
Joining LaCivita in the endeavor will be longtime Republican ad-maker Jon Downs. The pollster for the super PAC will be Trump 2016 campaign veteran Adam Geller, who is simultaneously working for America First Action.
Hmmm, this sounds an awful lot like illegal coordination between the Trump campaign and this supposedly independent expenditure super PAC. Maybe the media should start looking into this.