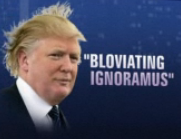 The short-fingered vulgarian, Donald Trump, in the wake of the massacre in Orlando, Florida, insinuated that President Obama sympathized with terrorists, which provoked a backlash that included rebukes from members of his own party.
"The Donald" doubled down, declaring that he was not just insinuating it but that he was "right," based upon a report from the right-wing conspiracy "news" (sic) site Breitbart.com, which has informally been acting as the media arm of the Trump campaign. Trump says he was 'right' about Obama and terrorists, citing unverified intelligence:
In a post to his Twitter account early Wednesday, Trump said "Media fell all over themselves criticizing what Donald Trump 'may have insinuated' " about Obama. "But he's right," it said, linking to a story published by the conservative website Breitbart News.
The story was based on a declassified 2012 cable written by a Defense Intelligence Agency (DIA) official, addressed to about two dozen military and national security agencies and officials, including then-Secretary of State Hillary Clinton. Labeled as "information report, not finally evaluated intelligence," it refers to "the general situation" in Iraq and Syria in the early days of the armed insurgency against Syrian President Bashar al-Assad.
It describes al-Qaeda in Iraq (AQI), the Islamic State precursor, as part of the anti-Assad opposition, and notes that opposition forces fighting in eastern Syria are backed by "Western countries, the [Persian] Gulf states and Turkey."
But the document appears to be an initial intake of spot intelligence from the early days of the Syrian civil war. That intelligence had not yet been vetted or verified. Trump's embrace of Breitbart's interpretation of the cable fits a pattern of careless handling and circulation of facts, particularly in the realm of foreign policy. Such missteps have piqued concerns among foreign policy experts and Republican strategists about Trump's understanding of complicated policy issues and his fitness for office.
Kevin Madden, a veteran GOP strategist and former adviser to 2012 GOP presidential candidate Mitt Romney said, "Some days I expect him to come out and say, 'I'm not an expert on national security, but I did stay at a Holiday Inn last night. Let me tell you what I think.' "
There has been hesi­ta­tion among foreign policy experts to join the Trump campaign or his transition team, at least partially born out of fear that aligning themselves with Trump could damage their professional reputations.
In fact, back in March more than 120 GOP national security veterans signed an open letter that they are opposed to the dangerous foreign policy proposals of Donald Trump.  Open Letter on Trump from GOP National Security Leaders.
The fact checkers are having a field day with Trump's latest reckless conspiracy theory outrage.  Fact Check.org concludes, Trump's ISIS Conspiracy Theory:
Perry Cammack, an associate in the Middle East Program at the Carnegie Endowment for International Peace, and formerly a Middle East policy staffer of Secretary of State John Kerry, said it was "outrageous" that any American president would be accused of supporting a terrorist group bent on destroying the U.S.
We agree. It's the kind of claim that we'd debunk in an article on viral conspiracy theories.
Politifact rates Trump's claim a "pants on fire" lie. Donald Trump suggests Barack Obama supported ISIS, but that's a conspiracy theory:
Trump said "the Obama administration was actively supporting Al Qaeda in Iraq, the terrorist group that became the Islamic State."
U.S. efforts to court "moderate" opponents of Assad may have benefited other Islamic extremist groups such as al Nusra, but any such benefits were an unintended consequence of U.S. policy, not a goal of that policy itself.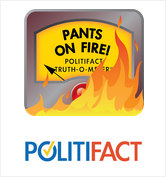 That's different from the argument made by Trump — that the U.S. was actively supporting ISIS or its predecessors. In fact, experts say that assertion is flat wrong. The implication that the Obama administration was actively helping the United States' enemies is ridiculous. It has always been U.S. policy to oppose AQI and ISIS, and the United States has aggressively fought the group for years. We rate Trump's assertion Pants on Fire.
The Washington Post's fact checker, Glenn Kessler, rates Trump's claim "Four Pinocchios." Trump's bizarre claim that the Obama administration actively 'supported' terror groups:
This is what happens when people with little understanding of policy or context choose to willfully misinterpret documents. This is a relatively unimportant memo, with little information not in newspapers at the time. Rather than showing that the Obama administration is supporting terrorist groups, the information in the memo demonstrates why the administration was so reluctant to back rebel groups in Syria, often to the annoyance of Republican hawks.
Moreover, the memo was not sent directly to Clinton's office, as asserted by Breitbart.
Trump, as a presumptive presidential nominee, really needs to rely on more accurate information when making factual claims. He yet again earns Four Pinocchios.
Four Pinocchios