At its Spring State Committee Meeting in Tucson on Saturday, the Arizona Democratic Party adopted a second resolution reaffirming its opposition to Fast Track and The Trans-Pacific Partnership (TPP), first adopted by the committee at its  Spring State Committee Meeting in April 2014.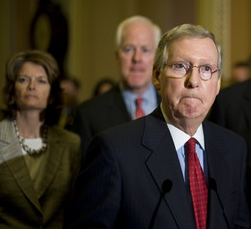 On Tuesday, the U.S. Senate will take up the first procedural vote on the TPP. Senate Majority Leader Mitch McConnell set a procedural vote for Tuesday that will provide an initial test of the Senate's support for the Trade Promotion Authority legislation that many of President Obama's fellow Democrats oppose. McConnell will have to find 60 votes in favor of a motion to proceed to the bill to formally begin work on the fast-track trade bill.
Senate Minority Leader Harry Reid, a vocal opponent of the fast-track trade bill, has said that he could slow progress on the trade bill, which is not time sensitive, in favor of moving two other bills, one to provide highway construction funding and the other dealing with the NSA domestic spying program struck down by the Second Circuit Court of Appeals last week under the the USA Patriot Act. Both measures require congressional action before they expire at the end of the month.
The Hill reports today, Reid, McConnell battle ahead of trade vote:
Senate Majority Leader Mitch McConnell (R-Ky.) and Minority Leader Harry Reid (D-Nev.) are battling on the floor ahead of a procedural vote Tuesday on "fast track" trade legislation.
The Republican leader said Monday that he intends to allow for an open amendment process to the trade legislation, adding that blocking movement on the bill "would be a big mistake."
"[There's been] some talk about preventing the Senate from even debating the bill," he said. "I would tell you… I think that would be a big mistake."
The Senate is scheduled to take an initial procedural vote Tuesday, on ending debate on a motion to proceed to the bill.
The legislation, which would block Congress from amending a trade pact the administration is negotiating with 11 Pacific Rim countries, is a rare area of agreement between McConnell and the Obama administration.
But the vote is pitting the administration against Reid, who has pledged to block the trade bill until senators agree to a way forward on highway and surveillance bills, both of which face end-of-the-month deadlines.
The Nevada Democrat said Monday that he's "disturbed and distressed" by McConnell's priorities.
"With only a few days before the Memorial Day recess, I'm disturbed and distressed by Republicans' priorities," he said. "For example, the majority leader knows that the reauthorization for the federal highway program expires this month."
Reid is part of a contingent of Senate Democrats who remain staunchly opposed to the trade legislation, worried that it could undercut workers in the U.S.
Fourteen Senate Democrats on Monday urged Obama to bolster labor standards before the Asia-Pacific trade deal goes into effect.
The group of lawmakers, nearly all of whom oppose fast-tracking trade agreements, warned U.S. Trade Representative Michael Froman and Labor Secretary Tom Perez that waiting to improve standards until after the 12-nation Trans-Pacific Partnership (TPP) is enacted could diminish enforcement of labor protections in those countries.  "TPP has been presented as a unique opportunity to measurably improve the lives of workers in all TPP countries, but only holds such promise if countries are required to meet and uphold the agreement's labor standards before the agreement is implemented," the senators wrote.
The Democrats signing the letter were Sens. Sherrod Brown (Ohio), Ben Cardin (Md.), Charles Schumer (N.Y.), Debbie Stabenow (Mich.), Bob Casey Jr. (Pa.), Al Franken (Minn.), Ed Markey (Mass.), Tammy Baldwin (Wis.), Gary Peters (Mich.), Tom Udall (N.M.), Richard Blumenthal (Conn.), Brian Schatz (Hawaii), Jeff Merkley (Ore.) and Elizabeth Warren (Mass.).
The letter was sent on the eve of a vote in the Senate on Tuesday on whether to proceed to trade promotion authority (TPA) legislation, which would establish the fast-track powers sought by the White House.
The procedural motion will require 60 votes to clear, leaving Senate Majority Leader Mitch McConnell (R-Ky.) with little margin for error.
* * *
The Democratic signatories to Monday's letter specifically expressed concern about workers' rights in four countries — Vietnam, Malaysia, Brunei and Mexico.
They argued that if countries like Vietnam are unable to meet the agreement's labor standards before TPP takes effect, "USTR's ability to enact change on the ground will severely diminish if not disappear after TPP's enactment date."
They also said that the TPP needs to incorporate an independent panel with the authority to determine and settle labor compliance problems because previous agreements have proven that government-to-government enforcement of the standards is rare and does not yield timely resolutions of violations.
"American workers are the most productive in the world, but they cannot compete against workers who are paid pennies, denied their right to collectively bargain or are forced to work in unsafe conditions," the senators wrote.
"The U.S. has maximum leverage to accomplish these objectives during the negotiations and before the agreement takes effect," they wrote.
The Democrats called on Froman and Perez to ensure protections around organizing labor unions and collective bargaining. They specifically encouraged Froman, who spent last week in Malaysia, to address child and forced labor in that country.
"If we don't improve labor standards in TPP countries in a meaningful way, we fail to give American workers the ability to compete," Brown said in a statement.
"Before we sign a trade deal affecting 40 percent of the world's GDP, we must put stronger worker protections in place before this trade agreement goes into effect or else we will miss our opportunity to improve labor standards and level the playing field," he said.
There has been some misinformation I have heard repeated about this trade bill. Many people are under the impression that members of Congress do not know what is being negotiated in this agreement. Not true. Lawmakers are able to read the current text of the trade agreement in a secure viewing area in the Capitol building. Because it is classified, however, they are not allowed to divulge what is in it.
Which has led to this bizarre pissing match between President Obama and his friend, Sen. Elizabeth Warren (D-MA). Greg Sargent has his take today, Elizabeth Warren fires back at Obama: Here's what they're really fighting about, and The Hill reports this afternoon that White House escalates Warren feud .
I have to agree with Sen. Warren on this one: "If the president is so confident it's a good deal, he should declassify the text and let people see it before asking Congress to tie its hands on fixing it" with fast-track authority. How can she defend and explain her position if she is not allowed to divulge what is in the agreement being negotiated, and the general public is not allowed to see it? This debate is occurring in a vacuum of secrecy. To borrow a phrase from Ronald Reagan, "trust but verify."
I have been asked why President Obama is so adamant about this trade agreement. We have not spoken so I do not know the answer.
But I suspect that Obama has been influenced by former Treasury Secretaries and Wall Street banksters Robert Rubin, Larry Summers and Timothy Geithner, and I don't find their support for this trade agreement particularly persuasive or comforting, given the history of past trade agreements they negotiated.