Think Progress reports that The economic 'mess' Trump says he inherited continues to add jobs:
The economy added 235,000 jobs in February and the unemployment rate fell slightly to 4.7 percent, according to the latest data from the Bureau of Labor Statistics. It's the first job report to measure the economy under President Trump.
While Trump has said he "inherited a mess," February's job report marks the 76th straight month of job creation, the longest streak since 1939, with 2.2 million jobs added over the course of last year.
(Last month was also the 17th consecutive month the rate has been at 5% or lower).
Trump retweeted a Drudge Report headline touting the number of jobs added in February that said, "GREAT AGAIN." But the economy added 238,000 jobs in the last report of Obama's presidency.
As Steve Benen points out in his monthly jobs report, New jobs data shows 2017 is off to a strong start:
If recent political developments are any guide, Trump and his supporters will tout the encouraging jobs data as evidence of his economic prowess. And while everyone should always be glad to see good news, it's worth noting that these boasts continue to be misplaced. Trump didn't actually implement any meaningful economic policies in February, and the president's repeated claims about his accomplishments fall apart under scrutiny. Trump keeps claiming he's created U.S. jobs since Election Day. Not so.
Indeed, the question for the White House and congressional Republicans remains difficult to answer: how can the job market remain so healthy with all of those nasty Obama-era policies – the Affordable Care Act, environmental protections, Wall Street safeguards, et al – in place? Why are the February 2017 numbers nearly identical to the February 2016 and February 2015 numbers?
As Steve Benen says, "It's increasingly difficult to believe Donald Trump inherited an economic 'mess.'"
More to the point, Benen reminds us, White House: Job totals were 'phony,' but they're 'very real now':
The White House, not surprisingly, is thrilled that the job market Donald Trump inherited from his predecessor is this strong as the new administration gets underway.
That is, if the president actually believes the data. Trump spent months telling Americans not to believe official jobs reports, so it was hardly a surprise when a reporter asked White House Press Secretary Sean Spicer about whether Team Trump accepts the latest job figures or not. Spicer replied, with an unusually broad smile:
"Yeah, I talked to the president prior to this [briefing] and he said to quote him very clearly: 'They may have been phony in the past, but it's very real now.'"
Everyone chuckled and moved on. That's a shame.
Look, I realize it was a lighthearted moment, and my point is not to sound like a killjoy, but we can't really have a credible political discussion if the president – and the president alone – is supposed to tell us when the jobs numbers are real and when they're not, as if it's our job to simply accept Donald Trump's strange declarations as fact.
As the Washington Post's Greg Sargent added, "It's key that Trump explicitly told Spicer to recite this line to the press corps. He's telling them who gets to say what's true."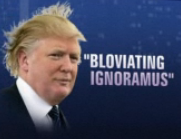 Remember, at different points in the campaign, Trump publicly argued that the unemployment rate was 20% – or possibly 42% – even as reality pointed to a rate below 5%. After the election, at a pre-inaugural press conference, the Republican declared there are "96 million really wanting a job and they can't get" – a claim he inexplicably repeated in his address to Congress two weeks – which was nonsensical, even for him.
The unemployment rate, Trump declared as recently December, is "totally fiction."
Now, evidently, we're supposed to believe his bonkers conspiracy theory involving job numbers and the Bureau of Labor Statistics – the one Trump told everyone to accept as fact – is no longer in effect, because he says so.
The entire dynamic has a "heads I win, tails you lose" quality. Last year, when there were plenty of months showing job growth this strong (and stronger), Trump effectively told voters those figures were fake, the economy is awful, and everyone should only listen to him. Today, with nearly identical numbers, Trump is telling voters the figures are real, he's saved the economy, and everyone should still only listen to him.
Phillip Bump at the Washington Post analyzes How President Trump's first jobs report looks on the 'real' metrics he touted in 2016:
Over the course of the 2016 presidential campaign, Donald Trump looked for ways to suggest that the economy was in turmoil.
* * *
On Friday morning, the Bureau of Labor Statistics released jobs numbers from Trump's first full month in office. The addition of 235,000 people to the employment rolls was good news, but it wasn't exceptional, compared with other recent jobs reports. But who cares, right? Those aren't the important metrics, according to Trump (though he did retweet an enthusiastic Drudge Report story about that number for some reason). By his own measures, Trump's first month wasn't a runaway success.
Bump then systematically destroys Trump's economic idiocy on the campaign trail, demonstrating that Trump is clueless about economics and employment.
Finally, Neil Irwin at the Times' The Upshot answers the question, Should Trump Get Credit for Good Jobs Numbers? (Short answer: No.)
Invariably these things become politicized. The Drudge Report splashed "GREAT AGAIN: +235,000" on its landing page within seconds of the Labor Department release. President Trump retweeted, one presumes gleefully, a tweet making the same point.
So how much of the economic gains evident in the data does the Trump administration actually deserve credit for? The answer is more ambiguous than you might think — and boils down to your philosophy of how the economy works.
There is a straightforward case for President Trump's having virtually nothing to do with the most recent economic statistics. While the newest jobs numbers reflect conditions from mid-Febuary, roughly three weeks into the Trump presidency, at that point he had not yet taken any concrete actions that would have a direct impact on the economy.
No changes to the tax code or federal spending had been enacted at that point. Even the executive orders that have had economic implications have been more about direction than concrete actions, such as an order to find and eliminate regulations that may be outmoded.
President Trump has snagged good headlines out of things like negotiating for Carrier to keep some jobs in the United States, but those deals are trivial in the scheme of a nation with 146 million jobs.
Even when changes to fiscal and regulatory policies are enacted, it takes time for those changes to wend their way through the economy. Consider one example that has been a Trump hobby horse. If you believe, as the president does, that the Dodd-Frank Act regulating the financial sector has held back growth, consider all the steps that need to happen to change that.
You have to devise and pass legislation to undo the law, and appoint new regulators with a more hands-off stance. They then have to put the revised regulations through an elaborate comment process, which then might free banks to make more business loans, which in turn might lead businesses to hire and invest more.
It is a matter of years before an intended policy shift might affect the jobs numbers for good or ill, not weeks.
And it's worth a reminder that the recent numbers are entirely consistent with the economy's growth pattern for years. The 235,000 extra jobs that have Drudge and Mr. Trump so enthused are actually fewer than those in four of the 12 months of 2016. The unemployment rate has hovered between 4.6 percent and 5 percent for 18 consecutive months, since September 2015.
So if you look only at the direct ways the president affects the economy, there is not much of a case for giving President Trump the credit.
(Now comes the "fair and balanced" reporting based upon mere speculation and irrational exuberance).
At the same time, we can't completely rule out some positive Trump effects on the economy, even as his policies have yet to take hold.
The corporate chiefs who decide whether to hire and invest are forward-looking, and the prospect of lower taxes and lighter regulation may indeed be making them more eager to deploy cash. "It seems like he's woken up the animal spirits," said Jamie Dimon, the chief executive of JPMorgan Chase, in an interview on Bloomberg Television recently.
Whatever. The point is:
There's not a lot of solid evidence that general confidence is a major driver of economic results; surveys of consumer sentiment and executives' confidence tend to reflect current economic conditions rather than offer some good predictive information.
Irwin concludes:
So does Mr. Trump deserve any credit for solid economic results? If you think the economy is driven by concrete, specific policies around taxes, spending, monetary policy and regulation, the answer is no. If you think that what really matters is the mood in the executive suite, then just maybe.
Only if you are into alternative facts and propaganda from the conservative media entertainment complex and the Trump White House.