Attorney General Jefferson Beauregard Sessions III and President Donald J. Trump believe Richard Nixon's formulation that "When the president does it, that means that it is not illegal".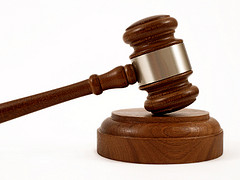 Even a child with a fifth grade civics education knows that this is not true.
Today U.S. District Judge William Orrick III of San Francisco issued a nationwide preliminary injunction (.pdf) against Trump's recent executive order seeking to coerce punish "sanctuary cites."
The Trump administration is now "oh for" in repeated immigration executive orders because they keep violating the constitution. Add this to his "100 days" list of failures.
The San Francisco Chronicle reports, Judge says Trump can't punish cities over sanctuary city policies:
President Trump can't coerce "sanctuary cities" like San Francisco to cooperate with immigration officers by withdrawing all of their federal funds, a federal judge ruled Tuesday.
In the first legal test of an executive order Trump issued five days after taking office, U.S. District Judge William Orrick III of San Francisco said the president was exceeding his constitutional authority by trying to punish local governments that disagreed with his immigration policies.
Orrick's decision followed a 70-minute hearing April 14 in federal court over San Francisco's and Santa Clara County's request for an injunction that would halt enforcement of Trump's order.
Federal law doesn't define "sanctuary cities" [Sanctuary Cities in Name Only], and the Trump administration has given varying descriptions of the local policies it's targeting. But more than 300 cities and counties nationwide have limited the cooperation their law enforcement agencies are allowed to extend to federal immigration officials seeking to detain and deport immigrants for crimes or illegal entry.
Nearly 50 local governments across the country, along with the state of California, filed arguments supporting the suit by San Francisco and Santa Clara County.
Separate suits have been filed by Seattle, two communities in Massachusetts, and Richmond in Contra Costa County. All contend their policies are designed to preserve trust between their residents and local police, and thus promote public safety, by encouraging immigrants to contact officers and report crimes without fear of deportation.
The case has also highlighted conflicting messages from the administration on the federal funding it seeks to withhold.
Trump's Jan. 25 order directed the attorney general and Homeland Security secretary to make sure that "sanctuary jurisdictions," those that refuse to turn over legally required information to immigration authorities, "are not eligible to receive federal grants, except as deemed necessary for law enforcement purposes."
Trump's public statements have also spoken broadly of the penalties he intended to impose, such as an Aug. 31 campaign promise that there would be "no more funding" for sanctuary cities if he were elected. Attorney General Jeff Sessions said March 27 that the administration could seek to take back some funds already granted to the cities.
Local governments in the lawsuit contend all of their federal funding was at risk — as much as $2 billion a year for San Francisco, $1.7 billion for Santa Clara County. The administration's threat jeopardized health and social service programs that were unrelated to immigration, the governments argued.
But at the April 14 hearing, Chad Readler, a high-ranking Justice Department lawyer, told Orrick that the administration was seeking to withhold only the funds from three programs administered by Sessions' Justice Department or by Homeland Security. San Francisco currently receives none of those funds, and Santa Clara County about $1 million, Readler said.
The executive order "applies to a very narrow range of funding," Readler said. Asked by Orrick whether the billions in federal grants to San Francisco and Santa Clara County were safe, he replied that Trump's order "doesn't on its terms apply anywhere to these broader financial concerns."
Local government officials were cheered by the development — San Francisco City Attorney Dennis Herrera said the lawsuit had forced Trump to "back down" — but argued that a court order was still needed to prevent the broad financial retribution threatened by the president.
The case also presented a legal clash over the balance of powers between the federal government and state and local governments, one that is probably headed for higher courts: Are sanctuary cities illegally defying federal law, or is the Trump administration illegally coercing them to enforce federal law?
In striking down a requirement that county sheriffs conduct background checks for gun buyers, the U.S. Supreme Court ruled in 1997 that the federal government could not require a local agency to be the enforcer of a federal law.
The court has allowed the federal government to use funding to encourage compliance with federal standards, such as withholding highway grants from states that refused to impose a new speed limit. But in their 2012 ruling upholding much of the new federal health care law, the justices said the government cannot "coerce" state compliance by threatening to deny crucial funding, such as entire Medicaid grants to states that refused to expand their low-income medical coverage.
It's almost as if the Trump administration does not have any competent lawyers on staff to review these executive orders before he signs them.