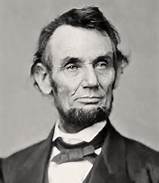 "At what point shall we expect the approach of danger? By what means shall we fortify against it?– Shall we expect some transatlantic military giant, to step the Ocean, and crush us at a blow? Never!–All the armies of Europe, Asia and Africa combined, with all the treasure of the earth (our own excepted) in their military chest; with a Buonaparte for a commander, could not by force, take a drink from the Ohio, or make a track on the Blue Ridge, in a trial of a thousand years.
At what point then is the approach of danger to be expected? I answer, if it ever reach us, it must spring up amongst us. It cannot come from abroad. If destruction be our lot, we must ourselves be its author and finisher. As a nation of freemen, we must live through all time, or die by suicide." — Abraham Lincoln's Lyceum Address.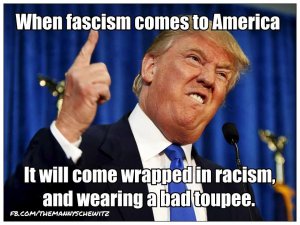 More than 150 years after the end of the Civil War, America is again confronted with a threat that has sprung up amongst us. The modern-day P. T. Barnum of American politics, Donald J. Trump, a notorious self-promoter is peddling a fabulous hoax that America is in decline and only he can "make America great again." Trump uses the language and tactics of 20th Century fascists to appeal to a disaffected segment of the American public — mostly in the Republican Party that Abraham Lincoln founded — that increasingly leans towards authoritarianism. The rise of 'Trumpism' — time to fight the new American fascism.
Abraham Lincoln would call out from his grave for the American people to resist this new threat to the American political institutions that our forefathers bequeathed us.
Donald Trump returns to Arizona today. Trump is taping a conversation with FAUX News propagandist Sean Hannity at the Phoenix Convention Center this morning. Doors will open at 6 a.m. and the taping will begin at 9 a.m. Trump will then hold a rally in Fountain Hills begins at 11 a.m. at a Fountain Hills park.
I understand that various organizations will have protesters to greet Trump at these events. The protest is dubbed #unitedagainsthate.
Later in the Day Donald Trump is coming to Tucson. Trump will hold a rally at the Tucson Convention Center at 2:00 3:00 p.m. (Time has changed) Again, various organizations will have protesters to greet Trump at this event.
I would remind people that "Donald Trump is a 'WrestleMania' institution," and was inducted into the WWE Hall of Fame in 2013. Donald Trump and WWE – Rolling Stone; Donald Trump's greatest WWE moments | WWE.com. Trump's act is the stock and trade of fake wrestling. Part of the act of fake wrestling is staging confrontations with members of the audience (I strongly suspect that some of the violence at Trump rallies were not spontaneous but staged for effect and messaging).
DO NOT give this fascist what he wants: avoid any violence and keep the protests peaceful.