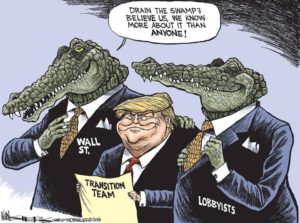 President-elect Donald Trump has been stocking his cabinet with millionaire and billionaire Plutocrats whose conflicts of interest rival his own still undisclosed, and unresolved conflicts of interests. Donald Trump's Conflict-Of-Interest Network (COIN) – Otherwise Known As His Cabinet.
The contemptible former Speaker of the House, Newt Gingrich, proposed a novel solution to this inconvenient problem last month: Congress should change ethics laws for Trump: "Newt Gingrich has a take on how Donald Trump can keep from running afoul of U.S. ethics laws: Change the ethics laws."
"We've never seen this kind of wealth in the White House, and so traditional rules don't work," he said.
"We're going to have to think up a whole new approach."
As for Trump's conflicted cabinet, Newt Gingrich suggests Trump pardon advisers who break the law:
Gingrich said on The Diane Rehm Show: "In the case of the president, he has a broad ability to organize the White House the way he wants to. He also has, frankly, the power of the pardon."
"It is a totally open power, and he could simply say, 'Look, I want them to be my advisers. I pardon them if anyone finds them to have behaved against the rules. Period.' Technically, under the Constitution, he has that level of authority," he said, according to Politico.
Taking a cue from the contemptible Newt Gingrich, the  Tea-Pulican Congress yesterday, With No Warning, House Republicans Vote to Gut Independent Ethics Office:
House Republicans, overriding their top leaders, voted on Monday to significantly curtail the power of an independent ethics office set up in 2008 in the aftermath of corruption scandals that sent three members of Congress to jail.
The move to effectively kill the Office of Congressional Ethics was not made public until late Monday, when Representative Robert W. Goodlatte, Republican of Virginia and chairman of the House Judiciary Committee, announced that the House Republican Conference had approved the change. There was no advance notice or debate on the measure.
The surprising vote came on the eve of the start of a new session of Congress, where emboldened Republicans are ready to push an ambitious agenda on everything from health care to infrastructure, issues that will be the subject of intense lobbying from corporate interests. The House Republicans' move would take away both power and independence from an investigative body, and give lawmakers more control over internal inquiries.
Speaker Paul D. Ryan and Representative Kevin McCarthy of California, the majority leader, spoke out during the meeting to oppose the measure, aides said on Monday night. The full House is scheduled to vote on Tuesday on the rules, which would last for two years, until the next congressional elections.
In place of the office, Republicans would create a new Office of Congressional Complaint Review that would report to the House Ethics Committee, which has been accused of ignoring credible allegations of wrongdoing by lawmakers.
"Poor way to begin draining the swamp," Tom Fitton, president of the conservative group Judicial Watch, said on Twitter. He added, "Swamp wins with help of @SpeakerRyan, @RepGoodlatte."
In a bit of political Kabuki theater, Trump Rebukes House Republicans Over Bid to Gut Ethics Office:
President-elect Donald J. Trump criticized House Republicans on Tuesday for their surprise move to gut an independent congressional ethics office on the eve of a new legislative session, saying they should focus instead on domestic policy priorities such as health care and a tax overhaul.
In a pair of postings on Twitter, Mr. Trump called the Office of Congressional Ethics "unfair," but he said focusing on it now was a case of misplaced priorities. He appended the hashtag "DTS," an apparent allusion to his promise to "drain the swamp" in Washington.
Unless Donald Trump divests himself of his business holdings before he becomes president he will be in violation of the Constitution when he takes the oath of office. Donald Trump's multiple conflicts-of-interest and the Emoluments Clause of the Constitution.
At least Donald Trump's cabinet picks will have to disclose their financial information — eventually, unless the Tea-Publican Congress follows the advice of Newt Gingrich and changes the ethics laws, something they just demonstrated that they are willing to do.
"Absolute power corrupts absolutely."
UPDATE: Charles Pierce at Esquire, as well as other pundits, have noted that Trump "isn't condemning the House's action. He's just saying that it looks lousy and that they should have waited until later to do it. If you get fooled into thinking he's expressing opposition, you're just the sucker he's looking for."
Those "suckers" are our mainstream corporate media, as Josh Marshall at Talking Points Memo points out in this post. A Clarifying Lesson:
This should be a clarifying lesson: most of the establishment press will reflexively credit Trump for things he has nothing to do with. We've seen that with the repeated claims of credit for saving or creating jobs which were usually announced months before. It's classic Lucy's football. There's always news a day or two later about how it's not true. But they run with it each time. Now we see the same with the House GOP caving and CNN, WaPo, Politico, AP and all the bigs saying they gave in when Trump tweeted his equivocal disapproval. That is pretty clearly not the case.
This story blew up last night. This morning congressional offices were deluged with constituent calls. And the press coverage was universally negative. Trump was clearly reacting to those realities, not driving them. But when the House GOP announced they were killing the proposal, the bigs said it was Trump's intervention that did it. It may have mildly added to the momentum. But when the train is already rushing down the hill at 120 miles an hour, it can't get that much faster.
Politico at least already seems to have somewhat de-Trumped its story. We'll see what the others do.
UPDATE: Frank Bruni at the New York Times gets it right. Donald Trump's Disastrous Example:
Donald Trump rightly reprimanded House Republicans on Tuesday for their move to disembowel the Office of Congressional Ethics, but let's not be duped or dumb. This was like a crackhead dad fuming at his kids for smoking a little weed.
Their conduct hardly measured up to his, which obviously encouraged it. When they look at him, here's what they see: a presidential candidate who broke with decades of precedent by refusing to release his tax returns and thus shine a light on his conflicts of interest. A president-elect who has yet to spell out how he would eliminate those conflicts — and who has, instead, repeatedly reminded reporters and voters that he's under no explicit legal obligation to eliminate them at all. A plutocrat whose children have toggled back and forth between his government activities and his corporate interests, raising questions about the separation of the two.
Is it any wonder that House Republicans felt O.K. about trying to slip free of some of their own ethical shackles, no matter how ugly the optics?
The story here isn't what, specifically, they attempted to do. Nor is it their abandonment of the plan once the media gasped and their dear leader wagged his finger at them.
It's the tone that Trump has set and the culture that he's creating. He operates with an in-your-face defiance, so these House Republicans did, too. He puts his own desires and comfort first, so they reserved the right to do the same. With more than a few of his cabinet picks, he demonstrated little sense of fidelity to what he promised voters and even less concern about appearances. House Republicans decided to treat themselves to a taste of that freedom.
In this instance, they were slapped down, though I sincerely doubt that they came away from the confrontation with the feeling that Trump had higher standards than they imagined. No, they just realized that he's even more hypocritical and inconstant than they expected.