David Fitzsimmons, the Arizona Daily Star's political satirist and cartoonist extraordinaire, is also a prolific Facebook poster. This Facebook post caught my attention today:
Perspective on gun violence: In Chicago 1187 people have been shot since January. In Chicago a person is shot every 3 minutes. A person is murdered every 20 hours. I'd rather talk about whether or not to fly a confederate flag, too.
Good point. I have seen a lot of you posting about "take down the flag" of treason at the South Carolina capitol, which I find curious because the Confederacy lives on in the flags of seven Southern states. Why just South Carolina? Why not the Flag of Mississippi?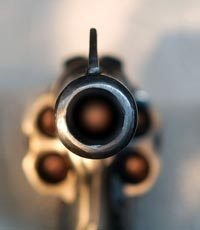 It should be abundantly clear to everyone by now, even those idiots at FAUX News, that the shooting in Charleston was racially motivated. Dylann Roof's racist manifesto: 'I have no choice'.
But Charleston is also part of the larger narrative of the carnage of gun violence in America. The horrific body counts in the City of Chicago, largely unreported in the mainstream media outside of Chicago, are to a large extent the result of black-on-black gang related violence, not the hand of Neo-Confederate white supremacists.
The Chicago Tribune actually runs a regular feature on Chicago shooting victims – Crime in Chicagoland which is updated monthly. What the Chicago Tribune published today should shock the conscience of a nation. Instead, it will not be reported outside of the City of Chicago.
Americans have grown numb to gun violence, and are resigned to a do-nothing Congress that takes the campaign contributions of  the merchants of death to do nothing about enacting sensible gun regulations that could reduce this senseless slaughter of human life.
Chicago shooting victims
Last updated June 21, 2015
The map below shows where people were shot in Chicago, broken down by community area. Darker shades of blue indicate greater numbers of victims in those community areas.
This data is compiled from reporting done by the Chicago Tribune Breaking News staff and is updated approximately once per month. Therefore, the most recent shootings may not be displayed immediately.
Screen shots of interactive map