"The mob takes the Fifth Amendment. If you're innocent, why are you taking the Fifth Amendment?" — Donald J. Trump, at a campaign rally in Iowa in 2016.
For the record, during his divorce proceedings from Marla Maples, which included five depositions, Trump pleaded the Fifth 97 times on approximately 100 questions related to marriage infidelity.
Trump's missive takes on new relevance today as The Hill reports that Flynn to decline Senate subpoena, invoke Fifth Amendment: report: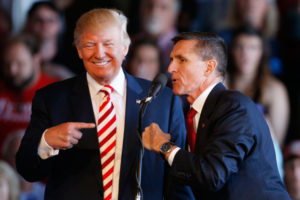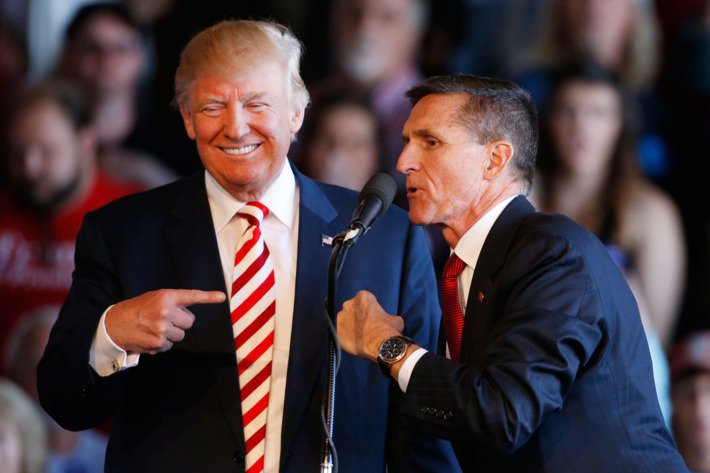 Former national security adviser Michael Flynn will invoke his Fifth Amendment rights and not comply with a Senate Intelligence Committee subpoena, the Associated Press reported Monday.
Flynn was subpoenaed in the committee's investigation into Russian meddling and potential ties between President Trump's campaign and Russian officials.
Flynn previously offered to testify before the Senate and House Intelligence committees in exchange for immunity, but neither committee accepted the offer.
In September of 2016, Flynn said on Meet The Press that "When you are given immunity, that means you probably committed a crime."
Flynn has come under scrutiny for lobbying work he did on behalf of the Turkish government during last year's election. He reportedly delayed an Islamic State attack plan that Turkey opposed during Trump's transition. 
Last week, Senate Intelligence Committee Chairman Richard Burr (R-N.C.) said that Flynn was "not cooperating" so far with the committee's investigation, but that he hadn't received a "definitive" answer on whether Flynn would testify.
Putting aside the rank hypocrisy of both Trump and Flynn:
Neither a request for immunity from prosecution nor a grant of immunity constitutes an admission of guilt. It does not mean the individual seeking immunity has committed a crime, only that he or she fears prosecution on the basis of their words, which, absent immunity, they would not utter, instead invoking their Fifth Amendment privilege against self-incrimination.
And innocent people, as well as guilty people, can have perfectly justifiable reasons to plead their Fifth Amendment privilege against self-incrimination.
The inferrence of guilt is only when Gen. Flynn leads Trump mobs with chants of "locker her up" with respect to Hillary Clinton and her associates.
UPDATE: The New York Times reports this afternoon, Michael Flynn Misled Pentagon About His Russia Ties, Letter Says:
Michael T. Flynn misled Pentagon investigators about his income from Russian companies and contacts with Russian officials when he applied for a top-secret security clearance last year, according to a letter released Monday by The House Oversight Committee, written by ranking minority member Representative Elijah E. Cummings of Maryland.
Mr. Flynn, who resigned this year as President Trump's national security adviser, told investigators in February 2016 that he had received no income from foreign companies and had only "insubstantial contact" with foreign nationals, according to the letter. In fact, Flynn had two months earlier sat beside President Vladimir V. Putin of Russia at a Moscow gala for RT, the Kremlin-financed television network, which paid Mr. Flynn more than $45,000 to attend the event and give a separate speech.
His failure to make those disclosures and his apparent attempt to mislead the Pentagon could put Mr. Flynn in further legal jeopardy. Intentionally lying to federal investigators is a felony punishable by up to five years in prison. Separately, he also faces legal questions over failing to properly register as a foreign agent for lobbying he did last year on behalf of Turkey while advising the Trump campaign, which is also a felony.
The House Oversight Committee letter was made public hours after Mr. Flynn formally rejected a subpoena from senators investigating Russian interference in the 2016 election and chose to instead invoke his right against self-incrimination, a person familiar with his decision said.
Mr. Flynn had been ordered by the Senate Intelligence Committee to hand over emails and other records related to any dealings with Russians as part of that panel's investigation into Russian election meddling. His decision to invoke his Fifth Amendment right puts him at risk of being held in contempt of Congress, which can also result in a criminal charge.
* * *
Lawmakers had previously asserted that Mr. Flynn had failed to disclose the income he had received for the Moscow trip to obtain security clearance to work in the White House, but the letter released on Monday shows he had misled investigators during a previous attempt to renew his clearance, months before Mr. Trump won election.
Mr. Cummings quoted directly from the Pentagon report detailing his clearance process. The Pentagon document itself, a "Report of Investigation" from March 2016, was not included with his letter sent to Representative Jason Chaffetz, the Utah Republican who is chairman of the Oversight Committee.
UPDATE: Former Trump campaign manager Paul Manafort and longtime adviser Roger Stone have turned over documents requested by the Senate Intelligence Committee as part of its probe into possible collusion by Trump campaign officials and Russian operatives interfering in the U.S. election, NBC News reported Monday.
The requested material includes information about Russia-related real estate transactions, email or other written communications with Russians, and in-person meetings and phone calls with Russian officials or businesspeople.
The source said told NBC it was unclear if the documents fully complied with the committee's inquiry.
Former campaign foreign policy adviser Carter Page has yet to respond to a similar request, per the report.
h/t Talking Points Memo