Earlier this month, the Wall Street Journal reported that Special Counsel Mueller Subpoenas Deutsche Bank Records Related to Trump: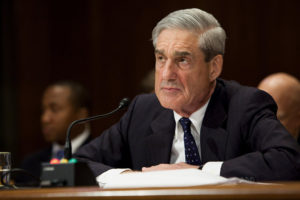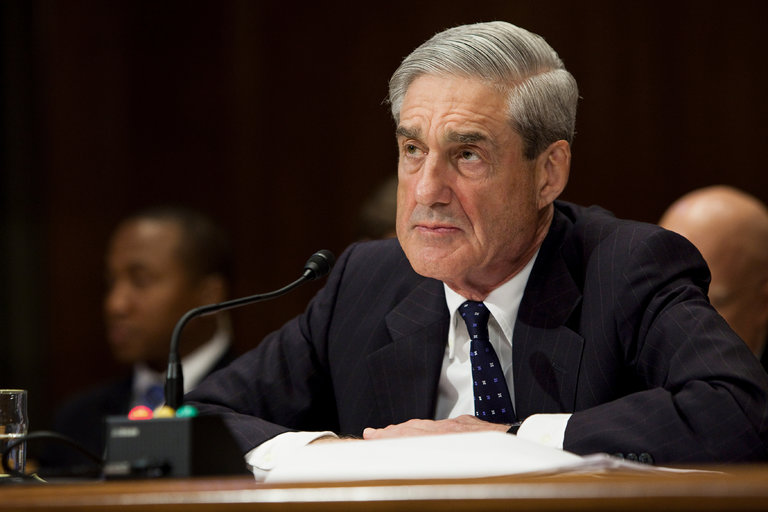 Deutsche Bank received a subpoena earlier in the fall from U.S. special counsel Robert Mueller's office concerning people or entities affiliated with President Donald Trump, according to a person briefed on the matter.
The subpoena requested documents and data about accounts and other dealings tied to relationships with Mr. Trump and people close to him, the person said. The bank has lent more than $300 million to entities affiliated with Mr. Trump, according to public disclosures.
Ty Cobb, the White House's chief lawyer handling the Russia investigation, said bank records of Mr. Trump and his family weren't subpoenaed. "Previous reports today about subpoenas for financial records relating to the president and his family are false," Mr. Cobb said.
A Deutsche Bank spokesman said Tuesday that the bank "takes its legal obligations seriously and remains committed to cooperating with authorized investigations into this matter." The subpoena was earlier reported by German newspaper Handelsblatt.
The Justice Department order authorizing the special counsel gives Mr. Mueller a wide remit to investigate "any matters that arose or may arise directly from the investigation."
Deutsche Bank executives and lawyers had been expecting a demand for information from Mr. Mueller's team as the special counsel investigation progressed, according to people close to the bank. As Mr. Trump's primary lender in recent years, Deutsche Bank this year faced repeated document requests from Democratic lawmakers scrutinizing the administration's ties to Russia.
The Democrats lacked Republican support to compel Deutsche Bank to provide the information. Deutsche Bank lawyers have said U.S. bank-secrecy rules prohibited the lender from revealing details about its clients or their business with the bank without a subpoena or other formal request from Congress.
Deutsche Bank faces ongoing questions about a series of Russian trades that have been scrutinized in multiple investigations in the U.S. and Europe, including in a still-pending U.S. Justice Department probe. The Democratic U.S. lawmakers wanted the bank to detail any ties between those trades or other Russian financing and anyone connected to Mr. Trump, his family or advisers.
Last week, the New York Times reported Prosecutors Said to Seek Kushner Records From Deutsche Bank: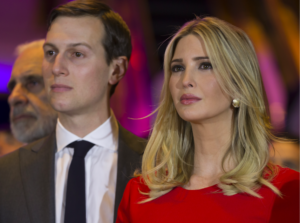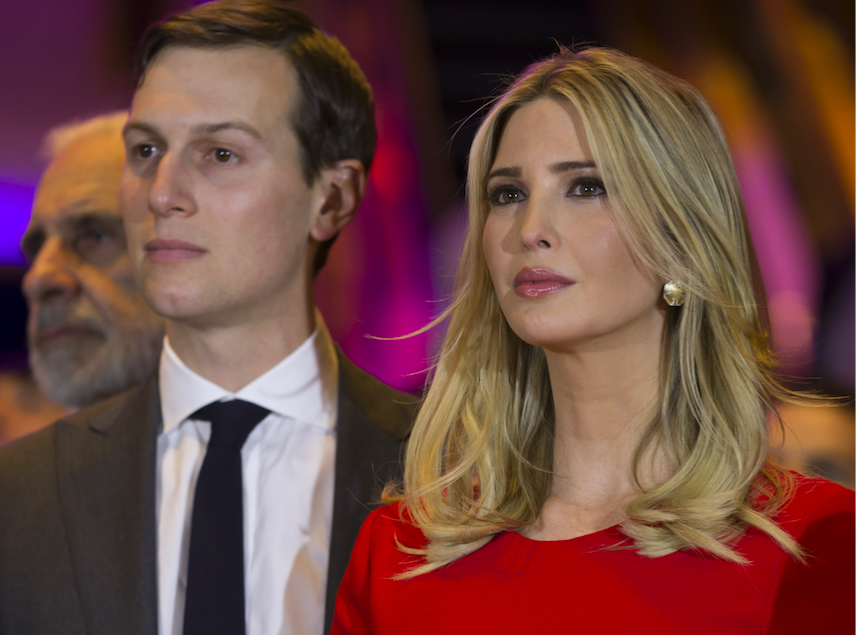 Federal prosecutors in Brooklyn have sought bank records about entities associated with the family company of Jared Kushner, President Trump's son-in-law and senior adviser, according to four people briefed on the matter.
In recent weeks, prosecutors from the United States attorney's office in the Eastern District of New York subpoenaed records from Deutsche Bank, the giant German financial institution that has lent hundreds of millions of dollars to the Kushner family real estate business.
Mr. Kushner, who was the Kushner Companies' chief executive until January, still owns part of the business after selling some of his stake. The family businesses include many legal entities. It is not clear which records were sought by prosecutors, what they are seeking to learn from them or to what degree, if any, they directly involve Mr. Kushner.
There is no indication that the subpoena is related to the investigation being conducted by Robert S. Mueller III, the special counsel, into Russian meddling in the 2016 United States presidential election.
* * *
The Brooklyn United States attorney has been investigating the Kushner businesses' use of a program known as EB-5. It offers visas to overseas investors in exchange for $500,000 investments in real estate projects.
But Deutsche Bank does not appear to have been involved in Kushner real estate projects financed through the EB-5 program. That suggests the prosecutors' subpoena may be unrelated to the visa program. "We are unaware of any inquiry directed at Deutsche Bank from the E.D.N.Y. and have no reason to believe there is one," said a spokeswoman for the Kushner Companies, referring to the Eastern District of New York.
The Washington Post follows up today with this report,
Federal prosecutors in N.Y. requested Kushner Cos. records on Deutsche Bank loan:
Federal prosecutors have requested records related to a $285 million loan that Deutsche Bank gave Jared Kushner's family real estate company one month before Election Day, the company confirmed this week.
The records were sought by prosecutors in Brooklyn and do not appear related to special counsel Robert S. Mueller III's investigation into Russia's interference in the 2016 election.
A Kushner Cos. spokeswoman said that the firm is cooperating in the review of what it called a "routine" transaction.
The Washington Post reported details of the loan in June. Under the deal, Kushner Cos., which in 2015 had purchased four mostly empty retail floors of the former New York Times headquarters in Manhattan, entered into an October 2016 refinancing agreement with Deutsche Bank. The loan was part of a refinancing deal that gave Kushner's firm $74 million more than it had paid for the property.
The loan was secured while Kushner was the head of the company and was playing a leading role in running the presidential campaign of his father-in-law, Donald Trump.
The refinancing was personally guaranteed under certain circumstances by Kushner and his brother, Joshua. The loan was not listed on Kushner's financial disclosure report, because he did not have "a present obligation to repay the loan," his attorneys have said.
* * *
The Wall Street Journal first reported that prosecutors requested contracts and other information about the loan by issuing a document request in mid-November. Separately, the New York Times reported that the U.S. attorney in Brooklyn had subpoenaed Deutsche Bank records associated with Kushner Cos.
Kushner Cos. said it had no knowledge of a subpoena delivered to Deutsche Bank.
A spokesman for the U.S. attorney's office in Brooklyn said he could neither confirm nor deny any subpoena or records request.
* * *
It is not clear what prosecutors are seeking to find out about the Kushner Cos. loan. Deutsche Bank is one of the biggest lenders to Kushner Cos. and the Trump Organization, which had about $364 million in debt to the bank as of last year.
Kushner Cos. previously has confirmed that federal prosecutors in the Eastern District of New York subpoenaed records related to its use of a visa program called EB-5, in which foreign investors who put $500,000 in a real estate project can be put on a track for U.S. citizenship.
Kushner has not been accused of wrongdoing in any of the cases.
The investigation by the U.S. attorney in Brooklyn is separate from the work of Mueller's team, which is scrutinizing contacts between Russia and the Trump campaign. The Post has reported that Mueller's investigation has included an examination of Kushner's business dealings.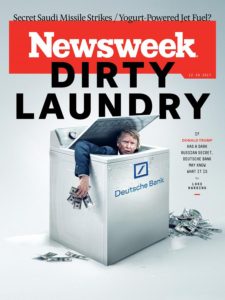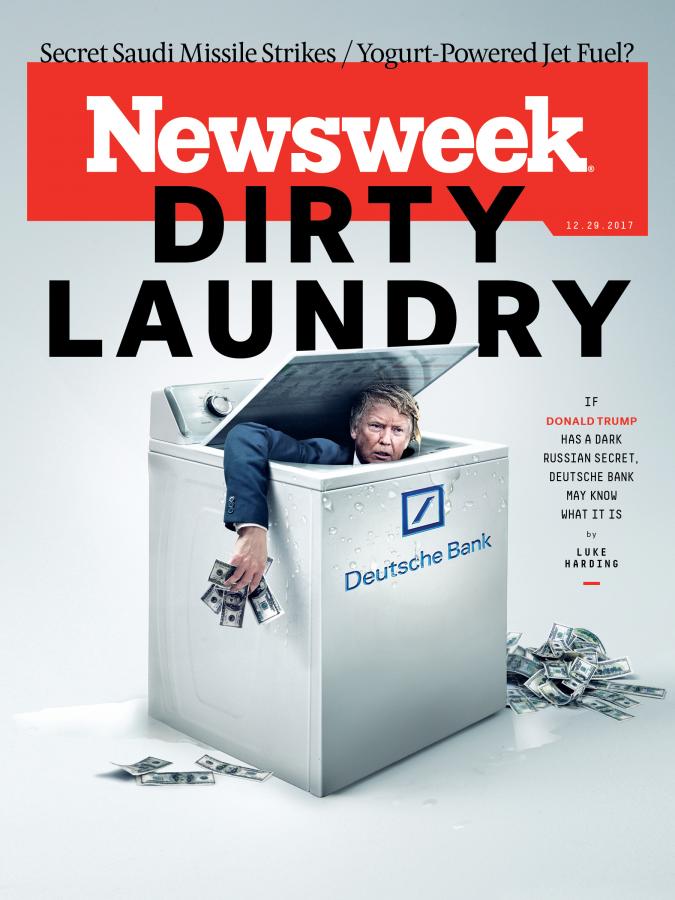 The cover story in Newsweek this week attempts to tie these threads together in an adaptation from Collusion: Secret Meetings, Dirty Money, and How Russia Helped Trump Win by Luke Harding. Is Donald Trump's Dark Russian Secret Hiding In Deutsche Bank's Vaults? (excerpts):
[B]y the mid-2000s, U.S. financial institutions had stopped lending to Trump for his building projects. Deutsche was the only one still willing to work with him.
After Trump burned the bank, Deutsche shunned him as well. But Trump soon found a creative way to get off its blacklist—and return to solvency.'
Are You Fucking Kidding Me?'
Two years after Molo wrote his letter to the court, Trump settled his feud with the German bank. How he did it was bizarre: He paid back Deutsche with a massive lifeline—from Deutsche. Only this time he eschewed its real estate team—which wanted nothing to do with him—and got a loan from its private wealth division. This group typically deals with high-net-worth individuals, not real estate transactions, but in 2010 it not only lent him the money he owed its real estate team but also reportedly gave Trump another $25 million to $50 million in credit.
Deutsche employees in New York were surprised by the bank's decision. When asked whether it was normal to give more money to a customer who was a bad credit risk and liked to sue, one former senior staff member at the bank put it succinctly: "Are you fucking kidding me?"
Over the next few years, the money kept rolling in for Trump. He took out two mortgages against a resort in Miami and a $170 million loan to finish his hotel in Washington, D.C. According to Bloomberg, by the time Trump was elected president of the United States in November 2016, he owed Deutsche around $300 million, an unprecedented debt for an incoming president. (His June financial disclosure showed he owes the bank $130 million, which is due in full in 2024.)
The loans to Trump weren't the only abnormal behavior at Deutsche. Around the same time he received his new line of credit, the bank was laundering money, according to the New York State Department of Financial Services (DFS). Russian money. Billions of dollars that flowed from Moscow to London, then from London to New York—part of a scheme for which European and American regulators eventually punished the bank.
Was the timing of this illicit operation and the loans to Trump coincidental? Or evidence of something more sinister—a critical chapter in the president's long history of suspicious business deals with Russian and post-Soviet oligarchs? In January, Trump claimed the former, tweeting in his usual bombastic style: "I have nothing to do with Russia—no deals, no loans, no nothing." But the president's refusal to accept the assessment of his intelligence agencies—that Moscow meddled in the 2016 election—has, among other things, fueled suspicions about his ties to Russia.
Robert Mueller is now trying to find out the truth about those suspicions. The special counsel is investigating Russian interference—from the hacking of the Democratic National Committee (DNC) to alleged coordination between the Trump campaign and Moscow. So far, his team has charged key Trump campaign officials Paul Manafort and Rick Gates with money laundering, as well as other offenses. He's also gotten two former advisers, Michael Flynn and George Papadopoulos, to plead guilty to lying to the FBI and cooperate with the probe.
Now, however, Mueller appears to be following the money, trying to determine if Trump has a financial connection to Russia—one that might at least partly explain his behavior. In December, the German newspaper Handelsblatt reported that the special counsel's office has subpoenaed Deutsche Bank, demanding data and documents related to people or entities tied to the president and those close to him. The White House says the subpoena doesn't directly pertain to Trump or his family's accounts. But if the president has a dark Russian secret, the German banking giant's money-laundering scandal may be key to finding out what it is.
* * *
Other investment banks based in Moscow were chagrined and suspected that Deutsche owed its success to its alliance with Russian state interests. "They were doing some very curious things," says Christopher Barter, the CEO of Goldman Sachs Moscow at the time. "Nobody could make sense of their business. We found the nature and concentration of their business with VTB quite galling. Nobody else could touch VTB."
Everyone in Moscow understood that VTB was more than a bank. It had ties to Russian intelligence. Putin's Federal Security Service (FSB) spy chief, Nikolai Patrushev, and his successor, Alexander Bortnikov, both sent their sons to work at VTB. The bank's deputy chief executive, Vasily Titov, chaired the FSB's public council.
VTB may have also had contacts with Trump associates, according to The New York Times. In November 2015, a few months after Trump announced he was running for president, one of his business partners, Felix Sater, wrote an email to Trump lawyer Michael Cohen, saying VTB had agreed to bankroll a Trump Tower Moscow project. Trump signed a letter of intent for the deal. When the project stalled, Cohen tried reaching out to Putin's spokesperson, Dmitri Peskov, to help jump-start it. But it ultimately failed.
Kostin, the VTB banker, says he doesn't know Sater and never had any role in the real estate deal. "We never, ever heard about this case," he told the Times. "It's absolutely wrong information; it's absolutely fake news."
During those negotiations, Sater—the son of a Russian mafia boss—saw things differently. "Our boy can become president of the USA and we can engineer it," he wrote to Cohen about the Trump Tower Moscow plans. "I will get all of Putin's team to buy in on this, I will manage this process."
* * *
The [money laundering] scandal was a grievous blow to Deutsche Bank's reputation. And an expensive one. About 10 days before Trump's inauguration, the DFS—which has the power to suspend any bank with a branch in New York—fined the bank $475 million. London's Financial Conduct Authority imposed a £163 million ($218 million) penalty. (The Justice Department and the U.S. Attorney's Office in the Southern District of New York are still investigating the bank's role in the scandal.
The bank carried out an internal review, which didn't identify the Russians behind the scheme. It's still unclear who they were or where the billions went. Or where the money came from in the first place.
What is clear, however, from the DFS report and conversations with sources in Moscow is that a Kremlin bank, VTB, run by proxies of the FSB, had seemingly captured Deutsche Bank's Moscow outpost. The German bank's London and New York divisions were economic beneficiaries of this arrangement, as they facilitated the illegal flight of capital by some well-connected Kremlin insiders.
While this was going on, Deutsche Bank in New York was lending hundreds of millions of dollars to the future American president, a man known to be litigious and a credit risk. My Guardian colleague Nick Hopkins and I wanted to find out if Trump's loans and the money-laundering scandal were connected. But Deutsche Bank stonewalled us; its policy was to say nothing about its clients, including the president.
The Russian Laundromat
In late 2016, that question and others led Hopkins and me to a man now at the center of Mueller's inquiry: Christopher Steele. This was before the world knew he was behind the famous dossier, raw intelligence alleging, among other things, that Russian intelligence had years of compromising information on Trump, some of it sexual in nature.
* * *
For the next 45 minutes or so, we asked Steele about Trump's connections to Moscow. He offered helpful hints about following the money but little more. In addition to questions about Deutsche Bank, we inquired about another Russian money-laundering operation, one that involved Putin's cousin Igor. Between 2010 and 2014, Moscow bankers were sending cash out of the country through something called the Global Laundromat—a scheme that cleaned at least $20 billion, according to investigators in Moldova and the Balkans, though the true figure may be much greater.
* * *
The 2008 crash hit Deutsche Bank hard, the employee said. In order to cover up holes in the balance sheet, a few members of staff took part in risky, complex and possibly illegitimate forms of finance. These practices were extensive, the person alleged. They might have involved innovative and opaque ways of getting outside parties to underwrite risky loans, the banker added, using structures to disguise who ultimately are the lenders and the beneficiaries.
Such impenetrable structures have led some to wonder whether Deutsche's unusual loans to Trump and its Russian money-laundering schemes were connected.
Adding to the intrigue: the statements of Trump's own children. In May, for instance, golf writer James Dodson said that during an interview more than three years ago, Trump's son Eric boasted that his father's company had access to Russian money. "We don't rely on American banks," Dodson said Trump told him. "We have all the funding we need out of Russia." (Eric Trump later denied he made this claim.) Years earlier, at a real estate conference in 2008, Donald Trump Jr. said, "Russians make up a pretty disproportionate cross-section of a lot of our assets." He later added, "We see a lot of money pouring in from Russia."
In an interview with Prospect magazine, Richard Dearlove, the former head of British secret intelligence service MI6, summed up the suspicions surrounding the alleged connection between Trump, Russia and Deutsche Bank. "What lingers for Trump may be what deals—on what terms—he did after the financial crisis of 2008 to borrow Russian money when others in the West would not lend to him."
According to our sources inside Deutsche Bank, Trump's bid to become president made him a politically exposed person, or PEP. Banks scrutinize such individuals carefully because they're often targets for illicit financial schemes. Deutsche reviewed its lending to Trump and his relatives. Its goal was to discover if there was a Russian connection to Trump's loans. The DFS also requested information from the bank about its dealings with Russia. The sources were vague about the review, who carried it out and what its precise conclusions were. But they insist that no trail to Moscow was ever discovered.
Other sources suggest the review was cursory, but Deutsche hasn't released any information about it, so there's no way to evaluate either claim. Meanwhile, Trump refuses to release his tax filings, breaking decades of precedent.
Over the past year, U.S. lawmakers such as Maxine Waters, the top Democrat on the House Financial Services Committee, have urged the bank to privately hand over its internal review—along with information about Trump's accounts—but Deutsche declined to do so, citing privacy rules.
Now, nearly a year after BuzzFeed published Steele's dossier, the bank is handing records over to Mueller, as the special counsel tries to figure out if there is a connection between the Russian laundromat and the president of the United States.
They Went to Jared
The special counsel's inquiry could also reach people in Trump's orbit. Many were clients of Deutsche Bank—and also credit risks. Among them is Jared Kushner, Trump's son-in-law, who is trying to salvage a massive—and reportedly imperiled—investment in 666 Fifth Avenue, a prominent piece of Manhattan real estate. His relationship with Deutsche emerged in 2013, when he apparently ordered a flattering profile of Trump's wealth manager, Rosemary Vrablic, by his newspaper, The New York Observer.
In a letter this spring to Bill Woodley, Deutsche Bank's U.S. CEO, Senator Chris Van Hollen expressed concerns about the bank's lending to Kushner, who had a $25 million line of credit with the German institution. In October 2016, it loaned him $285 million. The cash was used to replace an existing loan on the old New York Times building, which Kushner had bought the previous year from Lev Leviev, a businessman from the former Soviet Union.
The bank made the loan at a time when Kremlin representatives were eager to speak to Trump's son-in-law, according to a timeline laid out in Kushner's testimony to Congress. In April, he first met Sergey Kislyak, the Russian ambassador, when Trump gave his foreign policy speech at D.C.'s Mayflower Hotel—just a handshake and pleasantries, Kushner said. Next came a meeting at Trump Tower with Natalia Veselnitskaya, the Moscow lawyer who sat down with Kushner, Manafort and Trump Jr. They talked about dirt on Hillary Clinton and repealing the Magnitsky Act, an Obama-era law that leveled sanctions against Russians accused of human rights abuses. Then, on November 16, Kislyak got in touch again. By this point, it was clear that Kushner would become senior adviser to the president.
There was another Kushner-Kislyak meeting, on December 1 at Trump Tower. Flynn, Trump's adviser, was present too, as Kushner made an unusual proposal: He asked Kislyak if it would be possible to set up a secret and secure communications channel between the Trump transition team and the Kremlin. The purpose, it seems, was to keep their conversations hidden from the outgoing Obama administration and U.S. intelligence. Could this be done, Kushner wondered, by using Russian diplomatic facilities in the United States? The inquiry was staggeringly naïve. If Kushner or Flynn were to drop by the Russian Embassy, U.S. intelligence would certainly notice.
The FBI hadn't bugged that conversation but learned of it when Kislyak reported to his superiors back in Moscow. According to FBI intercepts of those Russian communications, Kislyak was taken aback by Kushner's request. It was unlikely Moscow would allow any American to use its encrypted networks. The Trump transition team said nothing about these secret negotiations. One person who knew the details was so alarmed he sent The Washington Post an anonymous note about it, explaining what had happened.
Russia, it seemed, didn't need to expend much effort to get close to Trump's aides. Kislyak came up with a suggestion of his own, according to Kushner's testimony. Perhaps Kushner would like to meet with another person from Moscow, someone with "a direct relationship" to Putin?
During a meeting between Kislyak and Kushner's assistant, Avi Berkowitz, on December 12, they agreed on the details of this meeting. Putin's emissary turned out to be a banker, or, more accurately, a banker-spy. His name was Sergey Gorkov, and he was the head of VEB, the state development bank, which Kostin had run, and whose board Putin had chaired during his four years as prime minister. He had trained in the 1990s at the FSB's academy before joining energy company Yukos and state-run Sberbank. Like VTB, Sberbank was allegedly an arm of the Kremlin. It was the official sponsor of the 2013 Miss Universe contest in Moscow, attended by Trump and hosted by Emin Agalarov, the pop-star son of Aras Agalarov, who worked with Trump to bring the pageant to Russia. Eight days after the contest, Sberbank announced it was lending Agalarov $1.3 billion to finance new projects. One of those under consideration was Trump Tower Moscow. In February 2016, Putin promoted Gorkov to VEB chief.
The bank's mission was to support Moscow's political programs. It provided capital to build facilities at the Sochi Olympics and fund secessionist rebels in eastern Ukraine. These top-down ventures lost money. VEB had large debts. The United States had included VEB, VTB and Sberbank in the sanctions it passed in 2014 after Putin annexed Crimea. And Gorkov's job was to restore the bank's fortunes.
* * *
Kushner's official account to Congress on his dealings with Kremlin representatives is 11 pages long. It's a flat, sterile document, clearly reviewed by his lawyers. In his version, there was no wrongdoing, just a series of inconsequential meetings during a hectic campaign. Kushner said in written evidence to Congress that he even forgot Kislyak's name. There was no secret channel. Nor did he rely on "Russian funds" to finance his business. In short, a nothing burger with Russian dressing.
Despite these protestations, it's clear Russian intelligence found it easy to access Trump's inner circle. Ambassadors, lawyers, bankers…all made their way to Trump Tower in 2016. All were welcomed and listened to. Gorkov was part of them, but the cast also included Kislyak, Veselnitskaya and the Agalarovs and other unknown actors working behind the scenes.
Targeting Kushner was logical. He was soon to become a federal employee. His White House portfolio included tax policy, the military and international affairs. In a protean White House—where anyone could be fired—Kushner's status as the president's son-in-law made him unfireable.
During his meetings with Russians, Kushner apparently said nothing about Moscow's attack on American democracy during the presidential campaign, nothing about hacking the Democratic National Committee or circulating fake news on Facebook, Twitter and other platforms. He also kept his meetings with the Russians secret. So did the Trump administration. In his security clearance form, Kushner didn't mention Gorkov or Kislyak. (Kushner said this was an accident, an administrative error by an underling.)
The American public found out about these meetings only because of a steady stream of leaks—leaks that would eventually offer Mueller some important clues.
Ursa Major
Today, the questions Mueller is asking seem to be the same questions that led us to meet with Christopher Steele last year. Namely: Was Trump hiding a connection to Russian money? And if so, was Moscow blackmailing him with that information? And how?
On the campaign trail—and well before he became a candidate—Trump's praise of Putin was effusive and unwavering. He called him a strong leader and claimed they'd spoken and gotten along well. His fidelity to Russia's president has continued in the White House, even as he lambasted other world leaders, turned on aides and allies, fired the head of the FBI and publicly humiliated his attorney general. Shunning Putin would have been the savvy political move, but he has refused to do so.
Republicans have criticized Steele's dossier because the DNC and Clinton campaign helped pay for it. But the document offers a compelling explanation for the president's unusual behavior vis-à-vis Russia. First, there was Moscow's alleged kompromat operation against Trump going back three decades. If the president had indulged in compromising behavior, whether sexual or otherwise, Putin likely knew of it. Second, there was the cash from Russian oligarchs that went into Trump's real estate ventures—and the prospect of a lucrative deal to build a hotel and tower in Moscow, a project that was still being negotiated as Trump addressed adoring crowds on the campaign trail. Finally, there were the Deutsche Bank loans that rescued Trump after the crash. They had come from a bank that was simultaneously laundering billions of dollars of Russian money. (Though parts of Steele's dossier remain unverified, some of his claims have been substantiated. The former spy told his friends he believes the document is about 70 to 90 percent accurate.)
And then there are the people in the president's inner circle. Wherever you look, there is a link to Russia. His pick for secretary of state? Rex Tillerson, a figure known and trusted in Moscow, and recipient of the country's Order of Friendship. Former national security adviser? Flynn, a beneficiary of undeclared Russian money. Campaign manager? Manafort, longtime confidant to ex–Soviet oligarchs. Foreign policy adviser? Carter Page, whom Russia tried to recruit as a spy. Commerce secretary? Wilbur Ross, an entrepreneur with Russia-connected investments. Personal lawyer? Cohen, who sent emails to Putin's press secretary. Business partner? Sater, who sent Flynn a plan to lift Russian sanctions. And so on.
It was almost as if Putin had picked Trump's Cabinet. The U.S. president, of course, did the choosing, but the pattern of all these individuals, and their alignment with Russian interests, forms a constellation. Call it Ursa Major. A big Russian bear Robert Mueller is now hunting—at Deutsche Bank and beyond.
Only Robert Mueller's team of A-list investigators and prosecutors knows what they have. They are building a paper trail case from financial records that does not rely on witness testimony. This takes some time to put together.