There were two key paragraphs in the Washington Post's report from last Friday. Russia probe reaches current White House official, people familiar with the case say: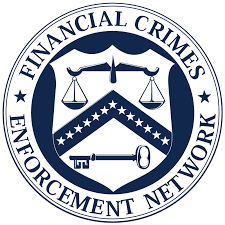 Although the case began quietly last July as an effort to determine whether any Trump associates coordinated with Russian operatives to meddle in the presidential election campaign, the investigative work now being done by the FBI also includes determining whether any financial crimes were committed by people close to the president. The people familiar with the matter said the probe has sharpened into something more fraught for the White House, the FBI and the Justice Department — particularly because of the public steps investigators know they now need to take, the people said.
And:
While there has been a loud public debate in recent days over the question of whether the president might have attempted to obstruct justice in his private dealings with Comey, whom Trump fired last week, people familiar with the matter said investigators on the case are more focused on Russian influence operations and possible financial crimes.
As I said, "This would explain passing references to the Treasury Department in recent reporting. This likely involves the Financial Crimes Enforcement Network, or FinCEN."
The Treasury Department and FinCEN are now in the news this week. CNN reports, Warner: Treasury has not fully responded to Senate Intel requests:
Sen. Mark Warner, the vice chairman of the Senate intelligence committee, said Tuesday that the Treasury Department has not fully complied with his committee's requests for documents relevant to its probe into Russian meddling in the US election.
Likewise, Democrats on the House Financial Services Committee sent a letter on Tuesday to Treasury Secretary Steven Mnuchin requesting records of Trump businesses and any connections to Russia by June 2.
Warner and Senate intelligence committee Chairman Richard Burr, R-North Carolina, sent a request for documents last month to the department's division on terrorism and financial intelligence.
"While the committee has received some documents from Treasury, the information received thus far is insufficient and we've expressed this concern to Treasury," the Virginia Democrat said during a Senate banking committee hearing considering nominations. "I find myself in an undesirable position today, one that could have been avoided by an administration that has blamed Democrats for obstructing their nominees."
"The truth is, while Chairman Burr and I asked this administration for documentation that we believe necessary to support the Senate Intelligence Committee investigation into Russian interference, unfortunately, the administration so far has failed to make an appropriate appreciation for our sense of urgency by not fully responding to our requests," the Virginia Democrat said.
As a result of the Treasury's unresponsiveness to the committee's requests and apparent slow-walking of its investigation, Democrats protested Treasury division nominee over missing Trump financial documents:
Leading Democratic senators are withholding votes for President Trump's nominee to lead the Treasury Department's terrorism and financial crimes division to protest the administration not producing records related to their probe of the Trump campaign's alleged ties to Russian officials.
Top Senate Banking Committee Democrat Sherrod Brown (Ohio) and top Senate Intelligence Committee Democrat Mark R. Warner (Va.) complained during a committee confirmation vote for Sigal Mandelker that the administration is being too lackadaisical about producing documents that lawmakers have requested to supplement their probe into Russian meddling in the 2016 elections.
The Wall Street Journal reported earlier this month that the Treasury Department's Financial Crimes Enforcement Network, better known as FinCEN, would share records with the Senate Intelligence Committee as part of its investigation. Warner and committee Chairman Richard Burr (R-N.C.) had sent a letter April 26 requesting documents, including alerts of possibly suspect transactions known as "flash notices" and information prepared in relation to terrorism or money laundering cases known as "314a requests."
"While the committee has received some documents from Treasury, the information received thus far is insufficient, and we have expressed this concern," Warner said Tuesday, following the vote to recommend Mandelker's nomination to the full Senate. The vote was 16 to 7, with Warner, Brown and several other Democrats voting no — "a step I wouldn't otherwise take," Warner stressed, had the Treasury Department better complied with the request for information.
"What I can't ascertain yet is, is this truly just slow-walking or is this just trying to fully understand the nature of our request," Warner added to reporters after the vote.
* * *
Several Banking Committee Democrats voting against Mandelker's confirmation Tuesday said they hoped that the Treasury Department would furnish the requested documents before the full Senate took up the nomination.
House Financial Services Committee Democrats have requested that Deutsche Bank provide information detailing whether President Trump took out loans backed by Russia, Reuters reports. U.S. House Democrats seek info from Deutsche Bank on Trump accounts:
Democrats on a U.S. of House of Representatives panel have asked Deutsche Bank to provide information on whether any accounts connected to President Donald Trump have ties to Russia, adding another dimension to probes into connections between Moscow and Trump.
Democrats on the U.S. House Financial Services Committee said on Wednesday they had sent a letter the previous day to Deutsche Bank Chief Executive Officer John Cryan seeking details of internal reviews to determine if Trump's loans for his real estate business were backed by the Russian government.
The congressional inquiry also seeks information about a Russian "mirror trading" scheme that allowed $10 billion to flow out of Russia.
"Congress remains in the dark on whether loans Deutsche Bank made to President Trump were guaranteed by the Russian government, or were in any way connected to Russia," the Democrats wrote. "It is critical that you provide this committee with the information necessary to assess the scope, findings and conclusions of your internal reviews."
The Democrats requested the documents from the bank, but cannot compel it to hand over the information. The committee has the power to subpoena the documents, but that would require cooperation from committee Republicans who make up the majority of the panel because the party has control of the House. No Republicans signed on to the document request.
Citing media reports, the Democrats called for the bank to hand over any documents tied to internal reviews of Trump's personal accounts at the bank. They also said the bank should state publicly that it had reviewed both the "mirror trading" scheme and Trump's accounts.
Mirror trading involved buying stocks, for example, in Moscow in rubles, with related parties selling the same stocks shortly thereafter through a bank's London branch.
They also called on the bank to name an independent auditor to verify the results of the reviews, which should be turned over to the committee "as soon as reasonably practicable."
The Federal Reserve fined Deutsche Bank $156.6 million last month for "unsafe" foreign exchange trading practices as well as lacking other necessary safeguards.
In 2015, Deutsche Bank paid a record $2.5 billion in fines to settle American and British government charges that it conspired to manipulate market rates for their benefit.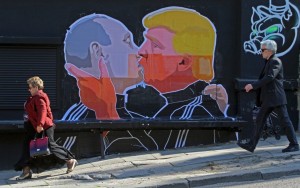 The theory here is a simple one: Trump could not get financing from American banks after a series of bankruptcies; Deutsche Bank has a history of laundering Russian money, Deutsche Bank fined for $10 billion Russian money-laundering scheme; Deutsche Bank is one of the few major banks that has continued to do business with the Trump organization through multiple bankruptcy filings over nearly two decades; the loans Deutsche Bank made to the Trump organization may have been guaranteed by the Russian government, or Russian oligarchs connected to the government; if so, Trump may be compromised by his foreign entanglements with Russians in his financial arrangements.
This is first an Emoluments Clause issue, Article I, Section 9, Clause 8 of the United States Constitution, which restricts "any present [or] emolument … of any kind whatever, from any king, prince, or foreign state … without the consent of the Congress."
Secondly, and more importantly, it is a national security issue. Just as acting Attorney General Sally Yates warned that Gen. Michael Flynn could be subject to blackmail or extortion due to his undisclosed financial ties to Russia, even more so could President Trump. It would go a long way towards explaining Trump's inexplicable reticence to critize Vladimir Putin and the Russian government for interfering in the U.S. election, while at the same criticizing and actively seeking to obstruct the congressional and FBI investigations into the Russian interference and any coordination with the Trump campaign.
The House Intelligence Committee will issue subpoenas to former national security adviser Michael Flynn in its investigation into Russian election interference, the committee's top Democrat confirmed Wednesday. House intel panel will subpoena Flynn businesses:
The House Intelligence Committee will issue subpoenas to former national security adviser Michael Flynn in its investigation into Russian election interference, the committee's top Democrat confirmed Wednesday.
Rep. Adam Schiff (Calif.) told reporters he intends to subpoena Flynn's businesses, following in the footsteps of the Senate Intelligence Committee. That panel on Tuesday issued a second round of subpoenas directed at two Alexandria, Va., companies associated with Flynn — Flynn Intel Inc. and Flynn Intel LLC.
The orders "will be designed to maximize our chance of getting the information that we need," Schiff said Wednesday during a Christian Science Monitor breakfast.
[C]orporations are not subject to Fifth Amendment protections, providing committee leaders with an alternative avenue to obtain the information they want.
Should Flynn deny either the House or Senate subpoenas for records from his businesses, the two committees will have to decide how far to go in enforcing them.
At the far end that scale is holding Flynn in contempt of Congress — the first step in seeking Justice Department support to enforce the orders.
"We need to use whatever compulsory mechanism necessary to get the information he possesses," Schiff said Wednesday.
* * *
Both the House and Senate intel panels are investigating Russian interference in the U.S. election. The Senate panel has not yet asked Flynn to testify — its requests have so far been for documents.
Schiff said that the House committee has asked Flynn to come forward.
Tea-Publicans in Congress continue to make a mockery of the oversight and investigation functions of Congress in an effort to protect Donald Trump, putting party loyalty before patriotism and country.
For the eighth time in the last three months, House Republicans on Wednesday voted down an effort by Democrats to make President Trump's tax returns available to Congress. GOP rejects Dem effort to demand Trump's tax returns:
The House rejected a resolution authored by House Democratic Caucus Vice Chairwoman Linda Sánchez (D-Calif.) directing the committee with jurisdiction over the tax code in a procedural vote that fell mostly along party lines.
"The American people have the right to know whether or not their President is operating under conflicts of interest related to international affairs, tax reform, government contracts, or otherwise," the resolution states.
Two Republicans who have called on Trump to release his tax returns didn't vote with the rest of their party. Rep. Walter Jones (R-N.C.) sided with Democrats, while Rep. Mark Sanford (R-S.C.) voted "present."
The procedural vote to table the motion was 225 to 187. Arizona's congressional delegation: Yeahs: Biggs, Franks, Gosar, Schweikert; Nays: Gallego, Grijalva, O'Halleran, Sinema; Not Voting: McSally.
Democrats had forced votes on a weekly basis from late February leading up to Tax Day in April on resolutions directing the House Ways and Means Committee to request the last decade of Trump's tax returns.
They revived the tactic last week after Trump fired James Comey as director of the FBI, which has been investigating whether the Trump campaign had improper contacts with Russian government officials.
Three congressional committees have the power to request individual tax returns from the Treasury Department and review them in closed session: House Ways and Means, Senate Finance and the Joint Committee on Taxation.
Sánchez's resolution notes that Comey had previously testified before the Senate Judiciary Committee this month that tax returns can be useful for an investigation.
"When are tax returns useful in investigating a criminal offense?" Sen. Sheldon Whitehouse (D-R.I.) asked.
"Well, they're useful in showing unreported income, motive. If someone hides something that's — should otherwise be a tax return indicates they might know it was criminal activity," Comey said.
Democrats are turning to a variety of procedural avenues to circumvent GOP leaders and try to force a vote on requesting Trump's tax returns.
They launched a procedure known as a discharge petition last month on Rep. Anna Eshoo's (D-Calif.) bill requiring presidents and presidential candidates to provide their last three years of federal income tax returns to the Office of Government Ethics or the Federal Election Commission.
The discharge petition would need 218 signatures to get a vote, meaning nearly two dozen Republicans would have to cross party lines and endorse the effort.
This investigation would conclude more quickly if Tea-Publicans were not actively hindering the investigation.