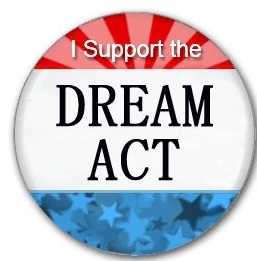 The Arizona Republic today takes a look at the gubernatorial candidates' position on Governor Jan Brewer's 2012 executive order banning an Arizona driver's license to the children of undocumented immigrants aka the DREAMers, in response to President Barack Obama's deferred-action program, which allows undocumented immigrants who were brought to the U.S. as children to get work permits and remain in the country for up to two years without fear of deportation.
Thousands of U.S. citizens and legal immigrants have also been inconvenienced by the unforeseen consequences of Gov. Brewer's 2012 executive order  aimed at keeping young undocumented immigrants from getting drivers licenses. 'Dreamer' license ban affects citizens.
A three-judge panel of the 9th U.S. Circuit Court of Appeals heard oral arguments in Arizona Dream Act Coalition, et al. v. Janice Brewer, et al., the case challenging Brewer's executive order in December. Brewer can't defend her denial of driver's licenses to Dreamers. A decision is pending.
As you might expect, every Tea-Publican running for governor of Arizona said they would continue Gov. Brewer's executive order (which presumes it is not struck down by the Courts). Gov. candidates talk immigrant driver's licenses. This reflects their fear of the nativists and racists in the GOP crazy base in a GOP primary.
The Libertarian and independent candidates for governor — none of whom have a snowball's chance in hell of ever being elected — said they would rescind Gov. Brewer's executive order.
Which means the DREAMers have Democrat Fred DuVal as their one true advocate and champion. It is imperative to elect Fred Duval as the next governor of Arizona, and bring an end to this dark chapter of Arizona's history.
Fred DuVal, Democrat
"Governor Brewer's executive order barring DREAMers from receiving driver's licenses is callous, it hurts families and local businesses, and it makes our streets less safe. These kids are talented, bright, and they were brought to this country as children through no fault of their own. Now, they're looking for opportunity – the opportunity to get a job, go to college, and contribute to their community. Shame on Governor Brewer for denying them that opportunity.

"As governor, the very first thing I will do after taking the oath of office will be to rescind Governor Brewer's executive order and give our DREAMers the opportunity they deserve."