E.J. Montini of The Arizona Republic makes an excellent point in a recent opinion, The right-wing misogynist hypocrite who is NOT Trump:
If the other candidates actually believe that sexism and misogyny is bad, why would any of them want to be in the same room as [Erick] Erickson?
* * *
After all, if sexism and misogyny actually bothered them, they would have boycotted the event to which Trump was disinvited.
(Image of The Handmaid's Tale, by Margaret Atwood)
Steve Benen makes a similar point in Jeb Bush flubs another test on women's issues:
But Jeb Bush attended that gathering, stood alongside Erickson, and made a curious proclamation. Think Progress reported over the weekend:
Jeb Bush appeared at the RedState Gathering on Saturday and pronounced that Erickson was "on the side of women."

Erickson tried to distinguish his own comments from Trump's by claiming he has apologized. But he only apologized for one sexist remark — referring to the first day of the Democratic National Convention, which featured female speakers, as the "Vagina Monologues."
So, let me get this straight. Looking back over the last few days, Jeb Bush said, "I'm not sure we need half a billion dollars for women's health issues." The former governor then made accusations against Planned Parenthood that were demonstrably untrue. He then stood alongside a right-wing media personality with a lengthy record of misogyny and said, "You're on the side of women."
It's almost as if the Florida Republican is trying to alienate voters.
Hillary Clinton noted that the media's attention on Trump's boorish comments is taking the focus off the truly misogynist policy positions of the other GOP contenders. Hillary Clinton: Donald Trump's Megyn Kelly comments 'outrageous' — but so are GOP policies:
Hillary Clinton thinks that Donald Trump's comments about Fox host Megyn Kelly were "outrageous" but so are Republican policies about women.
"I'm just going to leave my comments where they are," Clinton said to reporters after a town hall in Exeter, New Hampshire, on Monday. "I thought what he said was offensive, and I certainly think that it determines the kind of reaction that it's getting from so many others.
"But I think if we focus on that, we're making a mistake," she said. "What a lot of the men on that stage in that debate said was offensive."
Clinton then took aim at Sen. Marco Rubio. During the Fox News GOP debate Thursday, the Florida senator said he never said he supported a rape and incest exception to abortion bans.
"The Republicans get to choose their nominee and they will have to make that decision, but … when one of their major candidates, a much younger man, the senator from Florida, says there should be no exception for rape and incest, that is as offensive and as troubling a comment as you can hear from a major candidate running for the presidency," Clinton said. "So the language may be more colorful and more offensive, but the thinking, the attitude toward women, is very much the same."
But the best take down of the media for its "theater of the absurd" coverage of Trump that ignores the truly misogynist policy positions of the other GOP contenders belongs to Staten Island Democrat Diane Savino, a state senator from New York. Lawmaker's Epic Facebook Rant: Forget Trump, Focus On Candidates Who Think Women Are Just 'Breeders':
A New York state senator is incensed with the media for focusing on Donald Trump's now-infamous quip about Fox News host Megyn Kelly's period, saying other Republican candidates pose a much bigger threat to women's rights.
In a Facebook post published Tuesday, Staten Island Democrat Diane Savino ripped into what she called the "theater of the absurd" when it comes to Trump.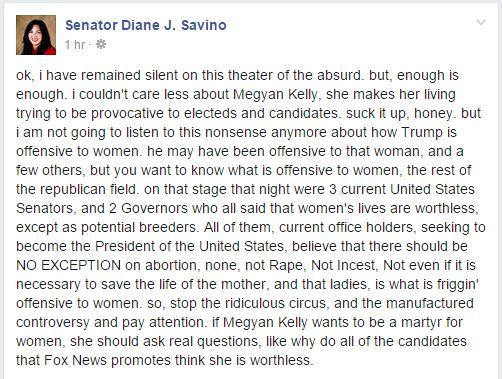 "I am not going to listen to this nonsense anymore about how Trump is offensive to women," Savino wrote, asserting that at least five other Republican candidates have more offensive views on women — particularly when it comes to their right to choose whether to have an abortion.
Savino alluded to comments made by Wisconsin Gov. Scott Walker at Thursday's primetime GOP debate, in which he said he would not support abortion even if women may die if they do not end the pregnancy.
"On that [debate] stage that night were three current United States Senators, and two governors who all said that women's lives are worthless, except as potential breeders," she continued. "All of them, current office holders, seeking to become the President of the United States, believe that there should be no exception on abortion, none, not rape, not incest, not even if it is necessary to save the life of the mother, and that ladies, is what is friggin' offensive to women."
Asked to clarify, Savino told ThinkProgress in a phone interview Tuesday that Sens. Rand Paul, Ted Cruz, and Marco Rubio, along with Ohio Gov. John Kasich and New Jersey Gov. Chris Christie, all have "said either expressly, or a nuanced fashion, that they don't support a women's right to make decisions about her own life."
All five of those candidates have expressed support for legislation to outlaw abortion after 20 weeks. Asked whether they support exceptions to the law in the case of rape or incest, Rubio has said no; Cruz has said no; and Paul has not specified. Both Kasich and Christie have said they support exceptions in the case of rape, incest, and health of the mother. Walker seems to be the only candidate so far who has said he does not support abortions even when the mother's life is at risk.
Trump, on the other hand, has flip-flopped a bit on the issue. He had historically been pro-choice, but then changed his stance to pro-life. He once said shutting the government down would be better than funding Planned Parenthood, but recently backed off of that position. On Tuesday, he said that he supports exceptions for rape, incest, and health of the mother.
Still, even if Trump had the same views on abortion as the other candidates, Savino told ThinkProgress that he's not "as big a threat to women's rights as other candidates."
"Trump's not even an elected official," she said. "Why are we paying attention to a person who does not even have the ability today to take action against or for women, and ignoring the fact that we have at least five people who have the power right now to do real harm to women?"
A good question for the media villagers who are failing to do their job to inform the public as they engage in celebrity worship, as if they work for TMZ or Entertainment Tonight.