The Trump administration and its propaganda arm in the conservative media entertainment complex created a bizarre "deep state" conspiracy theory in which federal employees working for the FBI and intelligence agencies were "biased" against Donald Trump, which is the only reason why the FBI opened its counterintelligence investigation into his campaign, and then later engaged in a "coup" against Trump after he was unexpectedly elected president.
Trump has repeatedly called the FBI Russia investigation "treason," and he has his "Injustice" Department under William "Coverup" Barr "investigating the investigators" with the intention of prosecuting FBI and intelligence employees for having done their duty to investigate the Trump campaign's 272 Contacts With Russian Operatives, including at least 38 meetings:
[W]e know that at least 33 high-ranking campaign officials and Trump advisers were aware of contacts with Russia-linked operatives during the campaign and transition, including Trump himself. None of these contacts were ever reported to the proper authorities. Instead, the Trump team tried to cover up every single one of them.
The facts are that the Mueller Report laid out multiple offers of Russian help to the Trump campaign, the campaign's acceptance of that help, and overt acts in furtherance of the Russian help. The Mueller investigation determined that the Trump campaign — including Trump himself — knew that a foreign power was intervening in our election and welcomed it, built Russian meddling into their campaign strategy, and used it. Intelligence Chairman Adam Schiff's opening statement before Mueller testimony:
Disloyalty to country. Those are strong words, but how else are we to describe a presidential campaign which did not inform the authorities of a foreign offer of dirt on their opponent, which did not publicly shun it, or turn it away, but which instead invited it, encouraged it, and made full use of it?
This is the reality. This is what the FBI was investigating in its counterintelligence investigation. The FBI was defending the national security of the United States against an attack by a hostile foreign power on our elections, with the knowledge and cooperation of the Republican nominee for president. Disloyalty to country.
Two former FBI employees are fighting back against this bizarre "deep state" conspiracy theory by filing a lawsuit for wrongful termination. The lawsuits will permit them to conduct discovery and to take witness testimony – including from Donald Trump – to prove that they were wrongfully terminated in retaliation for having done their duty.
Natasha Bertrand reports, Peter Strzok sues over firing for anti-Trump texts: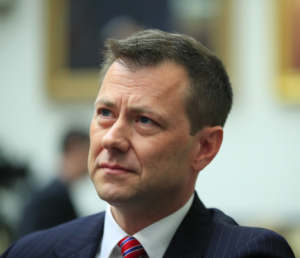 Peter Strzok, the former FBI agent who opened the bureau's Russia probe in 2016 and later became a symbol of alleged "deep state" animus for Donald Trump, is suing the government over his firing.
In a lawsuit filed on Tuesday, Strzok excoriates the Justice Department and FBI for their handling of his dismissal over a trove of text messages he wrote to a colleague that were critical of Trump. Strzok accuses the president of inappropriately bullying law enforcement officials deciding his fate, raises questions about why his texts were leaked to the media and lambastes the administration for only defending its employees' free speech rights when they are praising Trump.
Specifically, Strzok's lawsuit accuses the agencies of violating his First and Fifth Amendment rights by firing him over the texts and then depriving him of due process to challenge his expulsion. And, Strzok argues, DOJ's decision to give the incendiary messages to reporters before handing them to Congress — generating blaring headlines — was "deliberate and unlawful," a violation of the Privacy Act.
Read the complaint here.
Strzok became a lightning rod for efforts to undermine the Russia investigation when the texts he wrote to FBI lawyer Lisa Page — using his FBI-issued phone — were publicly released in December 2017.
DOJ has not disclosed who authorized the release of the text messages, which were under investigation at the time by Inspector General Michael Horowitz. Strzok's legal team said in the filing that it hopes to learn that in discovery.
Many of the texts were overtly critical of Trump, and Strzok and Page, who were having an affair, mocked him at various points throughout the campaign, calling him an "idiot."
At the time, both Strzok and Page were working on the investigation into Russia's election interference. They had also previously worked on the probe into Hillary Clinton's use of a private email server, and Strzok would later join special counsel Robert Mueller's team.
In the texts, Strzok and Page disparaged other political leaders, like Democratic candidate Bernie Sanders and former Attorney General Eric Holder. But Mueller's most vehement critics quickly weaponized the texts about Trump, seeking to portray Strzok as a symbol of an agency hopelessly tainted by bias against Trump.
An Inspector General report released last year, however, found no evidence that the officials' political opinions impacted their investigative actions with regard to the Clinton email investigation. A separate IG report due to be released this fall is expected to address the agents' conduct during the Russia probe.
Trump has tweeted about Strzok nearly two-dozen times since January 2018, calling him a "sick loser," "a fraud," "incompetent," "corrupt," and praising his firing from the FBI. Trump even accused Strzok of "treason" and told reporters in June 2018 that he was "amazed" Strzok was still employed at the FBI. "Peter Strzok should have been fired a long time ago," Trump said.
Trump's public invective drove the government's decision to terminate Strzok, the lawsuit argues.
The move, it says, "was the result of unrelenting pressure from President Trump and his political allies in Congress and the media," noting that FBI Deputy Director David Bowdich made the move over a recommendation from the FBI's Office of Professional Responsibility, which only suggested a demotion and short suspension.
According to the court document, Strzok says Bowdich initially reassured him that the public disclosure of the texts would not impact his career. But in a dismissal letter dated Aug. 9, 2018, Bowdich claimed that the 22-year FBI veteran had undermined "the credibility of the FBI" with his text messages and exercised bad judgment in using an FBI device to send the texts.
Questions have since been raised about what specific bureau policies Strzok violated in sending the messages.
In an internal report, Candice Will, the longtime deputy director of the FBI's Office of Professional Responsibility, cited three ways in which Strzok allegedly violated FBI policies during the election, according to a person with direct knowledge of the matter. None had to do with the content of the text messages, though the office did note that the "overtly political tone" of the messages was "of serious concern."
* * *
Still, Will and her office did not recommend Strzok's dismissal. And legal experts said Bowdich's eventual decision to overrule that recommendation was considered highly unusual.
Strzok's lawsuit notes that while the Hatch Act prohibits certain political activities by government officials, officials should also "be encouraged to exercise" their right to political speech "fully, freely, and without fear of penalty or reprisal." And because the FBI never asserted that Strzok violated the Hatch Act, Strzok's speech was protected under the First Amendment, the lawsuit states.
The Trump administration has also exhibited a double standard when it comes to tolerating political speech from employees, the document argues. It specifically mentions Kellyanne Conway, the president's senior adviser whose repeated Hatch Act violations prompted the Office of Special Counsel to recommend she be fired.
The administration, according to the lawsuit, "has consistently tolerated and even encouraged partisan political speech by federal employees, as long as this speech praises President Trump and attacks his political adversaries."
The FBI has similarly shown that it is willing to punish those critical of Trump, like Strzok, while taking "no actions" against agents who opposed Clinton in 2016, the suit says. An Inspector General report released last year outlined concerns within the department that FBI officials might leak information about the election-year email probe to the press in order to damage her political standing [from the New York FBI office].
Former FBI Deputy Director Andrew McCabe sues DOJ, claims his firing was 'retaliation' directed by Trump: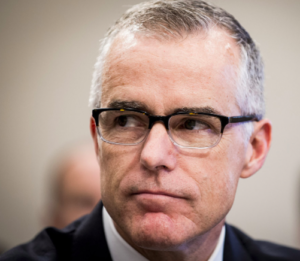 Former FBI Deputy Director Andrew McCabe filed suit Thursday against the FBI and Justice Department, claiming that his March 2018 ouster — on the day he planned to retire after a 21-year career — was politically motivated retaliation driven by President Donald Trump, who was angry at McCabe's role in the investigation of his campaign's links to Russia.
Read the complaint here.
"It was Trump's unconstitutional plan and scheme to discredit and remove DOJ and FBI employees who were deemed to be his partisan opponents because they were not politically loyal to him," according to McCabe's lawsuit. "Plaintiff's termination was a critical element of Trump's plan and scheme."
The lawsuit, filed in federal court in Washington, comes just two days after former FBI counterintelligence agent Peter Strzok filed a similar lawsuit, alleging that Trump's vendetta against him led to his unceremonious firing, despite a formal disciplinary process that recommended a less severe punishment. Strzok is seeking his old job back or compensation for his lost pay and benefits, while McCabe is seeking the reinstatement of his full retirement benefits.
Both suits are the latest in a string of examples of Trump's tweets creating legal headaches for his team. Strzok and McCabe's filings feature a litany of Trump tweets attacking the men for allegedly joining his political enemies and seeking to bring him down — contentions both men have decried as false conspiracy theories.
Though both men made plain their dislike of Trump, they say it never affected their official actions at the FBI. McCabe argues that Trump's Twitter threats also coerced his subordinates at the Justice Department to do his bidding.
"Trump demanded [McCabe's] personal allegiance, he sought retaliation when Plaintiff refused to give it, and [former Attorney General Jeff] Sessions, [FBI Director Christopher] Wray, and others served as Trump's personal enforcers rather than the nation's highest law enforcement officials, catering to Trump's unlawful whims instead of honoring their oaths to uphold the Constitution," McCabe's suit charges. "Trump's use of threats and accusations to cause his subordinates to act is memorialized in his tweets and other public documents, including the Special Counsel Report."
In his suit, McCabe includes a handwritten memo to Wray and another top FBI official from a senior official in the Justice Department's internal review office. The memo indicates that top officials were aware of McCabe's planned retirement date and factored it into their effort to terminate him, a suggestion that McCabe says was improper. Though McCabe had been chastised for "lack of candor" in an investigation by the department's internal watchdog — the reason Sessions cited for his firing — McCabe argues that the charge was really a pretext to accommodate Trump and that it was accelerated in order to punish him.
The Justice Department's inspector general found that McCabe misled investigators about a media leak in connection with the FBI's investigation of Hillary Clinton's use of a private email server.
McCabe also claims that the official decision on his termination wasn't issued until 10 p.m. on March 16, several hours after he completed his last day on the job.
The lawsuit recounts a long list of attacks on McCabe by Trump, which began before the 2016 election and continued months after his firing.
"Andrew McCabe FIRED, a great day for the hard working men and women of the FBI – A great day for Democracy," Trump tweeted at midnight on March 17, just two hours after Sessions officially fired him. "Sanctimonious James Comey was his boss and made McCabe look like a choirboy. He knew all about the lies and corruption going on at the highest levels of the FBI!"
McCabe, in his suit, rejects many of Trump's longtime attacks, including that he had a close association with Hillary Clinton and Democrats. McCabe's suit describes his relationship with Trump's political opponents as "nonexistent" and disputed Trump's suggestion that he was conflicted because his wife made a failed Democratic bid for a Virginia state Senate seat.
"After the election, Trump continued and amplified these false attacks after learning that Plaintiff did not vote for Trump in the 2016 U.S. presidential election," according to the lawsuit. "Trump's repeated public and private statements are direct evidence of Trump's perception of Plaintiff's partisan affiliation, Trump's attribution of Plaintiff's wife's political activity to Plaintiff based solely upon their marriage, and Trump's constitutionally improper motives for removing Plaintiff from the career civil service."
These are civil actions, which means that Clinton v. Jones, 520 US 681 (1997), applies. In a unanimous opinion, the Supreme Court held that the Constitution does not grant a sitting President immunity from civil litigation except under highly unusual circumstances.
Donald Trump's animus towards Strzok and McCabe in his tweets and public statements are central to their claims for wrongful termination in retaliation for having done their duty. Trump can be deposed and can be called as a witness at trial.
It is not clear what impact, if any, these two lawsuits will have on the two ongoing DOJ inspector general investigations, and William "Coverup" Barr's "personal review" of the Russia investigation.
These lawsuits may also complicate the plans of Donald Trump's puppet boy, Senator Lindsey "Stonewall" Graham, to hold Stalinist show trials for former FBI officials in his Senate Judiciary Committee this fall. That would be improper interference with an ongoing judicial proceeding.