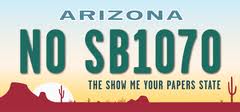 Current  First Vice Chair of the Arizona Republican Party, disgraced and recalled former Senator Russell Pearce, has been ordered to comply with a subpoena in a lawsuit alleging that legislators meant to discriminate against Latinos and other people of color.
The challengers argue the law violates the equal protection clause of the U.S. Constitution. Judge allows access to emails about Arizona immigration law.
The AP reports Judge orders Pearce to comply with subpoena:
A judge ordered the primary sponsor of Arizona's 2010 immigration law to comply with a subpoena calling for him to turn over his emails and documents about the contentious statute.
U.S. District Judge Susan Bolton rejected former Sen. Russell Pearce's arguments that a subpoena requesting documents was defective and that Pearce's response to the subpoena was more than adequate.
Challengers of the law say Pearce provided a limited set of documents, but contended he made inadequate searches for all records sought by the subpoena.
The challengers say they want access to letters and emails between lawmakers and advocates for tougher immigration enforcement to see why the law's proponents believed it needed to be passed.
They're seeking to back up their claim that the law was passed with a discriminatory intent.
I would think the most critical documents are from Kris Kobach, then a lawyer with the Immigration Reform Law Institute representing the nativist anti-immigrant organization Federation for American Immigration Reform (FAIR), who was Pearce's  co-author of the model legislation, SB 1070.
Kobach is now Secretary of State of Kansas, and facing a tough reelection campaign. A recent Survey USA poll shows a dead heat (tied 46-46) in the race for Kansas Secretary of State with Democratic candidate Jean Schodorf.
Is Russell Pearce refusing to produce documents from Kris Kobach and the Immigration Reform Law Institute in order to prevent the disclosure of embarrassing documents from his co-conspirator co-author in a reelection campaign?  The Kansas media should be asking  questions.