In 21st Century America, this is not the kind of headline one should expect to see, nor should it ever be acceptable. From the Washington Post this morning:
President Trump launched another broadside Saturday on a Democratic political opponent, calling a prominent black congressman's Baltimore district a "disgusting, rat and rodent infested mess" and saying "no human being would want to live there."
This is just a version of Trump referring to Haiti and African nations as 'shithole' countries, but Rep. Cummings represents part of  the black-majority city of Baltimore in the state of Maryland in America. This is Trump's "shithole country" where America's inner cities have long been neglected and demonized by Republican policies.
That Twitter attack on Rep. Elijah E. Cummings (D-Md.) plunged the nation into yet another anguished debate over the president's divisive rhetoric. And it came just two weeks after Trump called out four minority congresswomen with a racist go-back-to-your-country taunt.
* * *
But Trump's advisers had concluded after the previous tweets that the overall message sent by such attacks is good for the president among his political base — resonating strongly with the white working-class voters he needs to win reelection in 2020.
This has prompted them to find ways to fuse Trump's nativist rhetoric with a love-it-or-leave-it appeal to patriotism ahead of the 2020 election, while seeking to avoid the overtly racist language the president used in his tweets about the four congresswomen.
It's not clear whether Trump will abide by such limitations, however. The president kicked off his Twitter attack Saturday morning by calling the black lawmaker's Baltimore district a "very dangerous & filthy place."
"The attack on Rep. Cummings underscores Trump's penchant for undermining any attempts by other Republicans to steer clear of overtly racial attacks."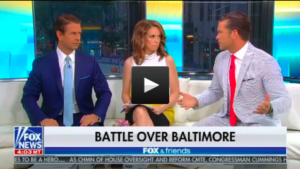 Business Insider explains how Trump's overtly racist strategy is echoing what his fascist propaganda network Fox News aka Trump TV, specifically "Fox & Friends" weekend hosts Pete Hegseth and Griff Jenkins, were saying in a feedback loop. Trump attacks Rep. Elijah Cummings and Baltimore, seemingly quoting 'Fox & Friends' segment: 'No human being would want to live there':
President Donald Trump spent early Saturday morning tweeting attacks against Representative Elijah Cummings and the district of Baltimore, which he represents. The tweets corresponded with a simultaneously airing "Fox & Friends" segment, and quotes that match the president's tweets suggest the on-air discussion directly incited Trump's attacks.
Trump's tweets match the order of the segment, as the president first tweeted "Rep, [sic] Elijah Cummings has been a brutal bully, shouting and screaming at the great men & women of Border Patrol about conditions at the Southern Border."
Trump's tweet corresponds with a clip shown at the beginning of the "Fox & Friends" segment of Cummings questioning Department of Homeland Security Secretary Kevin McAleenan.
"You feel like you're doing a great job, right? Is that what you're saying," Cummings is shown saying in the clip, from the hearing on treatment of migrant children at the US-Mexico border, on "Fox & Friends."
Here is the C-Span video of Cummings full questioning of Department of Homeland Security Secretary Kevin McAleenan.

"We're doing our level best in a challenging situation," McAleenan responds in the clip, to which Cummings says "What does that mean? Come on, man."
"But what about the abandoned homes, piles of trash, and higher murder rate in his own district of Baltimore?" a "Fox & Friends" anchor asked next on air. "Our next guest went there and said it's worse than conditions at the border."
After a commercial break, Saturday morning's "Fox & Friends" segment returned to the topic of Cummings and Baltimore, with an anchor saying "Democrats like Congressman Elijah Cummings say they care about how migrants are treated at the border. What about the families and people in their own district?"
Link to video segment: How do living conditions in Rep. Cummings' Baltimore district compare to those at the border?
The anchor continued to say "Congressman Cummings was elected to represent west Baltimore. Living conditions at the border are better than most areas in his district. The city is lined with abandoned buildings and trash on the streets."
"Fox & Friends" then brought on Republican political commentator Kimberly Klacik, a Maryland resident, who described Baltimore as "the most dangerous district in America," and said residents she talked to complained of "abandoned row homes filled with trash," along with cockroaches and rodents.
"Why doesn't he go into his district and take a look at the conditions?" Klacik asked on air. "I think obviously there is a crisis at the border but there's a crisis in his backyard and he should really pay attention."
In the same tweet, posted within minutes after the segment aired, Trump also wrote "when actually his Baltimore district is FAR WORSE and more dangerous. His district is considered the Worst in the USA……"
Trump then replied to his own tweet with "….As proven last week during a Congressional tour, the Border is clean, efficient & well run, just very crowded. Cumming District is a disgusting, rat and rodent infested mess. If he spent more time in Baltimore, maybe he could help clean up this very dangerous & filthy place."
Members of congress who visited border detention facilities last week are calling for immediate changes to conditions, citing "serious concerns" affecting the people detained at the US-Mexico border.
Then, Trump tweeted "Why is so much money sent to the Elijah Cummings district when it is considered the worst run and most dangerous anywhere in the United States. No human being would want to live there. Where is all this money going? How much is stolen? Investigate this corrupt mess immediately!"
Rep. Elijah Cummings is chair of the House Committee on Oversight and Reform which is investigating the "corrupt mess" that is the Trump crime family. The Trump TV-Trump White House coordinated attack on Rep. Cummings is no coincidence. It is orchestrated retaliation.
On Thursday, Oversight committee OKs subpoena on White House use of private email:
The House Committee on Oversight and Reform on Thursday authorized a subpoena of records in the panel's investigation into the White House's alleged use of private email for government business.
The committee voted 23-16 to give Chairman Elijah Cummings of Maryland the authority to issue the subpoenas, seeking emails and cellphone text messages sent to or from White House officials using their personal accounts.
"The committee has obtained direct evidence that multiple high-level White House officials have been violating the Presidential Records Act by using personal email accounts, text messaging services, and even encrypted applications for official business — and not preserving those records in compliance with federal law," Cummings said.
He said the White House has refused multiple requests by the committee to review documents, prompting the need for the subpoena.
But of course. Trump's entire 2016 campaign was built around Hillary Clinton's emails and her private server.
In September 2017, the oversight committee specifically requested that presidential adviser Jared Kushner preserve all emails and other electronic data associated with an account he allegedly used to conduct business.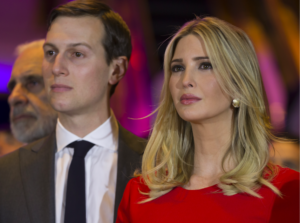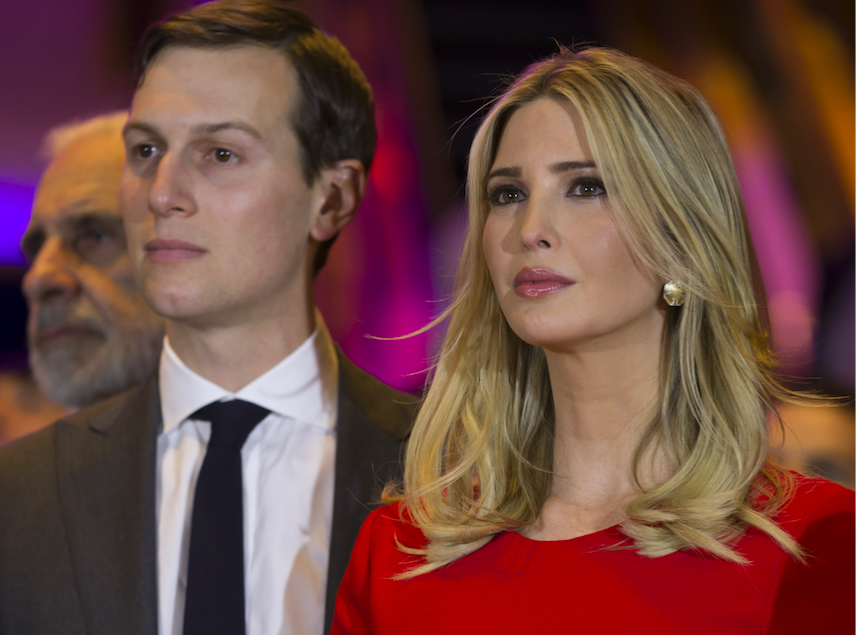 Cummings said both Kushner and his wife, adviser Ivanka Trump, communicated about government business using private email and WhatsApp, an encrypted messaging service.
Cummings said Abbe Lowell, Kushner and Trumps' personal lawyer, had told him that Kushner used and continues to use WhatsApp for official White House communication.
Speaking of the man-child Trump princeling, if Trump wants to talk about living conditions in Baltimore, he should start with his slumlord son-in-law. Kushner owns lots of Baltimore-area apartments. Some are infested with mice.:
In a now-viral tweetstorm on Saturday, President Trump characterized Rep. Elijah E. Cummings's Baltimore-based congressional district as a "rodent infested mess" where "no human" would want to live.
His criticism rang with a particular irony in Baltimore County, where presidential son-in-law Jared Kushner owns more than a dozen apartment complexes that have been cited for hundreds of code violations and, critics say, provide substandard housing to lower-income tenants.
In an interview Saturday, Baltimore County Executive John A. Olszewski Jr. condemned Trump's comments as "an attack on basic decency."
"It is certainly ironic that the president's own son-in-law was complicit in contributing to some of the neglect that the president purports to be so concerned about," Olszewski (D) added.
Kushner Cos., which started operating in Maryland in 2013, has owned almost 9,000 rental units across 17 complexes, many of them in Baltimore County, the Baltimore Sun reported earlier this year.
The properties generate at least $90 million in annual revenue. Kushner stepped down as chief executive of the company in 2017, when he became a senior White House adviser.
In 2017, Baltimore County officials revealed that apartments owned by the Kushner firm were responsible for more than 200 code violations, all accrued in the span of the calendar year. Repairs were made only after the county threatened fines, local officials said, and even after warnings, violations on nine properties were not addressed, resulting in monetary sanctions.
In an investigation by the New York Times and Pro Publica published earlier that year, tenants of Kushner properties reported mouse infestations, mold problems and maggots. A private investigator who looked into Kushner's property management company, Westminster Management, described the managers as "slumlords."
* * *
Shannon Darrow, a program manager at the tenant advocacy group Fair Housing Action Center of Maryland, said Sunday that she was "appalled" by Trump's comments about Cummings's district, which includes about half of Baltimore City, and most of the majority-black sections of Baltimore County. She added that she found Trump's attacks ironic given the legacy of Kushner's properties in the district.
"Basically, [Kushner] has been creating a race to the bottom in terms of poorly maintained properties," she said. "He's been very, very deeply implicated."
In the past two years, the Kushner firm and its affiliated entities have been sued multiple times by Baltimore-area residents who allege that the company has charged them excessive fees and used the threat of eviction to pressure them into paying.
From 2013 to 2017, corporate entities associated with Kushner apartments requested the civil arrest of 105 former tenants — the highest number among all property managers in Maryland during that period, the Sun reported.
"It's been our recent experience that working families have been preyed on at the benefit of Mr. Kushner and his company," Olszewski said.
The Baltimore Sun in a scathing editorial opinion did not hold back. Better to have a few rats than to be one:
In case anyone missed it, the president of the United States had some choice words to describe Maryland's 7th congressional district on Saturday morning. Here are the key phrases: "no human being would want to live there," it is a "very dangerous & filthy place," "Worst in the USA" and, our personal favorite: It is a "rat and rodent infested mess." He wasn't really speaking of the 7th as a whole. He failed to mention Ellicott City, for example, or Baldwin or Monkton or Prettyboy, all of which are contained in the sprawling yet oddly-shaped district that runs from western Howard County to southern Harford County. No, Donald Trump's wrath was directed at Baltimore and specifically at Rep. Elijah Cummings, the 68-year-old son of a former South Carolina sharecropper who has represented the district in the U.S. House of Representatives since 1996.
It's not hard to see what's going on here. The congressman has been a thorn in this president's side, and Mr. Trump sees attacking African American members of Congress as good politics, as it both warms the cockles of the white supremacists who love him and causes so many of the thoughtful people who don't to scream. President Trump bad-mouthed Baltimore in order to make a point that the border camps are "clean, efficient & well run," which, of course, they are not — unless you are fine with all the overcrowding, squalor, cages and deprivation to be found in what the Department of Homeland Security's own inspector-general recently called "a ticking time bomb."
In pointing to the 7th, the president wasn't hoping his supporters would recognize landmarks like Johns Hopkins Hospital, perhaps the nation's leading medical center. He wasn't conjuring images of the U.S. Social Security Administration, where they write the checks that so many retired and disabled Americans depend upon. It wasn't about the beauty of the Inner Harbor or the proud history of Fort McHenry. And it surely wasn't about the economic standing of a district where the median income is actually above the national average. No, he was returning to an old standby of attacking an African American lawmaker from a majority black district on the most emotional and bigoted of arguments. It was only surprising that there wasn't room for a few classic phrases like "you people" or "welfare queens" or "crime-ridden ghettos" or a suggestion that the congressman "go back" to where he came from.
This is a president who will happily debase himself at the slightest provocation. And given Mr. Cummings' criticisms of U.S. border policy, the various investigations he has launched as chairman of the House Oversight Committee, his willingness to call Mr. Trump a racist for his recent attacks on the freshmen congresswomen, and the fact that "Fox & Friends" had recently aired a segment critical of the city, slamming Baltimore must have been irresistible in a Pavlovian way. Fox News rang the bell, the president salivated and his thumbs moved across his cell phone into action.
As heartening as it has been to witness public figures rise to Charm City's defense on Saturday, from native daughter House Speaker Nancy Pelosi to Mayor Bernard C. "Jack" Young, we would above all remind Mr. Trump that the 7th District, Baltimore included, is part of the United States that he is supposedly governing. The White House has far more power to effect change in this city, for good or ill, than any single member of Congress including Mr. Cummings. If there are problems here, rodents included, they are as much his responsibility as anyone's, perhaps more because he holds the most powerful office in the land.
Finally, while we would not sink to name-calling in the Trumpian manner — or ruefully point out that he failed to spell the congressman's name correctly (it's Cummings, not Cumming) — we would tell the most dishonest man to ever occupy the Oval Office, the mocker of war heroes, the gleeful grabber of women's private parts, the serial bankrupter of businesses, the useful idiot of Vladimir Putin and the guy who insisted there are "good people" among murderous neo-Nazis that he's still not fooling most Americans into believing he's even slightly competent in his current post. Or that he possesses a scintilla of integrity. Better to have some vermin living in your neighborhood than to be one.
Speaking truth to Trump's abuse of power, and Fox News fascist propaganda.