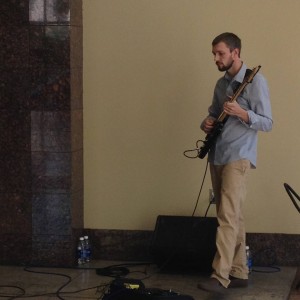 It's June and it's summer in the Southwest Desert, and it's hot, hot, hot (100 degree F weather usually during the day).
As a result, I actively start looking for activities in cool AC, to inform our readers about.
So here's a fun activity (art and guitar music), new at the downtown Tucson Museum of Art, 140 N. Main Ave.  RSVP via their FB page:
https://www.facebook.com/events/1713592802229272/ (photo courtesy of their page).  Guitar music by Keli Carpenter in the lobby.
"Free Admission (on July 7)  from 5:00 p.m. – 8:00 p.m.

Escape the heat at the Tucson Museum of Art! Enjoy an evening exploring the exhibitions and great art while enjoying live guitar music in the Museum's lobby."
Keep cool.