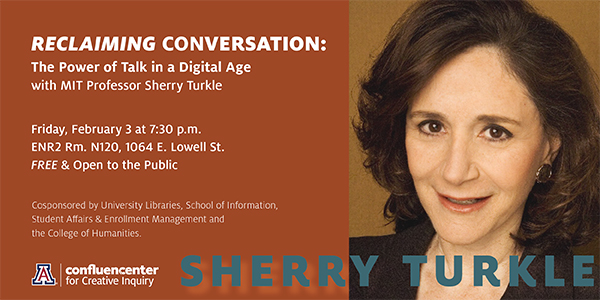 "Reclaiming Conversation: The Power of Talk in a Digital Age"
A free public lecture by MIT professor Sherry Turkle
Friday, Feb. 3, 7:30 p.m. | UA's ENR2 Rm N120, 1064 E. Lowell St.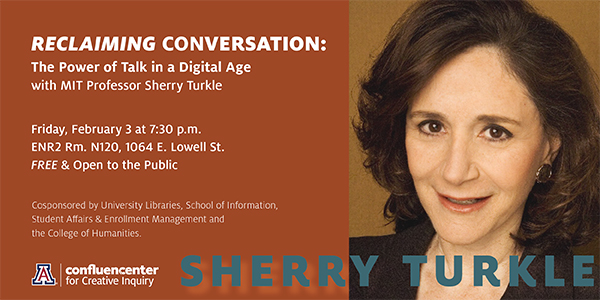 "A generation has grown up feeling that "it would rather text than talk," along with believing that it is possible to share our attention during almost everything we do. What are the costs of a "flight from conversation" in personal life, among one's family and friends? What are the costs in the work world? And, most importantly, what can we do about it?
Professor, author, consultant and researcher Sherry Turkle has spent the last 30 years studying the psychology of people's relationships with technology. She is the Abby Rockefeller Mauze Professor of the Social Studies of Science and Technology in the Program in Science, Technology and Society at MIT, as well as the founder and current director of the MIT Initiative on Technology and Self.
Referred to by many as the "Margaret Mead of digital culture," Professor Turkle has investigated the intersection of digital technology and human relationships from the early days of personal computers to our current world of robotics, artificial intelligence, social networking and mobile connectivity. Her New York Times best-seller, "Reclaiming Conversation™: The Power of Talk in the Digital Age" (Penguin Press, October 2015), focuses on the importance of conversation in digital cultures, including business and the professions.
Professor Turkle's exploration into our lives on the digital terrain shows how technological advancement doesn't just catalyze changes in what we do – it affects how we think. Her research also raises critical questions about technology's role in business productivity, asking whether multi-tasking actually leads to deteriorating performance in each of our tasks. Does our always-connected state affect our ability to think, to be creative and to innovate?
"We are thrilled to host Sherry Turkle," said Javier Duran, Confluencenter for Creative Inquiry's Director. "Ever since the publication of her groundbreaking book Life on the Screen: Identity in the Age of Internet (1997), Professor Turkle has been a truly innovative researcher whose scrutiny of the impact of technology on society delves into fundamental human issues. Digital culture is a huge driver in today's society and I think people would like to know more about the psychological and societal issues that occur when the art of the spoken conversation faces challenges by email, texting, and social media."
Copies of "Reclaiming Conversation™: The Power of Talk in the Digital Age" will be available for purchase before and after the lecture and she will sign books following the lecture.
Turkle's visit is a collaboration between University of Arizona's Confluencenter for Creative Inquiry, College of Humanities, School of Information, Student Affairs & Enrollment Management and the University Libraries."
Contact: Jamie Manser, 621-0599
The Confluencenter for Creative Inquiry works with scholars in the Colleges of Fine Arts, Humanities, and Social and Behavioral Sciences, awarding Faculty Collaboration Grants for interdisciplinary research along with supporting a Graduate Fellows Program. The center advances creative, collaborative research and shares it with the community. More details are available at Confluencenter.arizona.edu