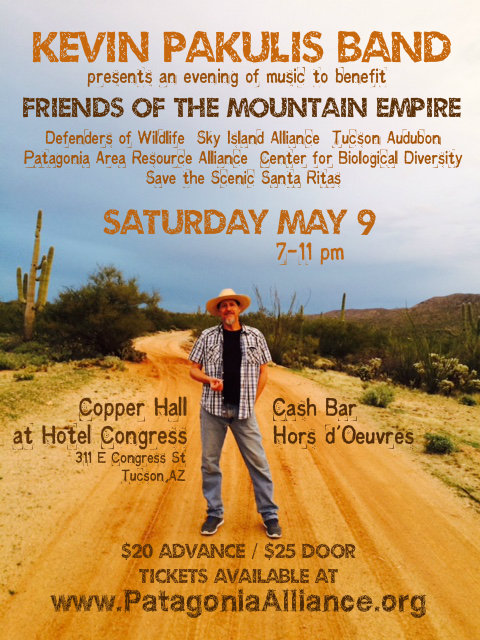 The Kevin Pakulis Band will play a benefit concert to raise funds and awareness for the Friends of the Mountain Empire on Saturday, May 9th at the Hotel Congress in downtown Tucson.

Tickets for the magical evening of music can be purchased now to support the organizations – Patagonia Area Resource Alliance, Sky Island Alliance, Defenders of Wildlife, Tucson Audubon Society, Center for Biological Diversity and Save the Scenic Santa Ritas – that are working to protect and preserve the habitat, water, and wildlife of the Mountain Empire from new mining in the Patagonia Mountains, Santa Rita Mountains, Canelo Hills, and the San Rafael Valley of southern Arizona.The event will provide a unique and exciting oppo

rtunity to hear the soulful music of Tucson-based, award-winning Americana singer-songwriter Kevin Pakulis, while supporting the incredible ecological and cultural biodiversity of the region.

Arizona's southwestern Mountain Empire is a hidden gem of the country, recognized for its beauty, uniqueness and ecological importance. The region is rich in wildlife and plant diversity and supports some of the world's most imperiled wildlife including the jaguar, ocelot, lesser long-nosed bat, Mexican spotted owl and yellow-billed cuckoo. Sadly, destructive mining projects that continue to be proposed and approved threaten not only endangered wildlife, but the water, health and safety of local communities.The benefit will include a special guest appearance from

CD 2Congressman Raúl Grijalva

, who will speak to the importance of conserving the natural and local communities of the Mountain Empire in the face of such threats.
More info at www.patagoniaalliance.org