Working from home, I am occasionally interrupted by my wife excitedly yelling "Turn the TV on! You're not going to believe what's happening!"
On Sunday, this heads up came for COVID-19 pneumonia patient Donald Trump joy riding around Walter Reed Hospital so that he could wave at his sycophant cult followers camped out in front of the hospital. Secret Service agents, doctors aghast at Trump's drive outside hospital:
Current and former Secret Service agents and medical professionals were aghast Sunday night at President Trump's trip outside the hospital where he is being treated for the coronavirus, saying the president endangered those inside his SUV for a publicity stunt.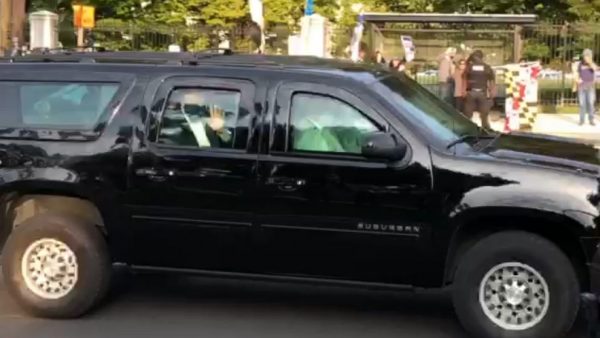 As the backlash grew, multiple aides who spoke on the condition of anonymity to describe internal deliberations also called Trump's evening outing an unnecessary risk — but said it was not surprising. Trump had said he was bored in the hospital, advisers said. He wanted to show strength after his chief of staff offered a grimmer assessment of his health than doctors, according to campaign and White House officials.
A growing number of Secret Service agents have been concerned about the president's seeming indifference to the health risks they face when traveling with him in public, and a few reacted with outrage to the trip, asking how Trump's desire to be seen outside his hospital suite justified the jeopardy to agents protecting him. Trump's coronavirus diagnosis has already brought new scrutiny to his lax approach to social distancing, as public health officials scramble to trace those he may have exposed at large in-person events.
"He's not even pretending to care now," one agent said after the president's jaunt outside Walter Reed National Military Medical Center to wave at supportive crowds.
"Where are the adults?" said a former Secret Service member.
* * *
Among critics was a doctor affiliated with Walter Reed.
"Every single person in the vehicle during that completely unnecessary Presidential 'drive-by' just now has to be quarantined for 14 days," tweeted James P. Phillips, who is also a professor at George Washington University. "They might get sick. They may die. For political theater. Commanded by Trump to put their lives at risk for theater. This is insanity."
Phillips said the risk of viral transmission inside the car is "as high as it gets outside of medical procedures." Jonathan Reiner, a professor of medicine and surgery at George Washington University, noted people inside a hospital wear extensive protective gear — gowns, gloves, N95 masks and more — when they will be in close contact with a coronavirus patient such as Trump.
"By taking a joy ride outside Walter Reed the president is placing his Secret Service detail at grave risk," he tweeted.
If @realDonaldTrump were my patient, in unstable condition + contagious illness, & he suddenly left the hospital to go for a car ride that endangers himself & others:

I'd call security to restrain him then perform a psychiatric evaluation to examine his decision-making capacity.

— Leana Wen, M.D. (@DrLeanaWen) October 4, 2020
Donald Trump, Jr. apparently agreed with the good doctors assessment. "Don Jr. Thinks Trump Is Acting Crazy": The President's COVID Joyride Has the Family Divided:
Donald Trump's erratic and reckless behavior [Sunday] has opened a rift in the Trump family over how to rein in the out-of-control president, according to two Republicans briefed on the family conversations. Sources said Donald Trump Jr. is deeply upset by his father's decision to drive around Walter Reed National Military Medical Center last night with members of the Secret Service while he was infected with COVID-19. "Don Jr. thinks Trump is acting crazy," one of the sources told me. The stunt outraged medical experts, including an attending physician at Walter Reed.
According to sources, Don Jr. has told friends that he tried lobbying Ivanka Trump, Eric Trump, and Jared Kushner to convince the president that he needs to stop acting unstable. "Don Jr. has said he wants to stage an intervention, but Jared and Ivanka keep telling Trump how great he's doing," a source said. Don Jr. is said to be reluctant to confront his father alone. "Don said, 'I'm not going to be the only one to tell him he's acting crazy,'" the source added.
One area where the family seems united is over the president's manic tweeting early Monday morning. After Trump sent out more than a dozen all-caps tweets, the Trump children told people they want Trump to stop. "They're all worried. They've tried to get him to stop tweeting," a source close to the family told me.
Thirteen tweets in 45 minutes-sounds like steroid induced psychosis is setting in….

— Dr.Krutika Kuppalli (@KrutikaKuppalli) October 5, 2020
There is good reason to be concerned about the already questionable mental capacity of Donald Trump. Trump has been prescribed drugs that medical experts say can seriously impair his cognitive function – which should lead Vice President Pence and the cabinet to invoke the 25th Amendment. 25th Amendment Trended Again As Trump Doctors Announce Dexamethasone Treatment.
The New York Times reports Nearly One-Third of Covid-19 Patients in Study Had Altered Mental State:
Nearly a third of hospitalized Covid-19 patients experienced some type of altered mental function — ranging from confusion to delirium to unresponsiveness — in the largest study to date of neurological symptoms among coronavirus patients in an American hospital system.
And patients with altered mental function had significantly worse medical outcomes, according to the study, published on Monday in Annals of Clinical and Translational Neurology. The study looked at the records of the first 509 coronavirus patients hospitalized, from March 5 to April 6, at 10 hospitals in the Northwestern Medicine health system in the Chicago area.
After they were discharged, only 32 percent of the patients with altered mental function were able to handle routine daily activities[.]
Patients with altered mental function — the medical term is encephalopathy — were also nearly seven times as likely to die as those who did not have that type of problem.
* * *
Some experts said that President Trump, who was hospitalized with Covid at Walter Reed military hospital beginning on Friday, is of the age and gender of the patients in the study who were more likely to develop altered mental function and therefore could be at higher risk for such symptoms. He also has a history of high cholesterol, one of the pre-existing conditions that appear to increase risk.
Given the cocktail of experimental treatments for COVID-19 not yet fully tested or approved by the FDA that Trump's doctors have prescribed for him early on in his infectious state, Trump clearly has a serious condition of COVID-19 pneumonia. His doctors and the White House have not been transparent about his condition, and clearly appear to be lying.
So I was trying to get some work done on Monday when, once again, my wife excitedly yelled "Turn the TV on! You're not going to believe what's happening!" Donald Trump was somehow allowed to leave Walter Reed Hospital after only 3 days and return to the White House (some doctors need to lose their license to practice medicine after this), so that he could stage yet another campaign phot-op.
You should take note that Trump grimaces in pain, and he is literally gasping for air after climbing stairs and removing his mask. He clearly has COVID-19 pneumonia.
As a student of history, I immediately recognized this staging: Cheeto Benito was recreating Mussolini on the balcony. Holy shit!
I was not the only one who recognized this historical analogy. Ann Applebaum at The Atlantic writes, Il Donald: The president knows what Mussolini knew: Some audiences crave images that offer false reassurance and over-the-top displays of power (excerpts):
For reasons that need no elucidation, I spent a few hours this morning watching Benito Mussolini, the dictator of Italy from 1925 to 1945, performing in the old newsreel clips that now float around the internet. It wasn't the verbal content I was after, just the imagery. The staged entrances. The gesticulation, the posturing, the arms raised in salute. The beautiful backdrops, the flags hanging from the ancient stone buildings of Rome, Palermo, Verona, Milan.
* * *
Most frequently, Mussolini had himself photographed on balconies. Some of them were historic, such as the balcony above the Piazza Venezia in Rome, where he spoke many times to the throngs gathered below. This was the balcony where, in 1940, he declared war on Britain and France, the "plutocratic and reactionary democracies who have always blocked the march and frequently plotted against the existence of the Italian people." But he also had balconies purpose-built for special occasions, so that he could tower over the crowd from wherever he happened to be speaking. The Italian cameramen who made his newsreels often filmed him from just below these structures, so that the perspective was always that of the crowd, looking up adoringly at the Leader.
* * *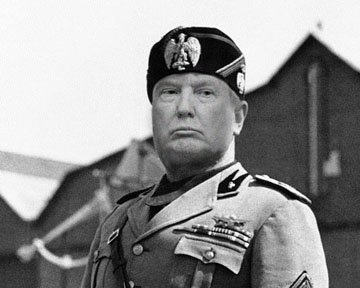 It may well be that the craving for "drums, flags and loyalty-parades," as George Orwell once put it, crosses borders, cultures, and even oceans. A lot of people like to gaze upon images that evoke the "unity of thought and action." A lot of people like displays of pageantry, military force, and power.
The appeal of these things hasn't disappeared or died out. An American president, suffering from an infectious disease, breathing hard, covered in orange pancake makeup, speaking from a balcony against the backdrop of our elegant White House and our beautiful Washington Monument—this is a scene that seems absurd, grotesque, and even frightening to many. But not to everyone. "I led," the president said, soon after he had dramatically removed his face mask, proving to his followers that he isn't afraid.
Of course the scene was staged. Of course it is cynical. And of course it is dangerous to tell Americans to act as if a virus is an opponent in a wrestling match—"Don't let it dominate you; don't be afraid of it. You're going to beat it"—especially after your criminal carelessness has led to the infection of your closest colleagues, your Senate allies, your bodyguards, your wife. But those staged pictures are what a lot of people want to see, and that false reassurance is what a lot of people want to hear. Don't underestimate their power.
I happened to catch this during MSBC's The Reidout With Joy Reid. Her commentary was spot on. "There are moments in this job when you realize that you are witnessing some of the great horrors of history." "Honestly, this is the most irresponsible thing I've ever seen a president do."
Trump's reckless irresponsibility didn't end there. The campaign video he was filming above was tweeted shortly afterwards. Trump video tells supporters, 'Don't be afraid':
In message that is sure to infuriate medical doctors trying to keep the country safe, Trump says he has "learned so much" about the virus he contracted. And he says: "Don't let it dominate. Don't let it take over your lives."
Trump was treated at Walter Reed National Military Medical Center by a team of some of the country's best doctors and he received an experimental drug not readily available to the public.
Nonetheless, he told his followers who do not have access to the same level of care that they had little to fear.
"Don't be afraid of it," he said. "You're going to beat it. We have the best medical equipment. We have the best medicines."
Trump also again defended his decision to continue traveling and holding events before he got sick, saying he "knew there's danger to it, but I had to it. I stood out front. I led."
This was a reprisal of his tweet before he left Walter Reed Hospital. 'Don't Be Afraid of Covid,' Trump Says, Undermining Public Health Messages:
[T]weeting on Monday from the military hospital where he has been receiving state-of-the-art treatment for Covid-19, the president yet again downplayed the deadly threat of the virus.
"Don't be afraid of Covid," he wrote. "Don't let it dominate your life." When he arrived at the White House a few hours later, Mr. Trump removed his mask before joining several masked people inside. The president was probably still contagious, as many patients can pass on the virus for up to 10 days after symptoms begin.
Scientists, ethicists and doctors were outraged by the president's comments about a disease that has killed more than 210,000 peoplein the United States.
"I am struggling for words — this is crazy," said Harald Schmidt, assistant professor of medical ethics and health policy at the University of Pennsylvania. "It is just utterly irresponsible."
Dr. William Schaffner, an infectious disease specialist at Vanderbilt University Medical School, called the president's message "dangerous" because it encouraged his followers to ignore basic recommendations to keep themselves safe.
"It will lead to more casual behavior, which will lead to more transmission of the virus, which will lead to more illness, and more illness will lead to more deaths," Dr. Schaffner said.
This morning Donald Trump urged Americans to "learn to live with Covid" in an early morning tweet, reviving his downplaying the seriousness of COVID-19 by comparing it to seasonal flu (screenshot).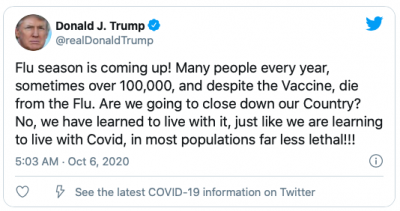 Trump's tweet was flagged by Twitter for "spreading misleading and potentially harmful information related to COVID-19," Axios reports.

Mad King Donald, coronavirus super-spreader, is fighting on the side of COVID-19. He is promoting the "herd mentality" (immunity) theory of Dr. Scott Atlas of the Hoover Institution, and his Fox News propagandists that would lead to millions of American deaths.