The New York Times reports that Trump is replacing the civilian leadership at the Pentagon with unqualified Fox News commentators and his political sycophants. Trump Stacks the Pentagon and Intel Agencies With Loyalists. To What End?
President Trump's abrupt installation of a group of hard-line loyalists into senior jobs at the Pentagon has elevated officials who have pushed for more aggressive actions against Iran and for an imminent withdrawal of all American forces from Afghanistan over the objections of the military.
Mr. Trump made the appointments of four top Pentagon officials, including a new acting defense secretary, this week, leaving civilian and military officials to interpret whether this indicated a change in approach in the final two months of his presidency.
At the same time, Mr. Trump named Michael Ellis as a general counsel at the National Security Agency over the objections of the director, Gen. Paul M. Nakasone.
There is no evidence so far that these new appointees harbor a secret agenda on Iran or have taken up their posts with an action plan in hand. But their sudden appearance has been a purge of the Pentagon's top civilian hierarchy without recent precedent.
Administration officials said the appointments were partly about Afghanistan, where the president has been frustrated by what he sees as a military moving too slowly to fulfill his promise that all American troops will be home by Christmas. The Pentagon announced on Wednesday that Douglas Macgregor, a retired Army colonel and fierce proponent of ending American involvement in Afghanistan, would serve as a senior adviser.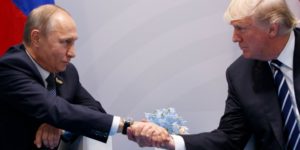 The hires come as Mr. Trump and some of his aides have been pressing to declassify documents that would describe sources of information inside the Kremlin. The president's advocates have long argued that these could prove that four years of allegations about the 2016 actions by President Vladimir V. Putin of Russia in support of Mr. Trump's candidacy were a hoax, despite the fact that Mr. Trump's Justice Department has indicted Russian military intelligence officers.
Administration officials said that Gina Haspel, the director of the C.I.A., could be next on Mr. Trump's list of dismissals because of her long-running effort to keep classified a series of documents on the agency's information [methods and sources] inside the Kremlin. Among her biggest recent critics is Donald Trump Jr.
They are threatening to compromise the national security of the United States by outing our intelligence assets in Russia to arrest and execution, and compromising our intelligence gathering capabilities. They would be aiding and abetting a hostile foreign adversary to the United States. As an ex-president, Trump could disclose the secrets he learned while in office, current and former officials fear ("Not only does Trump have a history of disclosures, he checks all the boxes of a classic counterintelligence risk: He is deeply in debt and angry at the U.S. government, particularly what he describes as the "deep state" conspiracy that he says tried to stop him from winning the White House in 2016 and what he falsely claims is an illegal effort to rob him of reelection.") They are traitors to their country. Some dare call it treason.
Most of the officials and former officials interviewed over the past day agreed that there was a large element of score-settling and attention-grabbing by Mr. Trump and his aides as they have defied calls to concede to President-elect Joseph R. Biden Jr.
Kashyap Patel, Anthony J. Tata and Ezra Cohen-Watnick — three aides whose promotions were announced in a Pentagon statement on Tuesday — are viewed as highly ideological Trump foot soldiers [and are totally unqualified for these sensitive positions]. Mr. Patel has a long history of trying to discredit the investigations into Russian interference, Mr. Tata's nomination was withdrawn over the summer in part because he had called President Barack Obama a "terrorist leader," and Mr. Cohen-Watnick was quietly eased out of the National Security Council in 2017 after clashes with Lt. Gen. H.R. McMaster, then the national security adviser.
The three are not believed to have the stature to bully Gen. Mark A. Milley, the chairman of the Joint Chiefs of Staff, or Gen. Kenneth F. McKenzie, the head of the military's Central Command, into initiating operations, whether overt or secret, against Iran or other adversaries during the final days of Mr. Trump's presidency.
* * *
During a meeting at the White House, Mr. Trump's message to Mr. Miller, the official said, was to do nothing new or provocative.
When jobs open in the last days of an administration, they are usually filled by deputies, whose only charge is to keep the wheels of government turning at least until Inauguration Day.
It was a sign of the changed atmosphere that when James H. Anderson, an expert on military strategy and missile defense, left the Pentagon after being fired from the No. 3 position — acting under secretary for policy — he was "clapped out," or applauded by officials lining the halls. A report on Twitter by William Kristol, the conservative commentator who has opposed Mr. Trump, said the White House sought the "names of any political appointees who joined in so they could be fired."
It is possible, some officials say, that what is happening is no more than résumé padding, allowing some of Mr. Trump's loyalists to claim they held top posts, albeit briefly, or to cement some policy changes before Mr. Biden can take office and seek to reverse them.
Several current and former Pentagon and administration officials expressed concern that the shake-up could usher in a period of instability and possibly even overseas adventurism.
* * *
John Gans, a former chief Pentagon speechwriter and author of "White House Warriors," a history of the National Security Council, said Mr. Patel, Mr. Cohen-Watnick and Mr. Ellis were all veterans of what he called the Trump's administration's "war on government."
The Pentagon, more than other departments, has resisted Mr. Trump's directives, slowing the withdrawal of troops from Syria and Afghanistan, a breach that led to the resignation of Jim Mattis as defense secretary.
"The three men have risen, in good measure because they were successful at pushing back against the bureaucracy" Mr. Gans said. "These are the people who go in and do whatever they think is required to achieve his agenda," he said. "They are true soldiers in the war on government, the war on what Trump calls the deep state."
Gen. Barry Richard McCaffrey (ret.). is sounding the alarm on key national security concerns after President Trump shook up the Pentagon staff less than one week after losing the election to President-elect Joe Biden. 'Crazy thing going on inside that White House': Retired general says Trump loyalists want to stage a coup:
"I have been shot at a lot and nearly killed a bunch of times," said Gen. McCaffrey. "I'm not an alarmist. I stay cool under pressure. Mark me down as alarmed. I just listened to Sen. Tim Kaine (D-VA) — wonderful, experienced, mature guy — say this is just payback to [Mark] Esper not being a loyalist. I don't believe it. We're watching a setup of some people who are unqualified for office to be in control of the 2.1 million men and women of the armed forces."
McCaffrey said, "And I remind our viewers, the only one who can give orders to the armed forces is the president and the secretary of defense. This acting secretary Chris Miller is a perfectly good, experienced combat soldier. He is unqualified for this office. The other three, one of them, a retired one-star, is a dangerous man. That team moving in, no one in his right mind would have accepted an appointment for 90 days. These people are in there to control a coercive institution of U.S. democracy. Watch out."
Host Ari Melber asked McCaffrey, "What specifically are you warning against, general? Do you feel based on your knowledge of these individuals and the situation that you have a credible reason or evidence to think that there could be an effort to enlist the military in something unlawful?"
"The federal government tools could be used in an oppressive manner, start with the attorney general of the United States, the Department of Homeland Security, and federal law enforcement agencies, who — unless they get an order that is patently illegal — will carry out their instructions. So the end of the story is, you know, I don't believe in any way this should be minimized or this is just a tantrum of a president trying to accommodate himself to the outcome of the elections. This is some crazy thinking going on inside that White House."
McCaffrey added, "If I was a CIA officer trying to understand what was going on in a third-world country and I saw this pattern of behavior, I would say the stronghand's trying to take over the government and defy an election — and I think they're playing with that idea inside the White House. I can't imagine that Sen. Rob Portman (R-OH) and even [Sen. Mitch] McConnell (R-KY) and people like this are going to disregard the Constitution, but I think that's the thinking that's going on in the White House right now and we ought to be worried about it. And the Republicans in Congress ought to speak up and push back."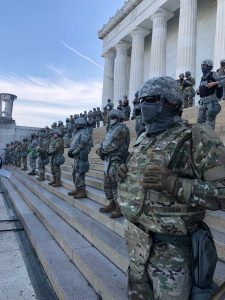 Gen. McCaffrey is warning that Trump is placing his sycophants in charge of the civilian leadership of the military to use the military against the civilian population – something he tried to do with Black Lives Matter protestors this past summer in Washington, D.C. – in a coup to overturn the results of the election.
I still have faith that the U.S. military command will refuse his illegal order, but there is going to be one hell of a shitstorm when the U.S. military is forced to defy its civilian leadership from an illegal order from the president. This country has never remotely faced a situation like this.
If Donald Trump is really this dangerously mentally unstable, I would point out that Vice President Mike Pence could assemble the cabinet and invoke the 25th Amendment – he could sideline Trump until he is no longer president on January 20, 2021, and ensure a peaceful transition of power.
The U.S. Senate could also impeach Donald Trump, and make Mike Pence a lame duck president until January 20, 2021, and ensure a peaceful transition of power.
Of course, this assumes that they are not all part of Trump's evil designs and would do their constitutional duty to protect our democracy.
I don't think anyone can claim this with any degree of confidence or certainty.