By Michael Bryan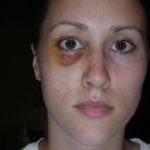 People are shocked that Gen. Kelly demonstrably knew that the President's Staff Secretary, Rob Porter, could not obtain a permanent clearance due to domestic abuse allegations, and yet kept him in a position which required him to handle Top Secret and above materials.
I am not.
As a former prosecutor who has handled hundreds of domestic violence allegations, I handled several dozens of charges against male members of the armed forces. Invariably, if the accused was an officer, the member's commander reached out to me to inform me of what a fine officer and national security asset the accused was. Rarely did they ask me directly to drop the charges, but they almost always served as character witnesses for the accused. Invariably, I would be informed of the damage that would be done to national security, and the waste of the expensive specialized training the taxpayers had invested in the officer, should he be convicted and be unable to continue his military career. The formal zero-tolerance of domestic violence had led to an informal culture of always believing the best of the man.
I'm sure there exists no formal policy of disbelieving domestic abuse charges against members, but what I observed was a definite culture of men covering for men in the military. Perhaps it was all rationalized as force protection: keeping vital national security assets at the work on behalf of the nation. But the result was a steady pressure to exempt military officers from the consequences of their crimes against women.
Having seen, first-hand, how the military's culture handles allegations of domestic violence against those whom they consider mission-critical personnel, I am not at all surprised that General Kelly gave Rob Porter the benefit of every possible doubt to keep him at his post.
I have little doubt that the military culture General Kelly marinated in his whole career influence his thinking in his new role. The key difference in his new context is that General Kelly was now confronted with an FBI background report refusing to grant Porter clearance due to credible allegations of abuse. Allegations of domestic abuse arising in such an inquiry are made under the threat of federal felony criminal charges if the women are lying to FBI investigators. That is not "he said, she said": that is "she said in peril of felony charges, he said without consequences."
The question in my mind is not "did General Kelly protect Rob Porter from the consequences of his crimes against women," but "how often has he done so in the past?" To the investigative reporters of the nation I say, look into General Kelly's command history: I guarantee you this is not the first time he has willfully disbelieved women about the violence of men in his command.
Update: I was just proven correct about this prediction.