The Outlaw Dirty Monday campaign has opened 11 Tucson "depot" locations where volunteers and petition circulators can get petitions and information kits to put the initiative on the state ballot. The group, a non-partisan PAC to eliminate secret funders of political campaigns in Arizona elections, has collected 30,000 of the 357,000 required signatures.
"Why is dirty money bad? You can buy an election with it. This happened with APS and the Arizona Corporation Commission," said Merrill Eisenberg, the Outlaw Dirty Money Southern Arizona Coordinator. She spoke at a recent meeting of the Democrats of Greater Tucson.
Arizona Public Service Electric Company recently revealed that it spent $10.7 million in 2014, much of it went to Arizona Corporation Commission races. Afterward, the Corporation Commission subsequently raised utility rates by $95 million per year.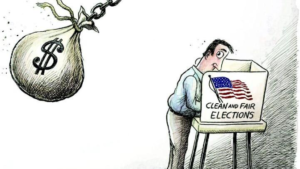 "This was a great investment for APS," Eisenberg said. It's a great assault on the Arizona ratepayers."
Dirty money is anonymous political spending meant to sway your vote. It was created by the 2010 Citizens United decision by the US Supreme Court. Shockingly it said that corporations are people who have First Amendment rights to spend money in political campaigns. Since then $800,000,000 has been spent on anonymous campaign contributions.
Depot locations
At the Depot locations, volunteers can get answers to questions, addresses of libraries where circulators can take petitions and can get signed petitions notarized. The initiative is gaining steam as Tucson mayoral candidates Steve Farley, Regina Romero, and Randi Dorman have endorsed Outlaw Dirty Money.
"Secret donations are a way to ruin somebody's reputation at no consequence to you. That's what happens when you can say anything. Our elections become slander and lies. Then the voters get turned off to the process and stay home. Confidence in our elections gets eroded when no one can track back to where the money came from," Eisenberg said.
Ironically, live humans are required to disclose a contribution of more than $50 to a candidate, political party or PAC. You must give your name, address, and employer. 
However, notorious 501(c)(4) social welfare organizations don't have to disclose their donations. "These 501(c)(4) groups can collect a lot of money and give it to a PAC, and the original source is hidden. If you can't find the money, how can voters know who is going to profit by their vote?"
"They are created solely for the purpose of hiding dirty money. They are a haven for anonymous money," she said. For example, the National Assn of Realtors Fund is a 501(c)(4) that spent $147,000 in local elections last fall. "They are a dirty money organization that needs to report."
For example, APS gave $10.7 million to 501c organizations that spent in Corporation Commission races in 2014:
$5.8 million The Arizona Free Enterprise Club

$1.4 million to Arizona Cattle Feeders Association

$3.5 million to Save Our Future Now
"What happened to the rest? Who knows," Eisenberg said.
No surprise, dirty money forces knocked Outlaw Dirty Money off the ballot in 2018 and are gunning to do it again in 2020.

The Koch Brothers "Americans for Prosperity" filed suit last year, and sent subpoenas to 14 paid petition circulators. However, the subpoenas were delivered to a vacant office building and the circulators never knew they were being called to court. 

In a miscarriage of justice, the signatures they collected were disqualified, and the measure didn't have enough signatures to get on the ballot. The GOP-dominated Arizona Supreme Court upheld the decision.

Eisenberg said she expected Americans for Prosperity to sue again, and so Outlaw Dirty Money is not using paid circulators. This creates pressure to find volunteer circulators. 

Accordingly the 11 Pima County depot locations were set up, making it easy for voters to support the cause.

"Disclosure is not a left wing concept!" she said, quoting Antoni Scalia: "Requiring people to stand up in public for their political acts fosters civic courage, without which democracy is doomed."

Summary of major Amendment provisions:

1. Any individual, corporation, partnership or association that spends more than $20,000 for statewide media advertising supporting or opposing a candidate or a ballot proposition, or over $10,000 on a similar local campaign, is required to identify each original source that contributed $5000 or,more during a two-year election cycle to that expenditure.

2. Original source means the individual or corporation that earned the money. If the money contributed came from a contribution, gift or dues, that contributor is an intermediary, not an original source.

3. Does not require the disclosure of anyone who contributes less than $5,000 over an election cycle to the person or organization paying for the media campaign.

4. Constitutionally establishes the Arizona Citizens Clean Elections Commission as the independent organization to implement disclosure pursuant to the Amendment.

5. The Commission will create and enforce rules, hold hearings and conduct investigations to assure full disclosure.

6. Penalty for violation may be up to three times the amount determined by the Commission or a court to have been undisclosed or improperly disclosed.

7. Any Arizona voter may file a complaint with the Commission against an individual, corporation, partnership or association that fails to comply with the disclosure requirements.
Opponents of Outlaw Dirty Money claim that disclosing donors will open them up to harassment. The argument is bogus because donations of live humans must be disclosed already. Failing to disclose donors undermines our democracy.
Outlaw Dirty Money has a goal of collecting 500,000 signatures by next July. The surplus allows a cushion when signatures are disqualified. Eisenberg said the Pima County effort is about 63% of the way to their September 1 goal, with 1,230 Petitions distributed to circulators and 451 petitions returned (37%).
As an incentive, all circulators now get cool Outlaw Dirty Money t-shirts. Supporters can get on the mailing list at https://outlawdirtymoney.com/, and can sign up to circulate petitions at https://secure.everyaction.com/QO5OS4E6zkursrJr8KjNKg2  Watch https://youtu.be/M4HUTa2pkvM for more information.
Upcoming tabling and targeted circulator events: 
Monday, 8/19/19, 5:00 PM – 8:00 PM (Tabling). IMA Community Action Team/Education Domain at The Dunbar Pavillion, 325 W. 2nd St., Tucson, AZ 85705. This will be an indoor event. Please contact Aimee Graves at 520-971-7247 or aimee@outlawdirtymoney.com sign up for a shift.
Tuesday, 8/27/19, 10 AM – 2 PM (Tabling). Mountain View Retirement Village 2019 Health Fair, located at 7900 N. La Canada Dr., Tucson 85704. This will be an indoor event. Please contact Aimee Graves at 520-971-7247 or aimee@outlawdirtymoney.com sign up for a shift.
8/17/19, UA Move-In Day. Circulate while students stand in line. Contact Nick Moskriz at 520-730-6898 or moshkriz@email.arizona.edu.
8/23/19, UA Info Session. Circulate while students stand in line. Contact Nick Moskriz at 520-730-6898 or moshkriz@email.arizona.edu.