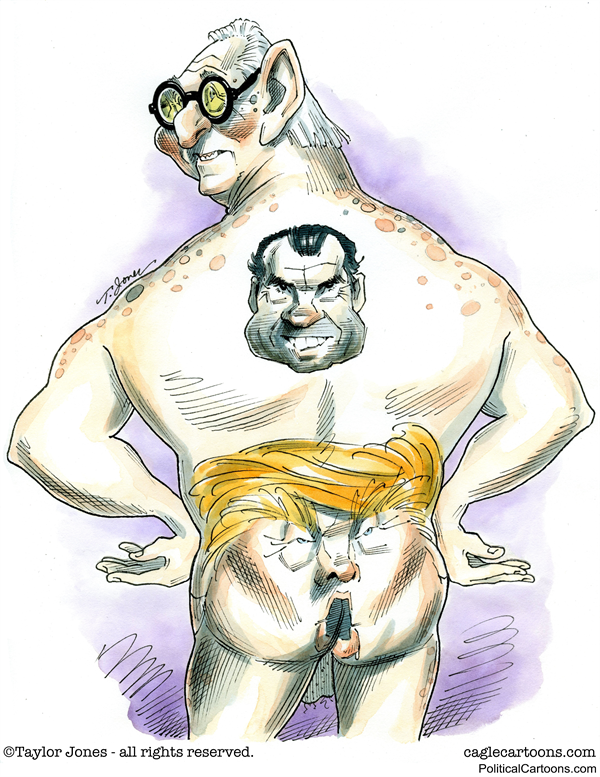 I have wanted to see long-time GOP ratfucker Roger Stone in prison since his Watergate days. That a creature so vile and devoid of any human decency has been allowed to practice his dark arts freely for so long with impunity is a blot on the American justice system.
But my faith has been restored this morning! Roger Stone Arrested in Mueller Investigation Into Trump Campaign: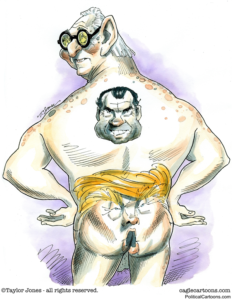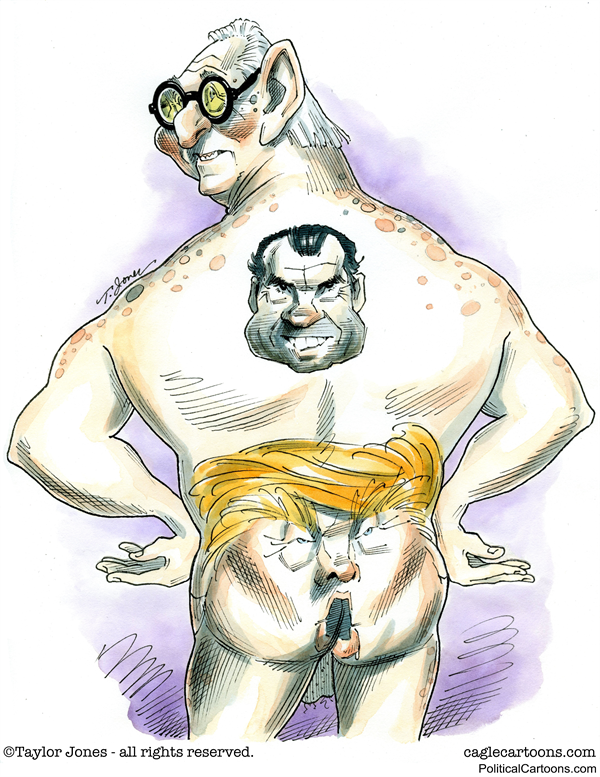 Roger J. Stone Jr., a longtime informal adviser to President Trump, was charged as part of the special counsel investigation over his communications with WikiLeaks, the organization behind the release of thousands of stolen Democratic emails during the 2016 campaign, in an indictment unsealed Friday.
Mr. Stone was charged with seven counts, including obstruction of an official proceeding, making false statements and witness tampering, according to the special counsel's office.
Read the Stone Indictment (.pdf).
Before dawn on Friday, F.B.I. agents arrested Mr. Stone at his home in Fort Lauderdale, Fla., and he was expected to appear in a federal courthouse there later in the morning.
The indictment is the first in months by the special counsel, Robert S. Mueller III, who is investigating Russia's interference in the 2016 election and possible coordination with Trump campaign associates.
Mr. Stone, a self-described dirty trickster who has spent decades plying the dark arts of scandal-mongering and dirty tricks to help influence American political campaigns, has long maintained that he had no connection to Russia's attempts to disrupt the 2016 presidential election. He sometimes seemed to taunt American law enforcement agencies, daring them to find hard evidence to link him to the Russian meddling campaign.
According to the indictment, Trump campaign officials contacted Mr. Stone during the summer of 2016 about future releases from WikiLeaks,suggesting that Mr. Trump's campaign knew about the stolen emails before they were released. ("Collusion").
[T]he special counsel's investigators spent months encircling Mr. Stone, renewing scrutiny about his role during the 2016 presidential race. Investigators interviewed former Trump campaign advisers and several of his associates about Mr. Stone's fund-raising during the campaign and his contacts with WikiLeaks.
Three senior Trump campaign officials have told Mr. Mueller's team that Mr. Stone created the impression that he was a conduit for inside information from WikiLeaks, according to people familiar with their witness interviews. One of them told investigators that Mr. Stone not only seemed to predict WikiLeaks' actions, but also that he took credit afterward for the timing of its disclosures that damaged Hillary Clinton's candidacy.
In social media posts and numerous interviews before the 2016 election, Mr. Stone indicated that he had advance knowledge that a trove of information damaging to Mrs. Clinton's campaign might be about to spill into public view, and even suggested that he had personally spoken to the WikiLeaks founder, Julian Assange.
Read the Emails: The Trump Campaign and Roger Stone.
Mr. Stone has changed his story in the months since, saying that he was not actually speaking to Mr. Assange and that he had no direct knowledge that Russians were responsible for the Democratic hacking. Still, it was revealed last year that, in the weeks before the election, Mr. Stone was messaging on Twitter with Guccifer 2.0, a pseudonym used by one or more operatives in the Russian intelligence scheme to steal the emails and funnel them to WikiLeaks.
* * *
The tumultuous relationship between Mr. Stone and Mr. Trump goes back decades, with Mr. Stone acting as an informal adviser to Mr. Trump as he considered running for president several times. When Mr. Trump formally announced during the spring of 2015 that he was running for president, Mr. Stone was one of the first members of the team, but within months, he had a public dispute with Mr. Trump and left the campaign.
The two men have remained close, though, speaking often by telephone.
It seems pretty obvious that Julian Assange and Wikileaks will also be indicted, if they have not already been indicted. Wikileaks sues to unseal charges against founder Julian Assange:
Assange has long speculated that he has been charged secretly in the U.S. His fears appeared to have been confirmed in November after prosecutors, in an errant court filing in an unrelated case, inadvertently revealed the existence of sealed charges. The Associated Press and other media organizations later reported that Assange is indeed facing unspecified charges under seal.
The charges against Roger Stone for witness tampering also portend similar charges being filed against Donald Trump for his witness intimidation of his former attorney and "fixer" Michael Cohen and his father-in-law.
This development is likely to dominate the news today.
UPDATE: The FBI executed search warrants at Roger Stone's Florida home and at his New York residence, according to Kristin Davis who shares the duplex with Roger, CNN reported early Friday.
Stone was released on a $250,000 signature bond and immediately turned his court appearance into a media circus. The right-wing will try to portray this asshole as some kind of hero.
UPDATE: The New York Times today has a detailed interactive timeline of Donald Trump and at least 17 campaign officials and advisers having had more than 100 contacts with Russian nationals and WikiLeaks, or their intermediaries, before his inauguration. Trump and His Associates Had More Than 100 Contacts With Russians Before the Inauguration:
Knowledge of these interactions is based on New York Times reporting, documents submitted to Congress, and court records and accusations related to the special counsel investigating foreign interference in the election.
Among these contacts are more than 100 in-person meetings, phone calls, text messages, emails and private messages on Twitter. Mr. Trump and his campaign repeatedly denied having such contacts with Russians during the 2016 election.
This is a road map of Russian collusion with the Trump campaign.
FACT CHECKING TRUMP TROLLS: CNN was on the scene to capture footage of Roger Stone being arrested at his Florida home. So naturally, Donald Trump and his sycophant media pundits and his legion of Trump trolls devised a new conspiracy theory: CNN was tipped off, possibly by the FBI itself.
Sorry, no. Trump baselessly implies CNN was tipped off to Roger Stone's indictment. CNN explains it was just good reporting.
CNN denied this, with the network instead citing "determined reporting and interpreting clues revealed in the course of events."
In fact, CNN's David Shortell had reported on air that a crew from the network staked out Stone's home because of "reporter's instinct," with the network having flagged some grand jury activity on Thursday and anticipating a possible indictment for Stone. CNN reporter Shimon Prokupecz had explained on Don Lemon's show the night before that they noticed Mueller was convening a grand jury on a Thursday, which is not typical. "This could give us a big clue that perhaps something is coming," Prokupecz said, adding that the stepson of Jerome Corsi, an associate of Stone's, had just recently testified.
CNN media reporter Oliver Darcy on Friday criticized Trump for spreading this "baseless" conspiracy theory, adding, "Color me shocked!"
The usual suspect Trump Trolls are also spreading this "baseless" conspiracy theory.
---
Support volunteer citizen journalism at the Blog for Arizona with a donation today. Your secure contribution keeps the Blog online and sustains a free press in Arizona.
---