There have routinely been reports about electronic voting machines that "flip" votes from the candidate one tries to vote for to another candidate since at least 2004, when then newfangled electronic voting machines became prevalent after the 2000 election fiasco and the subsequent Help America Vote Act (2002). Those machines are now decrepit and outdated, with insecure outdated software.
So this report should not come as a surprise to anyone. Voters in Mississippi who cast ballots for one party in the Aug. 6 primary may have improperly voted for a different party in Tuesday's runoff election due to machine malfunctions, according to the Hinds County GOP. 'It's a hell of a big mess:' Hinds GOP chairman says Democrats voting in Republican runoff:
Pete Perry, Hinds County Republican Party chairman, said he was first alerted to an issue at Casey Elementary precinct around 9:15 a.m. Tuesday. The school is one of the 108 precincts in Hinds County. According to a poll worker, people who voted Democratic in the primary were allowed to vote in the Republican runoff, Perry said.
A spokesperson for the Hinds County Election Commission could not be reached for comment.
According to Perry, the "party lock" on machines provided by Election Systems and Software is not functioning. This means voters who cast a ballot for a Democratic candidate in the primary are being erroneously allowed to vote in the Republican runoff.
Mississippi has no party registration and is an open primary state. But if voters  vote for one party in the primary, they are only allowed to vote for that same party in a runoff. For example, if a voter voted on the Democratic ticket in August, they would not be allowed to vote in Tuesday's Republican runoff for governor.
However, Perry said, "we know that's already happened."
When Perry found out about the issue at Casey, he and a technician with Election Systems and Software went to the Hinds County Courthouse.
Pulling voter rolls, Perry attempted to mock vote on the Republican ticket as five different people who voted Democratic. All five names would have been allowed to vote, he said.
LINK.
As for the people who already voted cross ticket at Casey, Perry said, "You can't do anything about it now."
"It's a hell of a big mess and you can quote me on that," he said. "We ought not have the problem. We ought to be sitting right there and enjoying coffee and enjoying the day because everything is running smooth."
A spokesperson for ES&S could not be reached for comment.
At least three voting machines in Mississippi have been confirmed to changing voters' picks in Tuesday's Republican gubernatorial primary runoff.
According to Perry, using data from the primary, the Hinds County Election Commission downloads the poll books from both the Republican Party and the Democratic Party. The commission didn't finish inputting the books until Thursday night, he said, and as a result, ES&S could not upload the books into the system until Friday.
When ES&S uploads the books, the machine is supposed to recognize which voters voted in which primary, creating a "party lock" so people aren't allowed to cross vote, Perry said.
But, for some reason, that didn't happen.
"They cannot tell me why it's not working," he said. "We've got this nice, great technology and it's supposed to be programmed to not let this happen but the program is not in for some reason or another."
"What's supposed to be in the system is not there," he said. "We're having to call all these precincts and explain to them that they've got to do double the work."
Perry said, to his knowledge, ES&S has contracts with 75 counties in Mississippi.
When asked how many voters had been allowed to cross vote, Perry said, "I have no idea, I could not guess. I can tell you in four days … but right now, it could be one, one hundred, five hundred. Pick a number and it could be it."
It's not just Mississippi. Congress is investigating what happened in the recent disputed election in Georgia. Mystery of missing votes deepens as Congress investigates Georgia: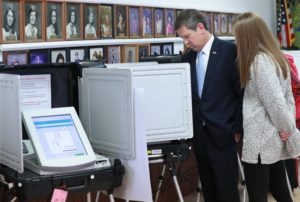 To find a clue about what might have gone wrong with Georgia's election last fall, look no further than voting machine No. 3 at the Winterville Train Depot outside Athens.
On machine No. 3, Republicans won every race. On each of the other six machines in that precinct, Democrats won every race.
The odds of an anomaly that large are less than 1 in 1 million, according to a statistician's analysis in court documents. The strange results would disappear if votes for Democratic and Republican candidates were flipped on machine No. 3.
It just so happens that this occurred in Republican Brian Kemp's home precinct, where he initially had a problem voting when his yellow voter access card didn't work because a poll worker forgot to activate it. At the time, Kemp was secretary of state — Georgia's top election official — and running for governor in a tight contest with Democrat Stacey Abrams.
The suspicious results in Winterville are evidence in the ongoing mystery of whether errors with voting machines contributed to a stark drop-off in votes recorded in the race for Georgia lieutenant governor between Republican Geoff Duncan, who ended up winning, and Democrat Sarah Riggs Amico.
Even though it was the second race on the ballot, fewer votes were counted for lieutenant governor than for labor commissioner, insurance commissioner and every other statewide contest lower on the ballot. Roughly 80,000 fewer votes were counted for lieutenant governor than in other down-ballot elections.
The potential voting irregularities were included among 15,500 pages of documents obtained by The Atlanta Journal-Constitution that have also been turned over to the U.S. House Oversight and Reform Committee, which is looking into Georgia's elections. The documents, provided under the Georgia Open Records Act, offer details of alleged voting irregularities but no answers.
Secretary of State Brad Raffensperger's office has refused to open an investigation. State election officials say the low number of votes could have been caused by low interest in the lieutenant governor's race or where that contest appeared on the ballot.
The Georgia Supreme Court is also considering a challenge to the lieutenant governor's race. Duncan won by 123,000 votes, but the plaintiffs contend missing votes could have changed the result.
The unresolved questions about the election have contributed to mistrust in the state's electronic voting system and questions about election officials' commitment to investigating complaints in a thorough and nonpartisan manner.
State election officials say they have looked into the lieutenant governor's race but found no indication of problems with election equipment or vote counts.
A sharp decline
There were 159,000 fewer votes in the lieutenant governor's race than the 3.9 million votes cast for the governor's race, a 4% drop-off rate. Other statewide races had about 2% fewer votes than the governor's race. It's not unusual for voters to skip down-ballot races, but normally there's a steady decline rather than an exceptional drop in the second-most-prominent contest.
"Voters deserve to know what happened," said Amico, who is not involved in the court challenge and announced Tuesday that she's running for the U.S. Senate. "There was insufficient action taken to secure the most foundational and basic element of our government: the right to vote. They don't want to look."
The decline in votes showed up on ballots cast on the state's electronic voting machines in 101 of Georgia's 159 counties. On paper absentee ballots, there wasn't a significant decline in votes cast for lieutenant governor.
In addition, the drop-off in votes grew more extreme in precincts with large African American populations, according to an analysis by TargetSmart, a data-tracking firm affiliated with the Democratic Party.
"Was this completely voter behavior and confusion, or was there something in the machine software or hardware to cause this to happen?" asked Chris Brill, a senior data analyst for TargetSmart. "I've never seen a drop-off pattern like this, ever."
Georgia's 17-year-old electronic voting system is already riddled with potential vulnerabilities to hacking, tampering and malfunctions, according to plaintiffs in a federal lawsuit who want voters to use hand-marked paper ballots. In a ruling this month, U.S. District Judge Amy Totenberg called the voting system "unsecure, unreliable and grossly outdated." (You can read Judge Totenberg's extensive opinion at this link.)
[S]tarting with next year's presidential primary election, paper ballots will be required, according to the ruling by U.S. District Judge Amy Totenberg. Her order barred the state from using its current electronic voting machines after this year's elections.
If the state's new voting system isn't completely rolled out to all 159 counties in time for the March 24 presidential primary, Totenberg ruled that voters must use paper ballots filled out by hand.
The state's electronic machines lack a paper ballot that could be used to double-check the accuracy of digital results.
Election officials purchased a $107 million voting system this month that will add computer-printed paper ballots to the voting process. The new system, which is scheduled for statewide use in the March 24 presidential primary, combines touchscreens with printers that create a ballot that voters can review before inserting into scanners for tabulation.
On Election Day last year, the Secretary of State's Office conducted testing that mirrored the circumstances of the actual election, said Ryan Germany, the general counsel for the office. People cast randomized, videotaped mock votes in the office throughout the day. The results and video verified that votes exactly matched those recorded by the voting machines.
Unanswered questions
Still, satisfying explanations are hard to come by.
Why would voters skip the lieutenant governor's race on electronic voting machines but not on paper absentee ballots? Why would African American voters be disproportionately affected? If votes disappeared, could they have changed the results of the lieutenant governor's race?
So far, state officials haven't dug more deeply to find out.
Robyn Crittenden, who filled in as secretary of state for a few weeks after Kemp's election as governor, declined Amico's request for a recount because she didn't identify any specific errors in the elections process. Crittenden wrote in a Nov. 17 letter that it's not unusual for voters to skip races, and voters aren't obligated to vote in every contest.
A judge in January dismissed a case contesting Duncan's election, saying the plaintiffs didn't prove specific problems with the recording of ballots that would alter the outcome of the contest. That's the case now pending with the Georgia Supreme Court.
"There is a real wall up and real obstacles to prevent sunshine from coming in and having any kind of election transparency," said Marilyn Marks, the executive director for the Coalition for Good Governance, an election security group that filed the lawsuit. "Let's find some facts. It's crazy to think that the paper-ballot voters felt one way about the candidates and the machine voters felt another way."
Coding for voting machines could have been incorrect on touchscreens, so that votes for the lieutenant governor's race showed up in another contest, she said. The race could have been missing from some electronic ballots. Or there could have been other malfunctions or programming errors.
In the Winterville precinct where one machine showed aberrant results, the elections director said she wasn't aware of the issue, but it didn't raise a concern to her.
"I've never heard of a flipped vote under direct-recording electronic machines," said Charlotte Sosebee, the elections director for Athens-Clarke County. "As for one candidate or one party getting more votes than another on the machines, that's not something that we track or is considered a red flag."
She should be removed from her position immediately. This is willful ignorance.
"The most plausible explanation (in the Winterville case) is that misconfiguration caused votes for Republican candidates to be recorded as votes for Democratic candidates, and vice-versa," according to a paper published last month by Kellie Ottoboni and Philip Stark of the University of California, Berkeley, Department of Statistics.
The racial disparity in the undervote rate is harder to explain. Electronic voting machines have been marketed as a way to help people of different education and disabilities vote correctly, but the higher undervote rates for African American voters suggests that electronic voting harms historically disadvantaged groups, according to the findings of Ottoboni and Stark.
Without more information, it's difficult to determine what could have gone wrong in the lieutenant governor's race.
Critics of Georgia's voting machines fear the possibility of hacking, but it's unclear why a hack would target the relatively low-profile lieutenant governor's race rather than the heated race for governor, which Kemp won by nearly 55,000 votes, a margin of 1.4 percentage points. There were no reported allegations of erroneous results in the governor's race.
Another possibility is that there was a computer error at some point in the election process, said Eddie Perez of the Open Source Election Technology Institute, which recommends hand-marked paper ballots.
Election officials should check whether each race was coded correctly so that votes on touchscreens were correctly recorded on electronic ballots, he said. They should also look into the election programming process to ensure some races weren't left off some machines.
"I don't know why the state of Georgia appears to be resisting an examination," Perez said. "They're not getting any closer to the truth. This really is unusual, and it begs explanation."
Only five states exclusively use electronic voting without a verifiable paper ballot, and three of them — Mississippi, Georgia and South Carolina — have contested U.S. Senate races in 2020 with control of the U.S. Senate hanging in the balance. 11 other states use some paperless voting equipment.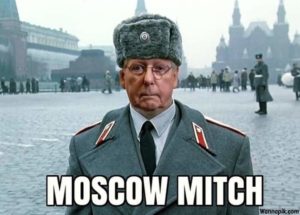 Moscow Mitch McConnell isn't letting bipartisan legislation sponsored by Democratic Sen. Amy Klobuchar and Republican Sen. James Lankford to provide funds to states to replace faulty, paperless machines,  or legislation passed by the House that would help states with the necessary funding to secure their system to come to the floor for a vote. State officials beg Congress for more election security funding. But Moscow Mitch McConnell doesn't want a secure, verifiable election.
EVERY jurisdiction should require paper ballots with a voter verified paper audit trail printer, and a post-election hand-count audit of paper ballots, like we do here in Arizona.